If you don't have the right equipment, cutting pizza and sandwiches at home is a laborious operation. Check out the pizza and sandwich slicers featured below, which may simplify your task with their cutting-edge features and advantages.
Having the proper equipment in your kitchen is essential for cooking and serving. The pleasure of eating pizza at home is on another level. However, if you don't want to lose out on the fun, you'll need a slicing instrument. 
Pizza cutters come in all shapes and sizes, but some are just more fun than others. If you're looking for a unique way to slice your pizza, check out these best fun novelty pizza cutters.
Best novelty pizza cutters for you
Monkey Unicycle Pizza Wheel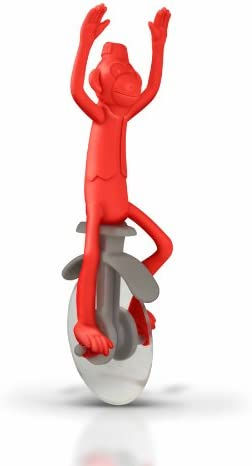 This fun pizza wheel from Fred & Friends makes it simple to cut the pizza into pieces. The pizza wheel spins as the monkey pedals. Additionally, the pizza wheel has a stainless steel cutting wheel and a silicone grip. 
Rockin' Pizza Cutter

The Rockin' Pizza Cutter is a fun pizza-cutting tool, in addition to having a humorous look. You'll be able to 'slash' your way through that pizza pie with ease, thanks to the sharp 2.5-inch stainless steel blade. It is made from stainless steel and beechwood, making it lightweight.
Scizza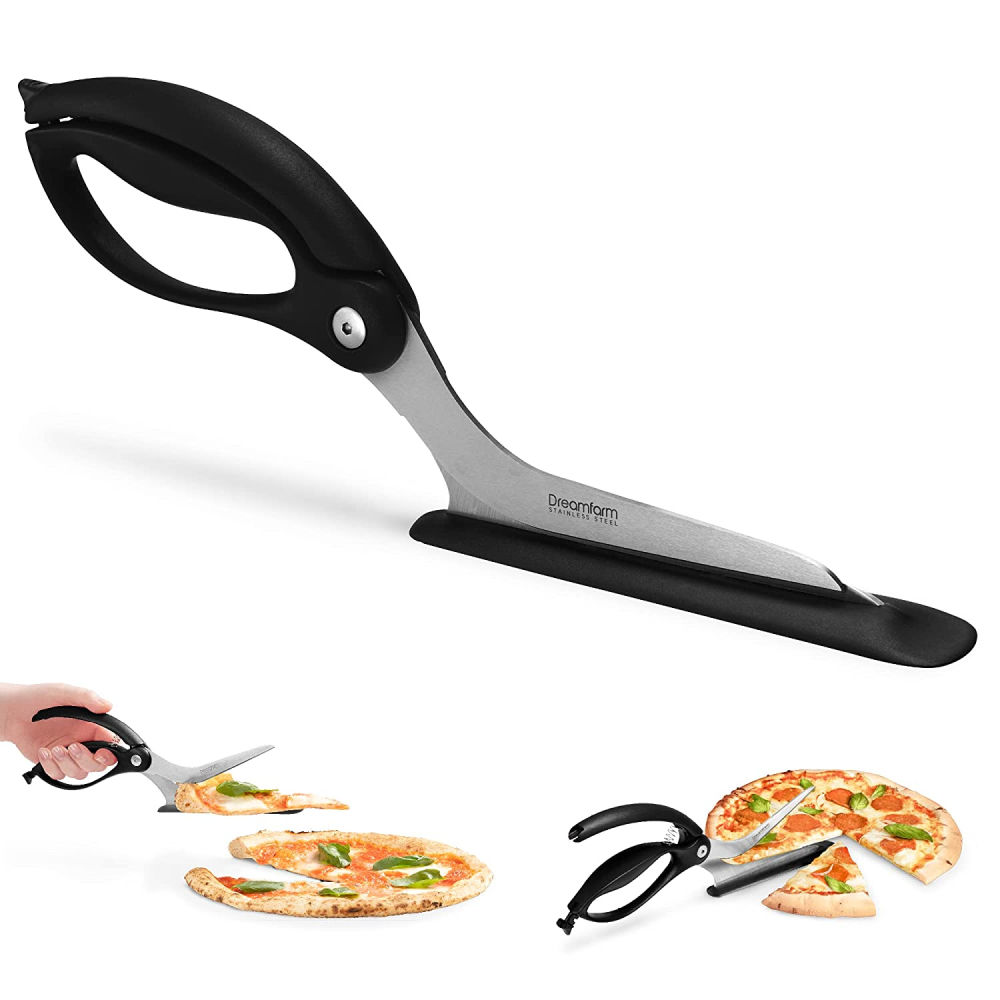 By brilliantly combining two precise blades that produce excellent slices and a smart spatula on the bottom blade that slips beneath the pizza, Scizza has reinvented the wheel. The spatula at the bottom preserves your cooking surface and non-stick cookware. The German stainless steel blades provide a cutting edge that is precise, strong, and durable. Additionally, the non-stick-safe nylon foundation is heat resistant to 205 degrees Celsius without scratching cookware.
Circular Saw Pizza Wheel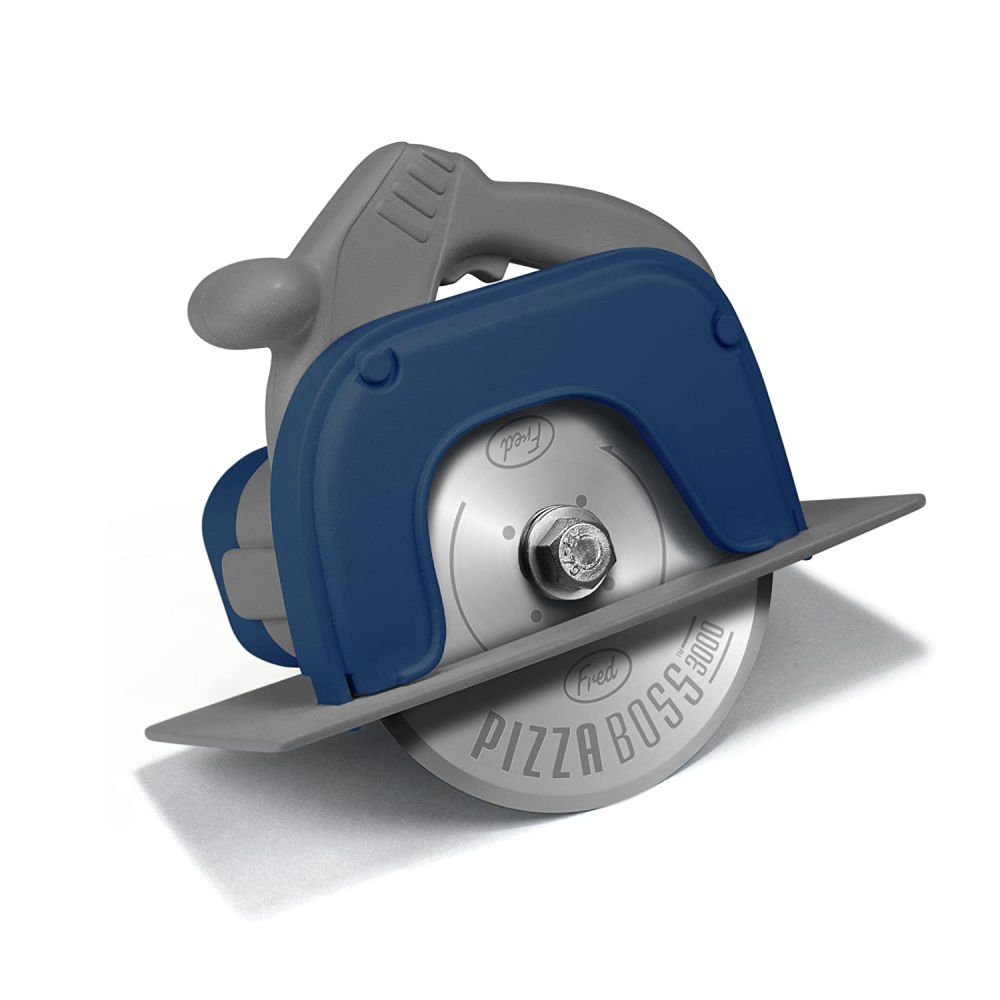 Because Pizza Boss is fashioned like a circular saw, whoever is cutting it looks like a carpenter at work. The pizza wheel is designed with a laser-etched, food-safe stainless steel blade and is made of durable ABS plastic. The blade has a detachable shield for simple cleaning. With this special pizza cutter, even those bothersome anchovies and excess cheese will be chopped in half.
Bicycle Shape Pizza Cutter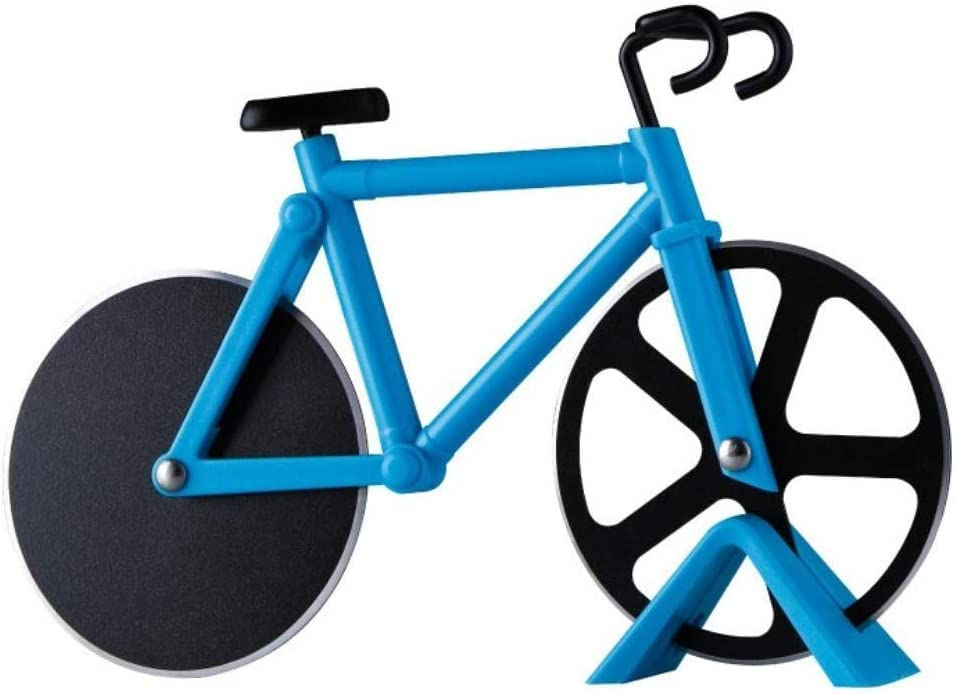 The Bicycle Shape Pizza Cutter is ideal for serving your favourite Italian food. The razor-sharp blade eliminates the need for back-and-forth cutting. This makes it simple to cut a crisp, clean slice through your pizza. Make your friends and family smile by giving them the perfect gift for pizza and cycling enthusiasts.
Axe Shaped Pizza Cutter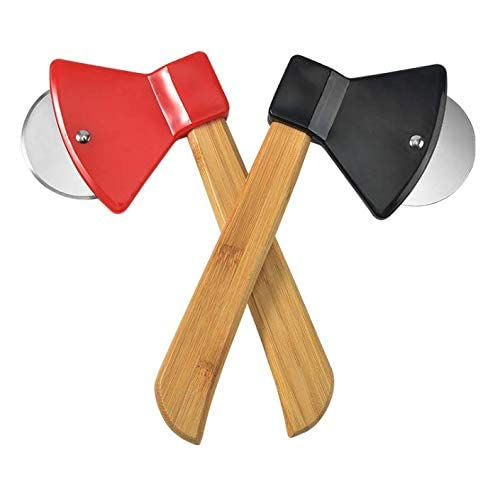 With a creative axe shape design, a highly sharp revolving blade, and a comfortable bamboo grip, this axe pizza cutter can slice pizza effortlessly. The rotating blade is made of high-quality, long-lasting stainless steel with a comfortable grip.
Additionally, it is simple to clean and safe to run under the water to rinse. You can cut pizza, pies, sandwiches, waffles, pancakes, lasagna, and more with it!
Slice Pizza Wheel Cutter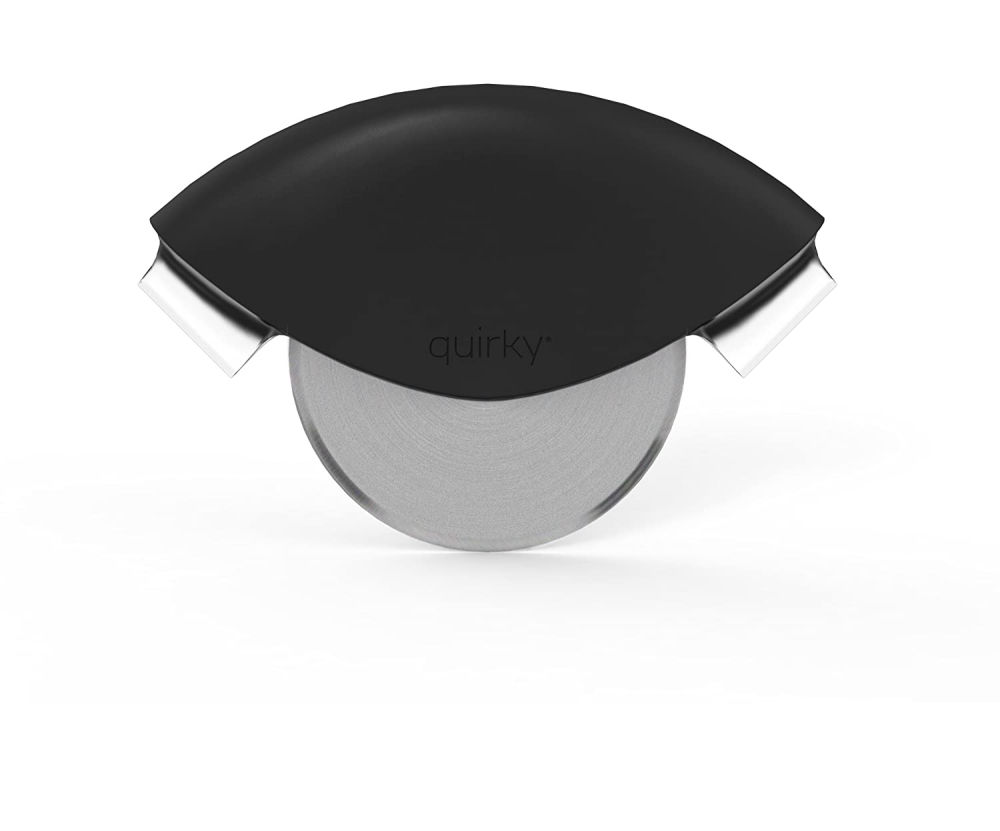 This slice pizza wheel cutter comes with two blades that cut through the dough smoothly. Your hand fits comfortably into the softly curved shape.
This makes rolling simple by using body weight as leverage. The handheld design reduces hand and wrist fatigue, making it easy to use. Additionally, cleaning is simple as the cutter is dishwasher-safe.
Vintage Vinyl Record Pizza Wheel Cutter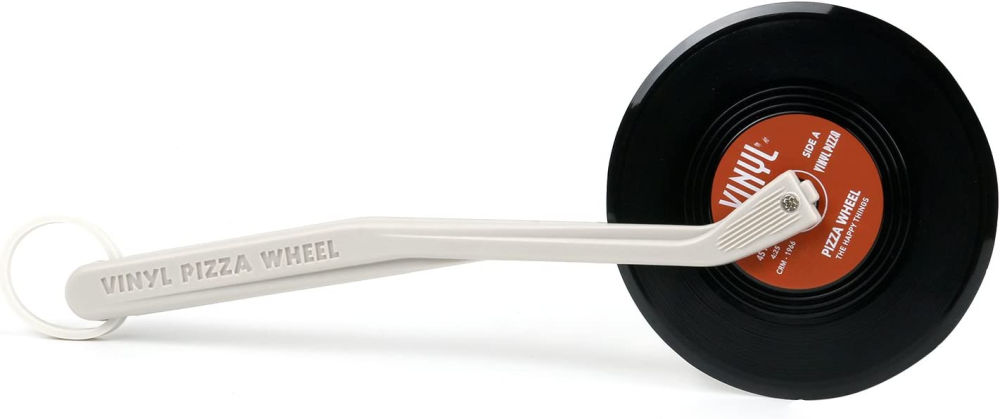 This pizza cutter wheel is a novelty item that is fully functional. It is simple to use as the product is lightweight and tiny. When not in use, you can easily clean it and put it away.
This pizza cutter may be used to cut sandwiches, pancakes, waffles, bread, desserts, and more in addition to making beautiful pizza cuts.
Folding Pizza Wheel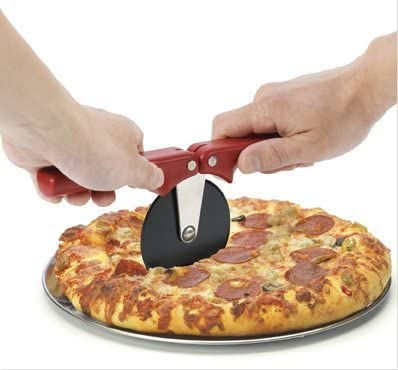 The folding pizza wheel makes ideal pizza slices. This pizza wheel includes an unusual handle. When opened, it may be used as extra leverage to cut through the thick, crispy crust.
When closed, it can be folded back to resume its typical function. The blade includes a non-stick coating for increased convenience, ensuring that cheese and topping are never lost.
Pizza Cutter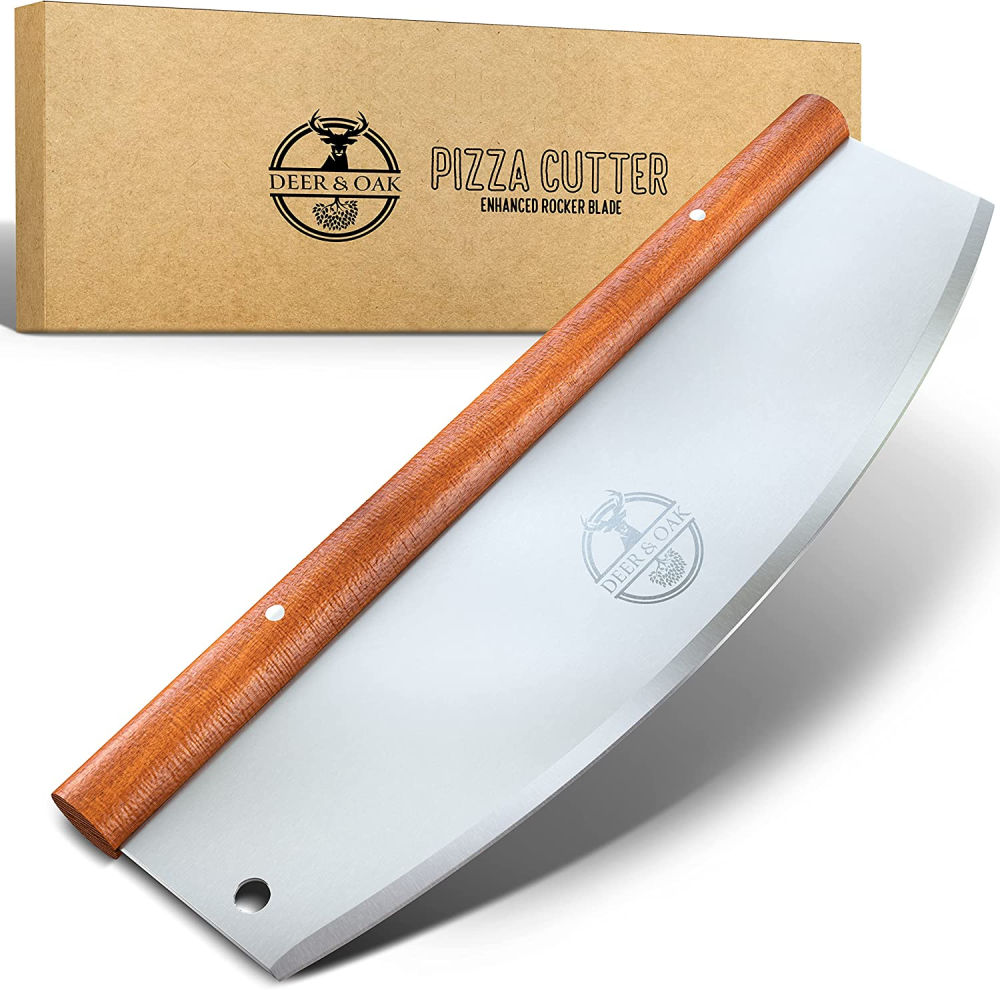 With the very sharp 304 stainless steel blade, you can spice things up a little. The toughened pizza slicer blade is great for bread, cakes, and vegetables, in addition to being engineered to easily cut straight through even a big pan pizza. Additionally, the blade is simple to wipe clean as it is 100% dishwasher safe.
Conclusion
No matter which pizza cutter you choose, it's sure to make your next pizza party even more, fun and memorable. So why settle for a boring pizza cutter when you can have one that's both functional and unique?
Choose one from our list of novelty pizza cutters and have fun!