Maybe you just have little time, and need a pizza crust that won't take long to make, or perhaps you are looking for a healthier alternative. There is a general movement among many people to consider moving towards a healthier pizza, through a more nutrient-rich and lower calorie base to start with. Changing that typical flour based pizza crust for one of the many alternative pizza crusts can help you easily improve that
If you are trying to avoid those typical doughy, carb-heavy pizza crusts, then here are some of the best alternative pizza crusts just so you can enjoy the dish with a little less guilt.
Best alternative pizza crusts
There are many different options when it comes to alternatives. Some are not any healthier than your typical pizza dough base, some (such as vegetable based ones) can be much healthier. Some of these crusts are easy to swap, some take a fair bit of effort to make.
Have a look through this list of best alternative pizza crusts, and choose one to try when you are next having pizza.
Pita pizzas
Individual pizzas can taste great when made on pita bread. Pita bread is cheap and easy to get a hold of, and helps make the pizza process much faster. As an added bonus, it is fairly straightforward to allow your kids to make their own pita pizzas as well.
These pizzas can be ready in 15 minutes and need just a handful of ingredients. Consider swapping the usual thick tomato pizza sauce for a lighter and healthier pizza sauce alternative.
Chickpea pizza crust
Ever considered using chickpea flour to make a pizza base? All you need is around 15 minutes and a handful of ingredients to make this healthy pizza crust.
Ingredients
Get yourself these four ingredients;
2/3 cup chickpea flour
2 teaspoons garlic powder
1/2 teaspoon salt
2 teaspoons olive oil
Method
Now put the chickpea flour, garlic powder, salt in a bowl along with 2/3 cup water. Whisk for 3-4 minutes. In a 7-8  inch round nonstick pan, heat the olive oil over medium heat.
When the oil is warm, pour the "dough" into the pan so it is roughly 1/8th of an inch thick.
Cook each side for approximately 3 minutes, until the edges start to brown.
Transfer the resulting chickpea pizza crust to a baking sheet, and allow to cool.
Naan bread pizza bases
For enthusiasts of a thicker crust, that delicious Indian dish of naan bread may be utilized to create a soft and pillowy pizza foundation. Use store-bought or make your own delicious naan bread.
We recommend using a typical baking tray and place the toppings and cheese on top. The below image gives you an example of simple plant based pepperoni and cheese with italian herbs on a base of naan bread crust.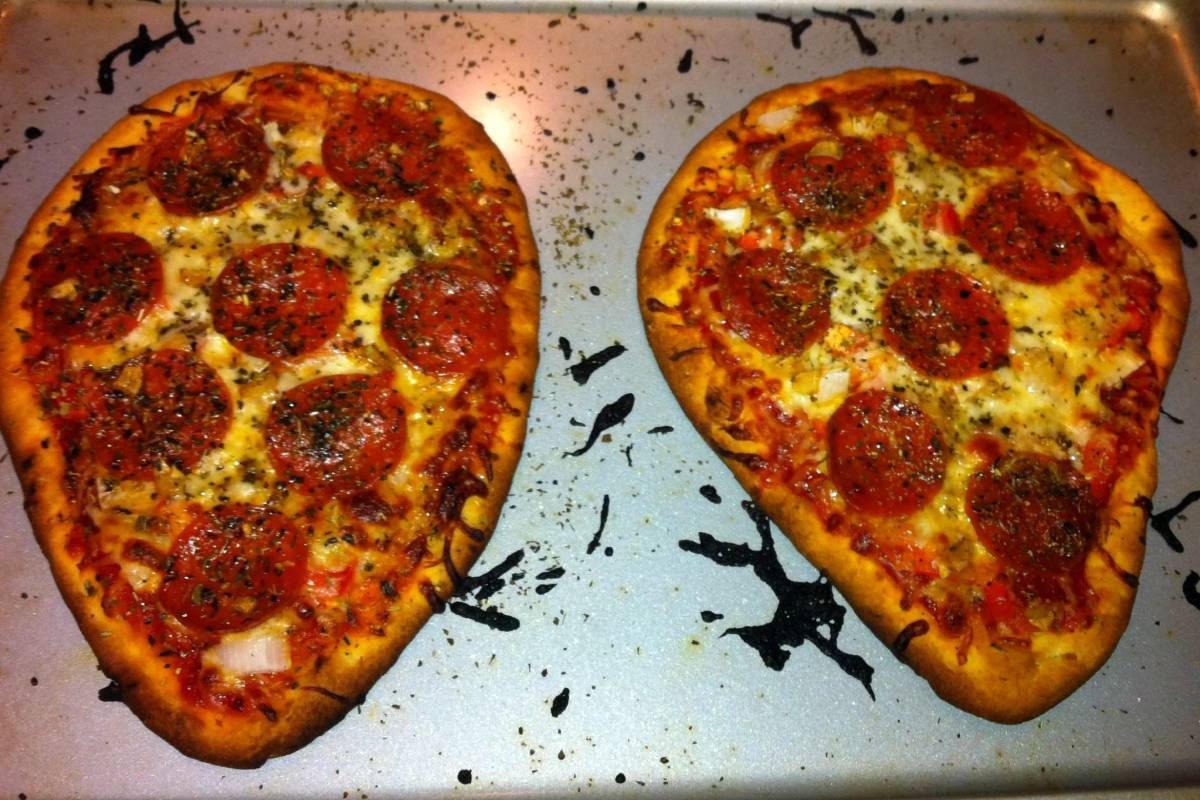 Simple Naan Recipe
I will let you in on a secret; Naan bread is way easier to make than you would expect. Here's how to make your own naan in less than an hour in total.
Ingredients
1 ¾ cups all-purpose flour
½ cup milk
2 tsp vegetable or olive oil
2 tsp sugar
1 tsp salt
¾ tsp baking powder
Butter and herbs to season
Method
Combine the dry ingredients (flour, sugar, salt and baking powder) and whisk together for two minutes.
Form a well in the center of the ingredients, and add the milk and oil. Mix everything together until it forms a well rounded ball.
Turn the ball out on a clean and floured counter and knead at least 5-9 times, until very smooth and elastic, adding extra flour in small quantities if needed.
Let the dough rest for 10 minutes.
Divide the dough into 8 equal amounts.
Heat a skillet over medium-high heat. Roll one piece of dough until very thin (less than ⅛"). If the skillet isn't non-stick, melt some butter before each piece.
One at a time, cook the naan for about 90 seconds, or until parts are blackening, on each side.
When they are ready, brush them with a little butter, add herbs if you like, and allow to cool.
The naan is now ready for you to add pizza sauce and toppings.
Puff pastry pizza crust
One item that just about every household has in their freezer is puff pastry. And easily one of the most delicious yet undervalued alternative pizza crusts out there is puff pastry.
Now before you start cutting things up, there's no need for a round pizza. Just remove a sheet of rectangular or square puff pastry. Roll it out, add your favourite pizza sauce, toppings and cheese and bake in your oven!
Zucchini skillet flatbread
Don't be misled by the appearance of this greenish courgette flatbread. This is a fantastic alternative for the typical dough pizza base.
They are pretty easy to make at home with only four ingredients required.
Ingredients
2 (12 ounces) small to medium zucchini
2 cups (240 g) chickpea flour
1 1/2 tbsp olive oil
3-5 tbsp water
1/2 teaspoon baking soda
1/2 teaspoon salt
Method
Grate the zucchini and place into a large bowl. You should have about 3 cups worth.
Add salt and olive oil, stirring to combine. Add 3 tablespoons of water and the chickpea flour, stirring until blended.
Add a little bit or all of the remaining water and baking soda until mixture becomes a thick batter.
Lightly grease or spray (with nonstick cooking spray) a cast iron skillet and place over medium heat.
Add about 1/3 cup of batter to the center of the pan, and spread the batter quickly into a 6-7 inch circle.
Turn up the heat to medium high and cook about 2 to 3 minutes. until a metal spatula slides under the flatbread easily (bottom side should be browned in spots).
Turn and cook for approximately 2 minutes longer until browned on other side.
Turn flatbread out onto a cooling rack and repeat with rest of batter.
Allow flatbreads to cool before adding pizza toppings.
Tortilla pizza crusts
You can make this pizza with sliced polenta bread with cheese and veggies on top. Pizza dough substitute is made with polenta, salt, and cheese that has been boiled in water.
Melting mozzarella, parmesan, and colorful vegetables like purple sprouting broccoli, cherry tomatoes, and sweet peppers are added to this low-calorie, veggie-polenta pizza.
Coconut pizza bases
Here is a flavorful way to change up your homemade pizzas. Coconut pizza bases are are naturally low calorie, gluten free, high protein and grain free, so they are both Keto and Paleo approved! The best part they aren't hard to make at home.
Ingredients
To make these coconut flour pizza crusts, you will need;
8 large egg whites
1/4 cup sifted coconut flour
1-2 teaspoons of Italian spices
1/2 teaspoon baking powder
1 tablespoon coconut flour to dust very lightly
Method
Using a large mixing bowl, combine and whisk the egg whites until they are opaque.
Sift in the coconut flour and whisk very well until there are no clumps.
Add the spices and baking powder and whisk until completely combined.
On low heat, heat up a lightly greased or non-stick small pan.
Once hot, pour the batter in the pan and ensure it is fully coated.
Cover the pan for 3-4 minutes or until bubbles start to appear on top.
Flip, cook for an extra 2 minutes and remove from pan.
Allow to cool completely before adding pizza sauce and toppings.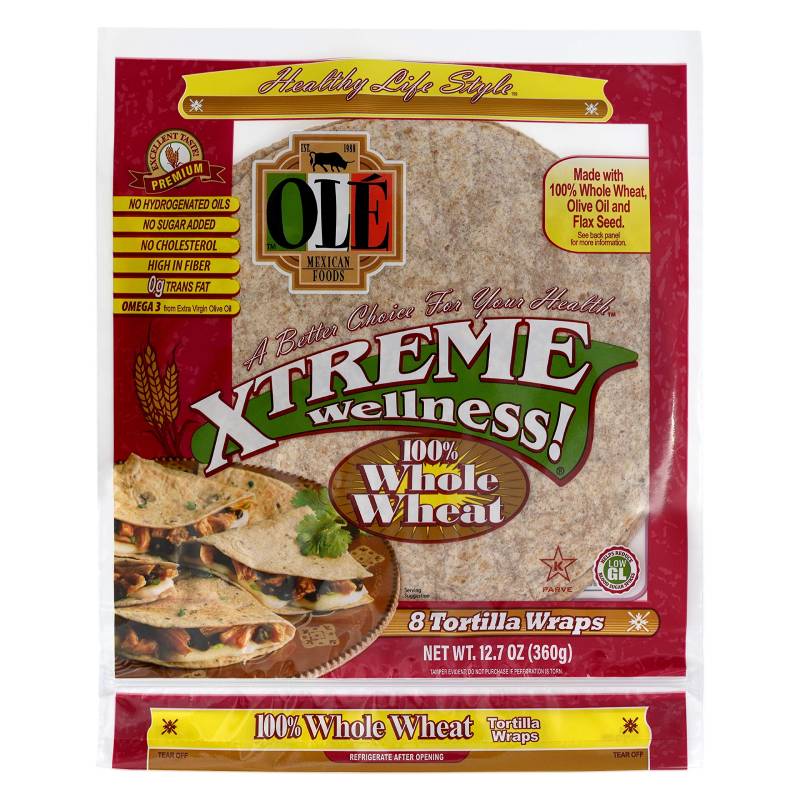 Whole wheat wraps
If you get yourself some low calorie whole wheat wraps, they can be as little as 50 calories per wrap. You can find packets of 6-10 wraps in just about any supermarket across the globe, especially in USA, the UK and Australia. You can also get other wrap varieties such as spinach and keto, etc.
Treat these wraps like normal pizza bases, and smear your sauce and cover with toppings as usual.
Cauliflower Crust Pizza
You just need seven ingredients and fifty minutes to create Katie Lee's delicious pizza dough. Cauliflower florets should first be pulsed in a food processor. The mixture should then be transferred to a steamer basket and drained.
We recommend placing the steamer basket on a towel to ensure that all the moisture has been eliminated. For a picture-perfect snack, combine the mozzarella, Parmesan, oregano, salt, garlic powder, and eggs with the cauliflower. Form the mixture into a pizza with your hands.
Conclusion
Despite how delicious it is, classic pizza is not usually low in calories or high in nutrients. But it may be readily changed by using vegetables in place of the pizza's flour-based crust.
We hope our recommendations of the best alternative pizza crusts have helped you out.