Ah, Pizza. It really is very difficult to resist this mouthwatering treat. Anyone's day can be made better by the delicious and crispy cheese slices. The aroma of freshly made pizza is enough to make you light headed.
Are you that infatuated with pizza that you would want to leave permanent marks on your skin, showing your dedication to this scrumptious food?
There is no better way to express your love, adoration, and gratitude for this magnificent cuisine. With that in mind, check out these awesome pizza tattoo ideas for your inspiration.
List of fantastic pizza tattoo ideas
Considering getting the world's best food item on your skin, permanently? The following fantastic pizza tattoo ideas may be just what you need to be inspired!
Pizza and arrow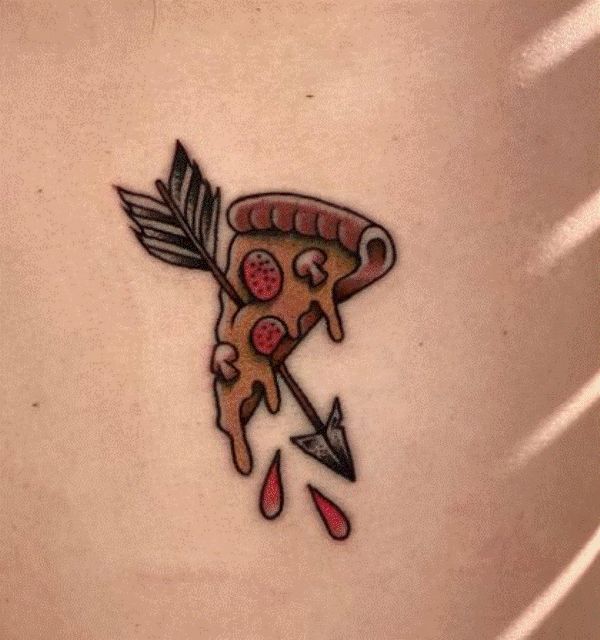 Who would dare shoot a slice of Pizza with an arrow? Only if you are using the slice as a heart, and it's a clever way of telling viewers that you love pizza.
Declaration of love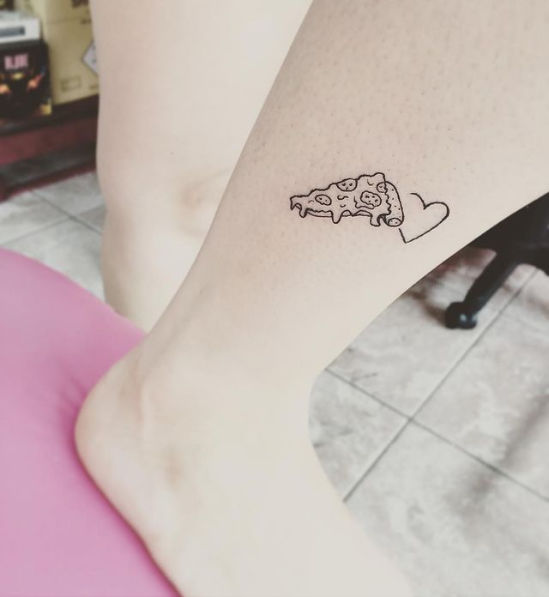 Speaking of love for pizza, this black and white pizza tattoo really represents a love of pizza.
This tattoo serves as a constant reminder that pizza is and always will be your one and only true love, thanks to the little heart on the side.
Hybrid cat-pizza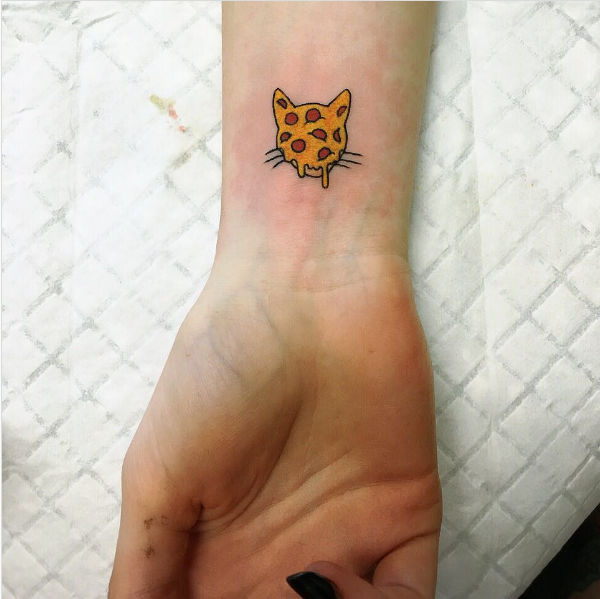 We adore everything about this little, vibrant tattoo. Although the concept of a cat-and-pizza tattoo might have produced something really spooky, this one came out adorable and lighthearted.
Try this creative pizza tattoo if you're playful enough.
Rat eats pizza tattoo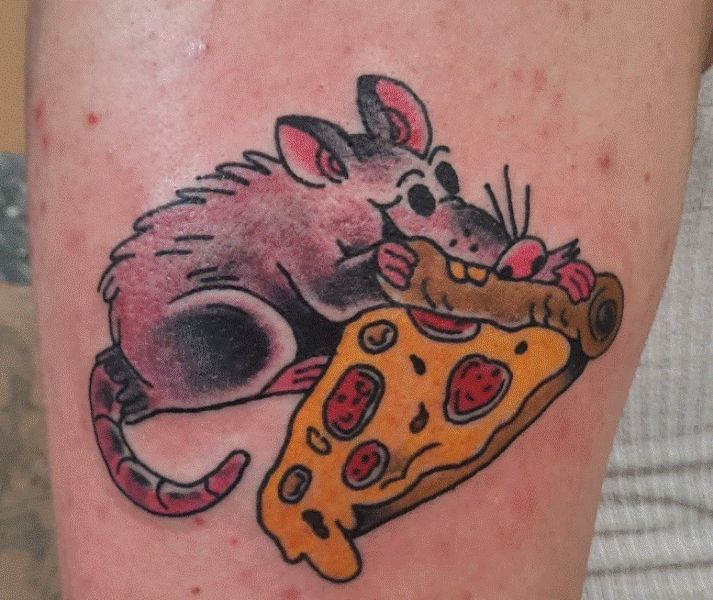 What sacrilege! Who would let a rat ever eat a slice of pizza, unless it was a pet of course.
This fun little color tattoo would suit both genders, and be a fun way to get pizza inked on your skin.
Hidden pizza piece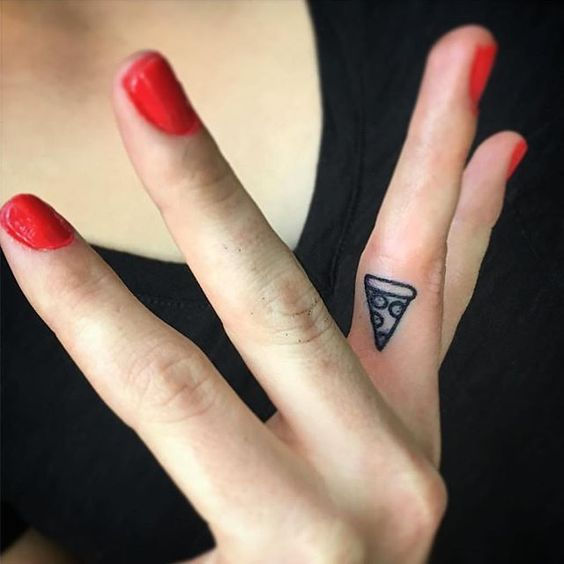 Warning: there's a very high chance that pizza will be on your mind constantly as a result of this hidden tattoo. We think the smallest food tattoos are the prettiest, and this one is quite little.
The only drawback is that every time you glance down between your fingers, you'll start to desire pizza. That could be an issue if you ever decide to diet or go on a stricter food regime.
Mushroom pizza slices
One of the sweetest pizza tattoo ideas on this list, is getting matching tattoos.
Mushroom on pizza is pretty nice, and these two matching tattoos suggest the owners of these tattoos are close friends or partners, and big mushroom fans.
Pug pizza tattoo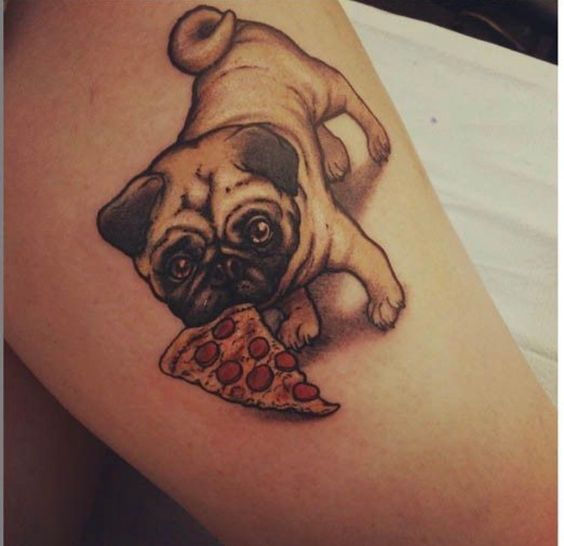 This dog's eyes are so adorable that, even without the pizza tattoo, you'd want to give them your last piece of pizza.
Anyone who likes both dogs and pizza (most of the population, surely?) would adore this adorable ink concept somewhere on their skin.
Realistic pizza slice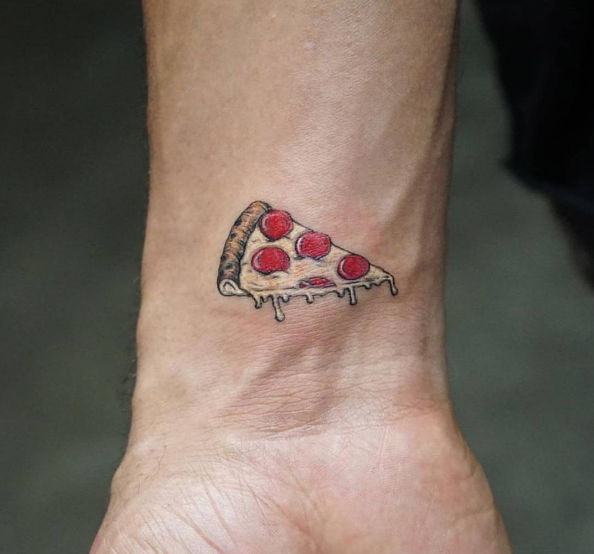 There is a whole Instagram account devoted to pizza tattoos if you're thinking about getting one. And it goes by the handle @pizzatattoos.
This one is adorable but also quite practical. The dough is thick, the cheese is flowing, and the pepperoni is gleaming. Yes, we would certainly like a piece of pizza right now.
Pizza and sauces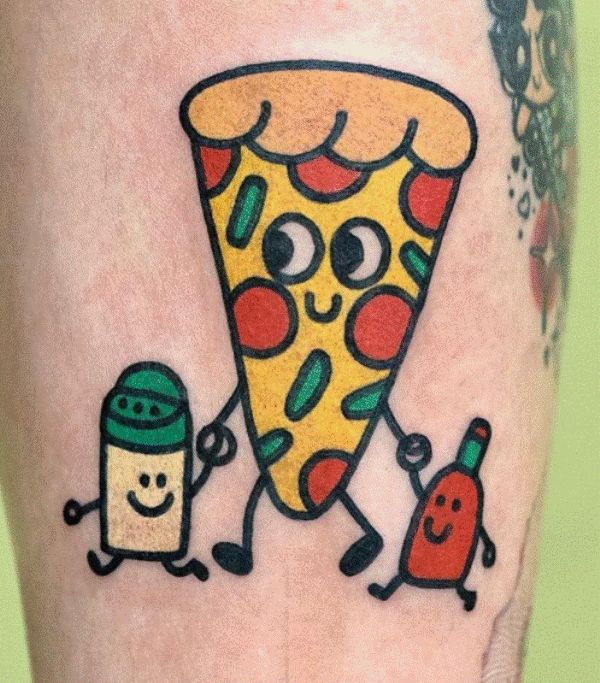 Looking for lighthearted pizza tattoo ideas? These cute little smiling characters really portray the sauce and cheese that goes with pizza. It looks like this slice is holding hands with parmesan cheese on the left, and tabasco sauce on the right.
Relationship pizza tattoo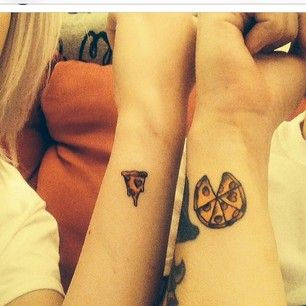 The last pizza slice is yours to eat if you have a loyal partner. This sweet relationship tattoo expresses how profoundly you complement one another.
Your hearts are as full as a full pizza pie when you're all together. Once you've been to the tattoo parlour, you should make a homemade pizza together using one of our many pizza recipes.
Elegant pizza slice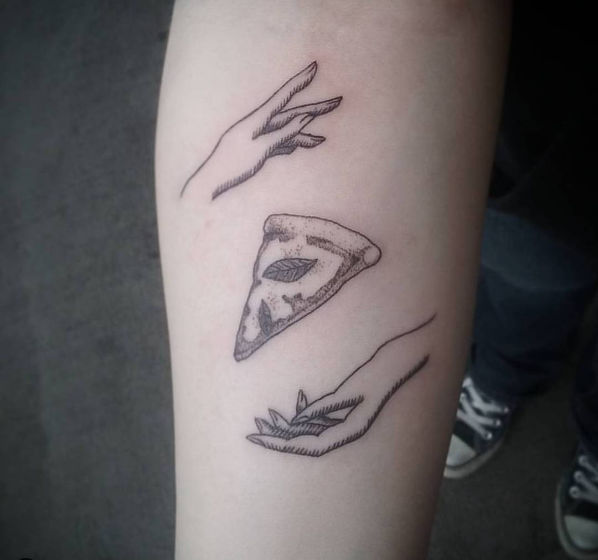 One of my favorite pizza tattoo ideas on this list. For those pizza lovers who want their food stylish, this one is creative and elegant. Even the pizza itself has a basil leaf attached to it.
This one demonstrates how beautiful a pizza can be portrayed. This is an amazing example of how tattoos can be an artistic pursuit, indeed.
Spongebob pizza tattoo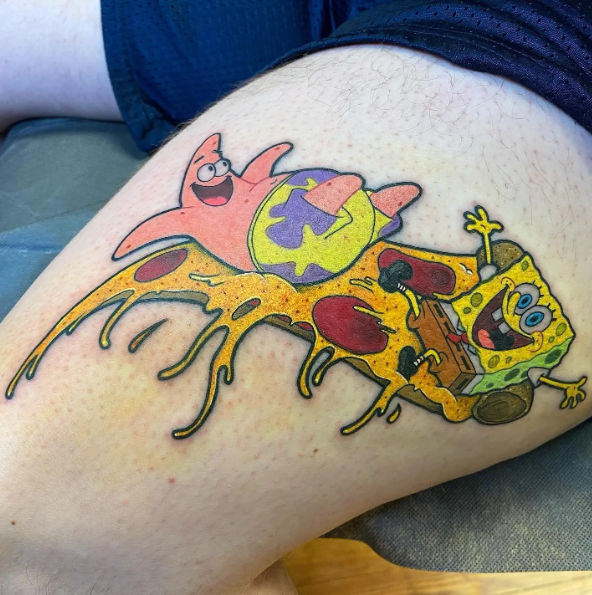 If you are a devoted SpongeBob fan, it could be worthwhile to get this adorable tattoo of SpongeBob and Patrick partying while rolling on a piece of cheese. The pepperoni slices in this tattoo vary in color from a mild shade on the left to a fairly red hue on the right.
It has a good feel. Look at how precisely Patrick and SpongeBob's colors are depicted. Get the spirit of your early years tattooed on your arm!
Love Pizza slice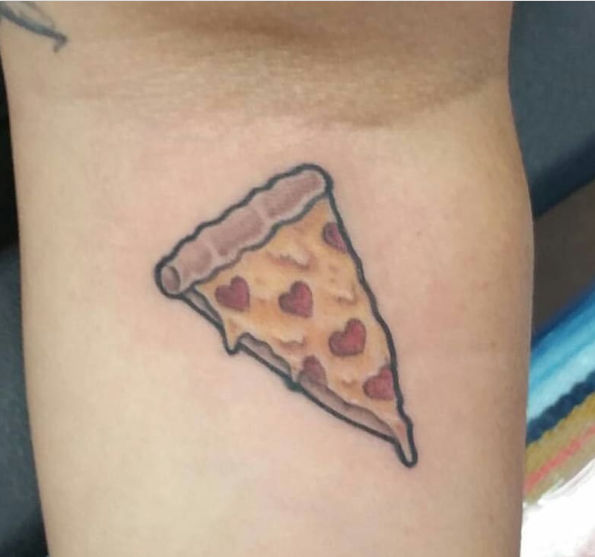 This design will make it obvious that you adore pizza. The little love pepperonis are very charming and let everyone know that you have a special spot in your heart for pizza.
Rad pizza slice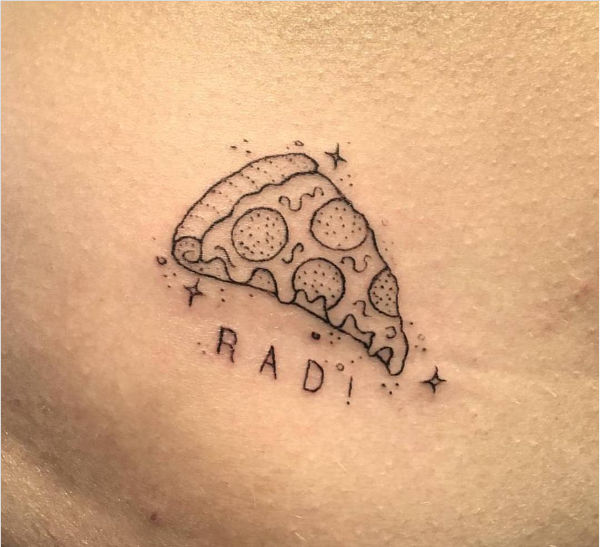 The rad pizza slice is distinctive yet still easily recognized as a delicious slice of pizza because of the stars and the little text. It certainly captures how we all feel about pizza and is lovely and quirky.
TMNT pizza tattoo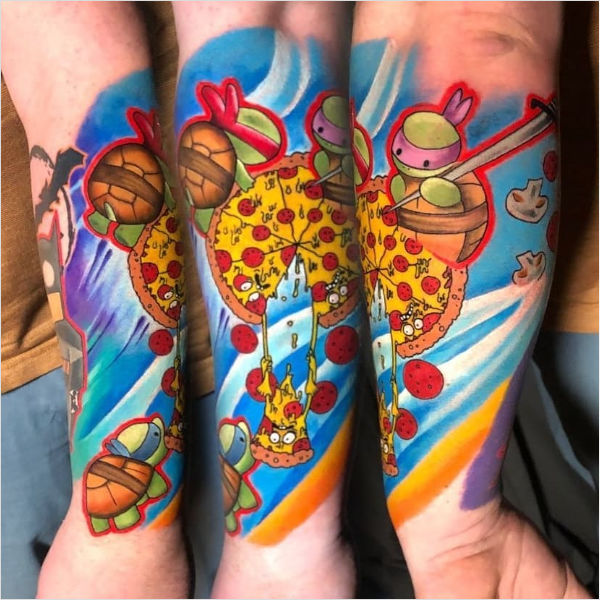 Pizza is the Teenage Mutant Ninja Turtles' preferred food, as you surely already know if you've seen the show. In every episode that has ever been produced, the four turtles (Leo, Ralph, Mike, and Don) may still be seen eating a piece of pizza.
This exquisite piece of art depicts a pizza slice sliding from the rest and oozing cheese while Leo, Ralph, and Don eat it. We can see three people's hands in the picture, and given that they all have matching tattoos, they seem to be rather close.
Teenage Mutant Ninja Turtles Pizza Tattoo is a symbol of brotherhood and is perfect if you want to get a matching pizza tattoo with someone special in your life, like a close friend.
Thick pizza slice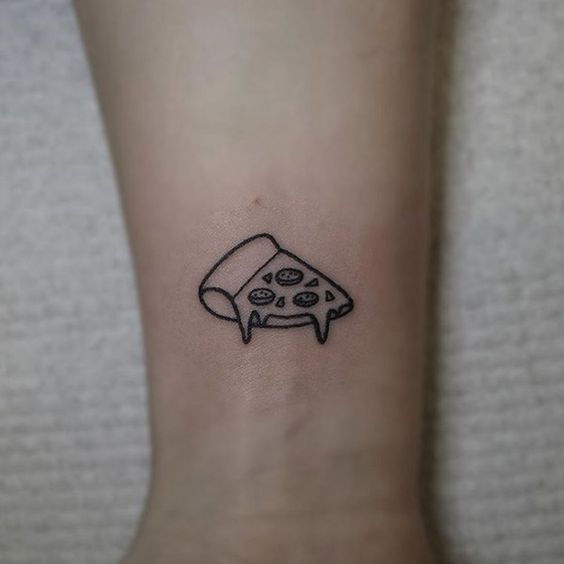 The fact that this tattoo is thick and little makes it lovely. It helps that it is purely black, as that allows your imagination consider what the toppings are (although we can definitely see the cheese!).
Getting something artistic like this tattoo on your arm definitely displays your lifelong affection for a slice of delicious pizza.
Adorable pizza slice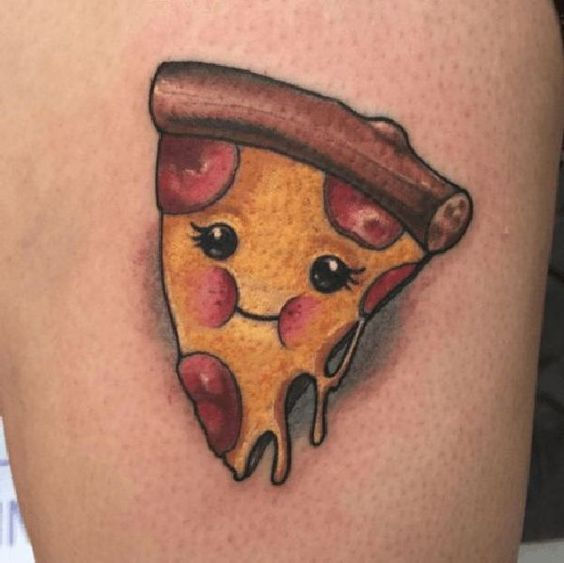 There is no need for us to explain why this pizza slice is adorable. Simply have a look at it. Have you ever seen a cuter smiling slice of pizza? It's likely you've never seen a smiling pizza slice, to be honest.
The adorable pizza slice has small eyes and pink cheeks, and the big smile just makes it pop. What a cheesy little face!
Conclusion
The above pizza tattoo ideas represent a love of pizza. It demonstrates to us that despite becoming adults, our hearts remain childish. A pizza tattoo should contain a crispy crust, plenty of cheese that is oozing craziness, perhaps some basil, and a few pepperoni pieces.
What are you waiting for if you still need to schedule your tattoo appointment? Go get that adorable tattoo of your true love, pizza, that you've always desired. Pizza never goes out of style.
You can be sure that everyone will be envious when you show your cheesy tattoo. Use our pizza tattoo ideas to get some inspiration and get that pizza tattoo right now!