Organising and hosting your own pizza party can be great fun and an interactive way to entertain your guests of all ages. I've held maybe 50 or more pizza parties, so I should know.
With some planning beforehand, and some simple equipment and ingredients, you can create a memorable and tasty event that everyone will enjoy (and leave very full!).
Pizza party planning
The first steps in planning for your pizza party is choosing an appropriate date and sending out an invite to those you want to attend.
When sending the invites, I strongly suggest you mention it's a make your own pizza theme, and that guests are welcome to bring their favorite toppings for themselves and to share. That way, you may get some interesting pizza toppings that you hadn't considered yourself.
You should also make sure that you ask guests to RSVP with a few days before the event. That way, you can plan how many ingredients and dough you would need.
Next is you need to consider the equipment for two or three pizzas being made at a time. That means 3 chopping boards, 3 rolling pins and one or two pizza peels.
You will need a couple of aprons, and a few oven mitts as well.
Ideally, you should have 10-20 small bowls for toppings. I have 20 or so glass ones that I bought at a discount store years ago, along with 8 metal pizza trays. I have also bought pizza boxes before, for that extra authenticity.
As for the actual cooking equipment, if you have a wood fired oven, or countertop pizza oven, then you are ready to go in that regard. Otherwise, make sure you have 2-3 pizza stones or pizza steels and enough room in your kitchen oven for 2 or 3 pizzas at a time.
A word on pizza toppings
There are so many toppings out there, it's crazy to try and cover them all. Just make sure you have the most popular 5-10 toppings for your area or social group.
As we all know, some toppings are more popular than others, and it's worth exploring which ones are the most popular in different countries and regions.
One of the most popular pizza toppings in the United States is Pepperoni. This spicy sausage is a classic topping that adds flavor and texture to any pizza. Other popular toppings in the US include mushrooms, onions, and olives.
In Italy, the birthplace of pizza, the most popular toppings are likely to be more traditional. Margherita pizza, which is topped with tomato sauce, mozzarella cheese, and fresh basil, is a classic choice. Other popular toppings in Italy include ham, artichokes, and prosciutto.
In the United Kingdom, popular pizza toppings include chicken, bacon, and pineapple. This controversial topping (some people love it, while others hate it) is actually quite popular in the UK, though it is less common in other parts of the world.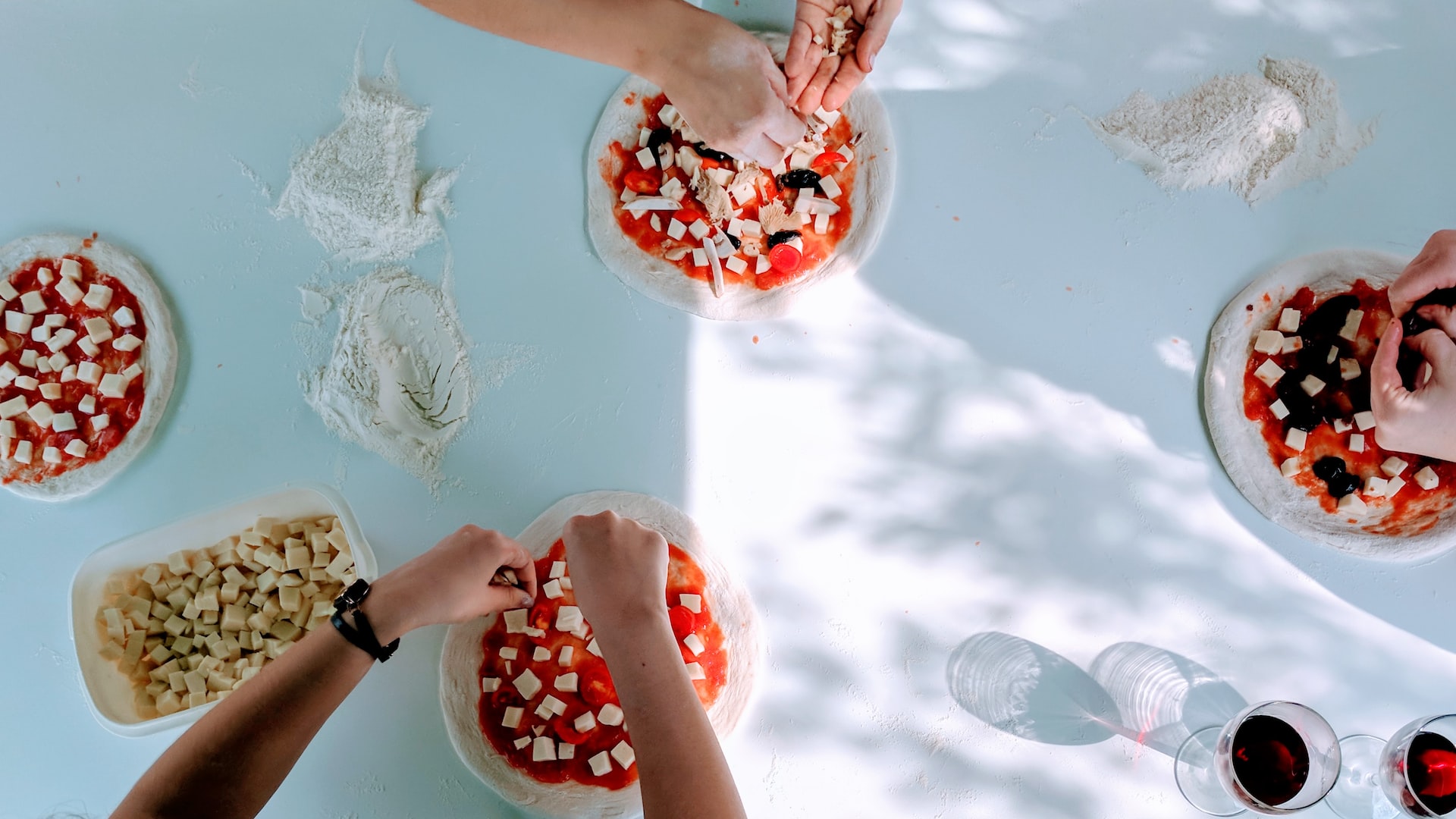 Pizza party preparation
Here are the steps you should take when hosting your own pizza party at home.
A few days before
Remember, preparation is key to a successful party. Make sure you have all the necessary ingredients and equipment ready before the day of the party.
A few days before the party, you should now know how many people are attending. Now you can make the decision to either use store bought or homemade dough. I have found that most local pizzerias will sell you some of their dough if you ask nicely – that way your guests get to enjoy rolling them out, instead of just using prepared bases.
As well as the pizza dough, you will need plenty of sauce, cheese, and a variety of toppings such as vegetables, meats, and herbs.
I suggest that you have at least 1kg of homemade dough for every four people. You can typically buy 1kg bags of Mozzeralla or pizza blend cheeses, they will easily do 6-10 people I find.
Then there's the toppings. I suggest that you at least have on hand;
Pizza sauce
Olive oil
Garlic
Fresh basil
A few cheeses
Lots of herbs
Red and green peppers
Tomatoes
Pineapple
Pepperoni, Bacon and meats
You can also provide some fun, unusual toppings like goat cheese, arugula, or caramelized onions to add some excitement.
When hosting your own pizza party, you can decide to either purchase jars of pizza sauce, or you can use one of the many pizza recipes on this website to make a bulk batch. The latter will work out cheaper most of the time.
Now you'll also need a rolling pin, pizza pans or baking sheets, and a pizza cutter. You may want to either use paper plates, or have plenty of plates on hand.
The day before your pizza party
If you are making your own pizza dough or pizza sauce, today is the ideal day to make them, and then store the sauce and dough in the fridge. In fact, you can chop most of the toppings as well, if you have them handy.
It's always a good idea when hosting your own pizza party, to have a few backup options for guests who may not want to make their own pizza. You can have a few pre-made pizzas on hand, or provide other options such as salads or maybe a quiche or other party foods.
Pizza and drinks go hand in hand, so make sure you have a variety of beverages available for your guests. Consider offering both alcoholic and non-alcoholic options.
The big day
The big day for hosting your own pizza party has come!
Get the dough and sauce out of the fridge, and if you haven't yet, chop up your pizza toppings and pout them in small bowls with either tongs or forks to pick them up for use.
Next, set up a designated area where guests can assemble their pizzas. Set out all the ingredients and provide some inspiration with a few pre-made pizza examples.
This can be as simple as laying out the ingredients on a table or countertop, or you can get creative and set up individual "pizza stations" for each guest.
Either way, make sure there is plenty of space for everyone to work.
If you can, maybe print out a few pizza topping combinations, and stick the sheets up somewhere nearby for inspiration.
Make sure to start preheating your oven an hour or more before guests are due to arrive, so it is nice and hot for the first pizzas.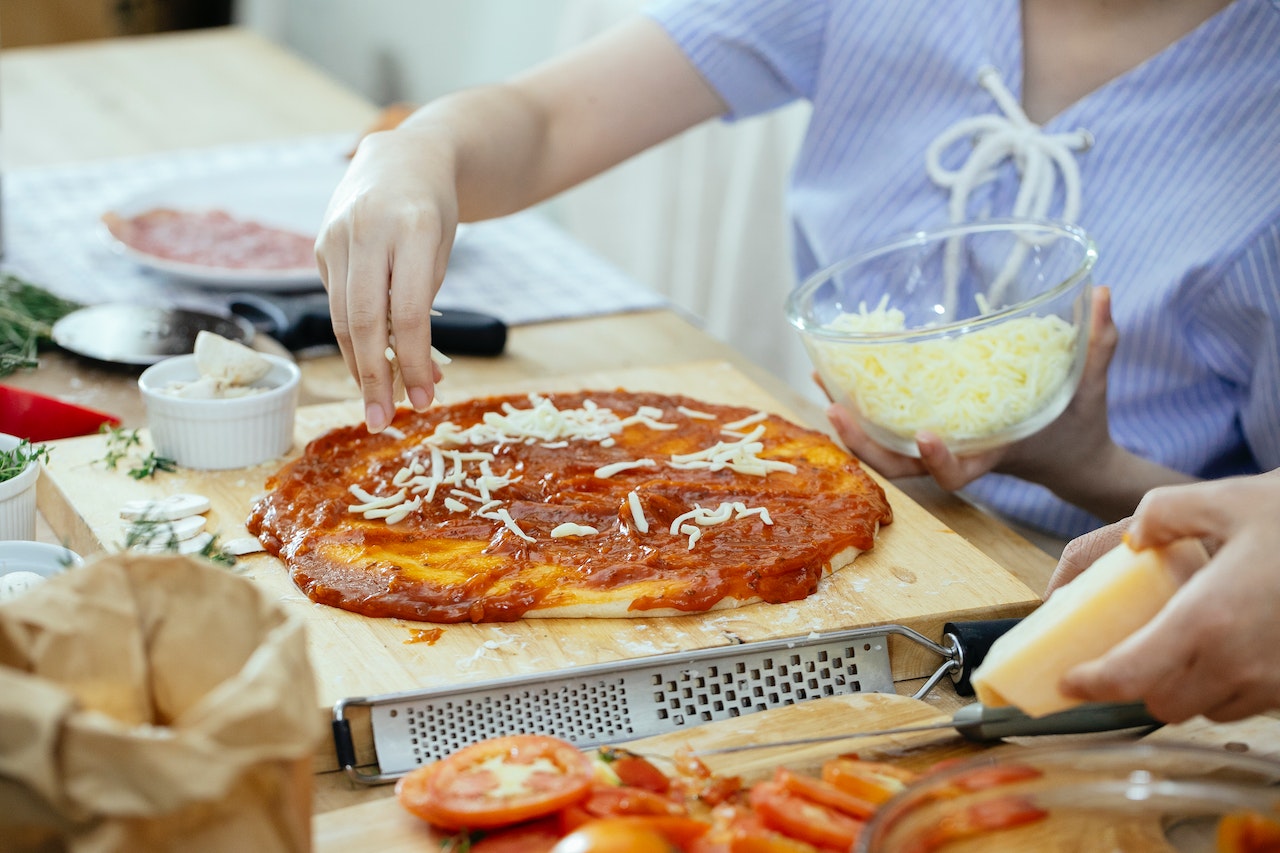 During the party
When it's time to start making pizzas, roll out the dough and place it on the pans or baking sheets.
It is wise to give a quick 'briefing talk' so guests know how to make the pizza. Remember to remind them to flour boards, peel, etc so the pizzas don't stick. Also be careful to let them know not to overload the pizza with too many toppings. This makes them very hard to move around, and longer cooking times will be required.
Then, encourage your guests to start rolling out their dough, adding their own sauce and toppings, and then bake the pizzas in the oven.
While the pizzas are baking, you can set out some snacks and drinks to keep everyone satisfied. A salad or antipasto platter would be a nice accompaniment to the pizzas, and don't forget the dessert!
Once the pizzas are finished, have everyone gather around the table to enjoy their creations. You can even have a "pizza competition" to see whose creation is the most popular.
Overall, hosting a "make your own pizza" party is a fun and easy way to entertain. With a little planning and some tasty ingredients, you can create a memorable event that everyone will enjoy.
Hosting your own pizza party can be a fun and interactive way to entertain guests, especially for those who love pizza!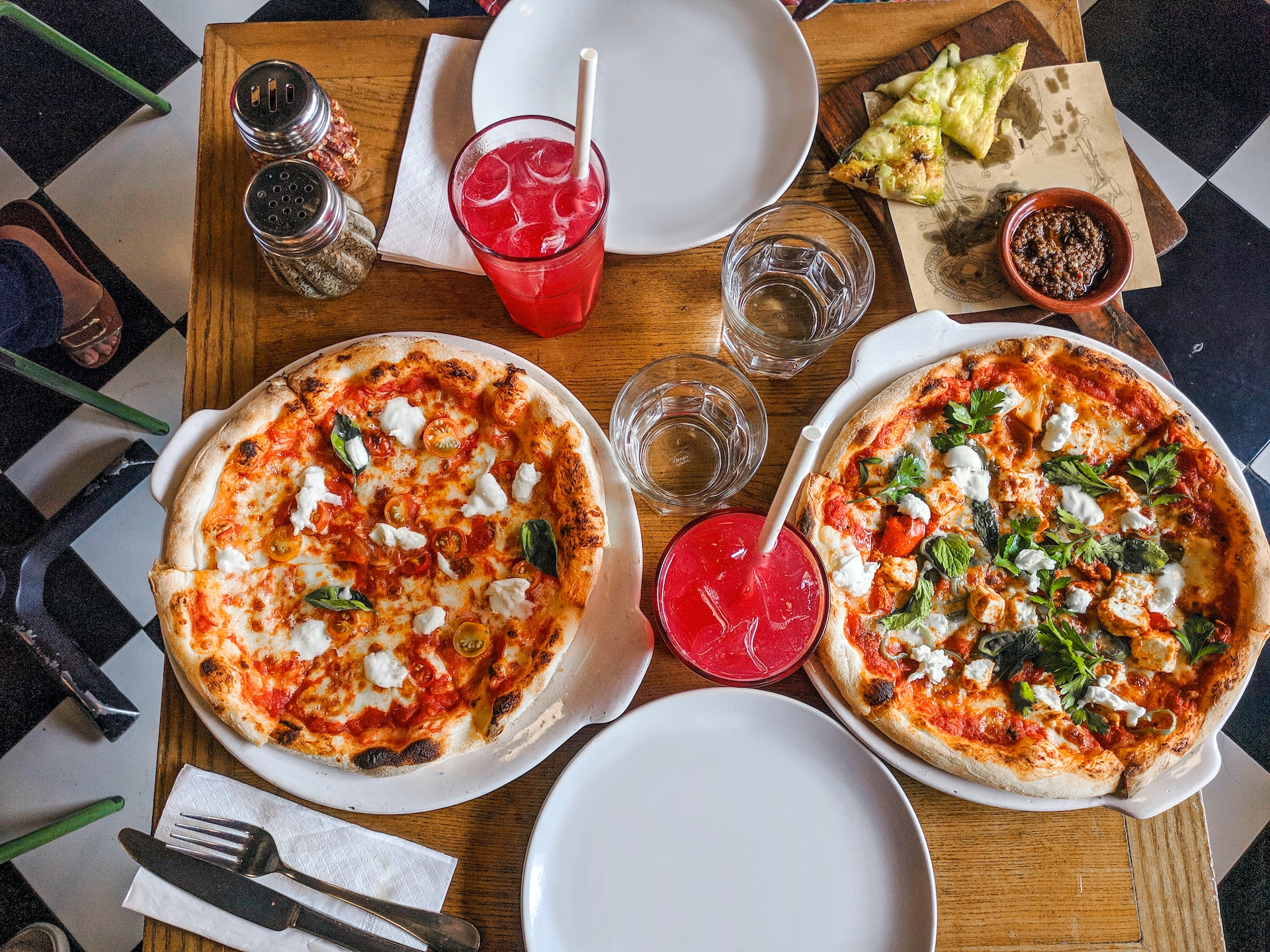 Pizza party decor
Have you thought of buying or creating your own pizza party decorations? You can go with the theme, if there is one, such as birthday or Christmas, etc, or you can push the pizzeria angle.
Get yourself a cheap blackboard and write the "menu" or print out the pizza emoji and stick it up all around, or just add some ribbons and balloons. The sky is high for your own imagination here – get creative!
Take pizza slices from the pizza party
Some of your guests may not finish their pizzas, or they may ask for takeaway as well. Make sure you have plenty of foil wrap or cardboard pizza boxes if required.
You can normally buy some boxes from your local pizza store, or search the web, and you can buy them in packs of 50 or more from wholesale suppliers.
Conclusion: hosting your own pizza party
So now you know; hosting your own pizza party can be lots of fun! All it takes is some planning, preparation and a good group of friends.
Give it a try sometime, and maybe start small with 4-6 friends. See what works and what didn't, and improve your pizza parties over time. Before you know it, you'll be known as the pizza party host and guests will be asking you when the next one will be held.
Above all, make pizza and enjoy!