Many people end up with leftover pizza, which is perfect for lunch or dinner the next day. In fact, you can keep leftover pizza in the fridge for days, however whoever leaves it that long? Not in my house, that's for sure!
In this guide, we'll cover the most common methods to reheat pizza, and how to reheat pizza effectively using these methods. Let's get into it!
We are going to cover seven different methods you can use to reheat that delicious pizza. Those seven methods are;
To make it easier for you, you can choose the one most convenient for you, and click it above to jump down to that section, or scroll down this guide to read all the pizza reheating methods.
Tips on how to reheat pizza
There are a few extra tips I should mention, before we get into each method or equipment style.
These instructions relate to the best way to reheat deep dish pizza, thin and crispy and any type of pizza in between. The focus here should be on ensuring that your pizzas heats all the way through, without burning. So please take note that any times mentioned here are variable.
If you are making pizza at home, knowing that you will be reheating it, then you should be "par cooking" the pizza, which is a fancy way of saying "half cook" it, then all you do is heat it up, without fear of burning your pizza.
If your pizza contains fresh basil, rocket or other items added after baking, then you should take care to remove these toppings before you reheat your pizza. Once reheated, add them again, whilst the slices are still hot.
If you find the pizza is a little dry after reheating, you can sprinkle a little squirt of olive oil across the top, to give it some moisture and extra flavor.
You should periodically check that your pizza cheese topping is not turning brown, and the base is not burning.

How to reheat pizza using oven
Your typical kitchen oven is usually the easiest way to reheat leftover pizza. The question then becomes what temperature should I reheat pizza?
You want the pizza to be hot, but you don't want to brown the base or burn the cheese. Rather than place the pizza directly on the oven shelves, try placing it in a dish with medium height sides.
Rather than setting your oven as high as it can go, try heating to 280-320 degrees Fahrenheit, and try warming it slower but more evenly.
If you are concerned that you may burn the pizza base, you can also wrap the pizza in foil.
If you notice the pizza starting to brown, particularly the crust, try lowering the heat by 20-30 degrees. This will allow your pizza to continue to reheat, however at a slower rate.

How to reheat pizza on a pizza stone
If you are lucky enough to have a pizza stone, you can reheat your pizza by first preheating the oven and stone, and then adding the pizza for a short time.
Once the oven and stone have been preheated, place the pizza on the stone for 3-4 minutes and then confirm if it is now warm enough. Heat further if required.

How to reheat pizza using BBQ or grill
If you have an outdoor BBQ or grill, you can also use that to heat your pizza. The best way to do this, is to place the pizza on some foil, and place that on the solid hotplate, however if you do not have a solid part of the hot plate, the elements should be fine.
Whilst reheating the pizza, check the base frequently by lifting it up, and ensuring that it is not burning. You want the base to be nicely browned and the toppings hot, but not burned.
Continue to reheat on the grill as required.

How to reheat pizza using air fryer
A reasonably fast and efficient method (especially if your office has an air fryer) is reheating individual pizza slices using an air fryer. I say slices, because typically a whole pizza wouldn't fit.
You don't want to stack the slices in an air fryer either; that won't allow them to cook through properly.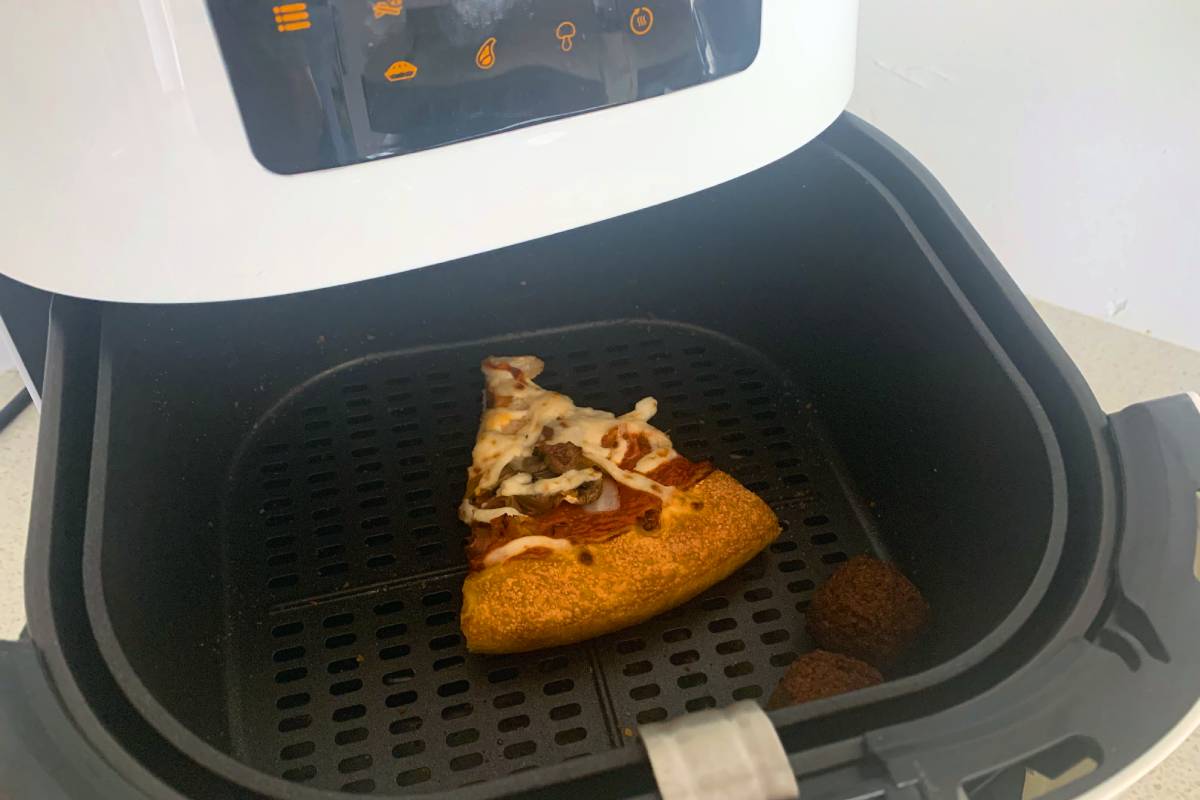 First, remove the air fryer tray and place your pizza slices on it. As demonstrated in the image above, try to keep them apart, to allow for equal cooking.
Now, turn on the air fryer and set temperature to around 350 degrees Fahrenheit (175 degrees celcius).
Cook for approximately 4-5 minutes or until the cheese is melted and the crust is crispy. Heat further if required.

How to reheat pizza using stove
You can also use a large frypan on your electric or gas stovetop to reheat your pizza. If the pizza base can withstand some extra cooking, you can place the base directly against the pan. However, if the base is already browned nicely, you may wish to place the pizza on parchment paper or foil, and place those into the pan instead.
Now, reheat the pizza on the stove for a few minutes, and check regularly until it is reheated enough for you.
Heat further if required. Do not leave it unattended, however.

How to reheat pizza using microwave
Your microwave and pizza experience until now has probably resulted in a soggy pizza, that needs a paper towel underneath to eat, right? Well, here's a lesser known trick that may help you restore faith in reheating a pizza using a microwave.
Try putting your pizza in the microwave, but this time add a microwave safe cup or glass of water. Now, reheat the pizza on high for 30-45 seconds, and check if it is now warm enough. Heat further if required.
The water provides moisture to ensure that the pizza base should stay crispy, yet allow the toppings to still heat through.
If you find when you remove the pizza, that it is still too soggy, try placing a paper towel under the base for 20-30 seconds. This should absorb much fo the moisture that is escaping through the dough.

How to reheat pizza using a campfire
This may sound far fetched, but honestly, there's nothing better than taking a pizza with you on a family weekend camping. There's actually two different methods for a camp fire. If you have a skillet or cast iron pan, you can reheat the pizza using the stove suggestion above.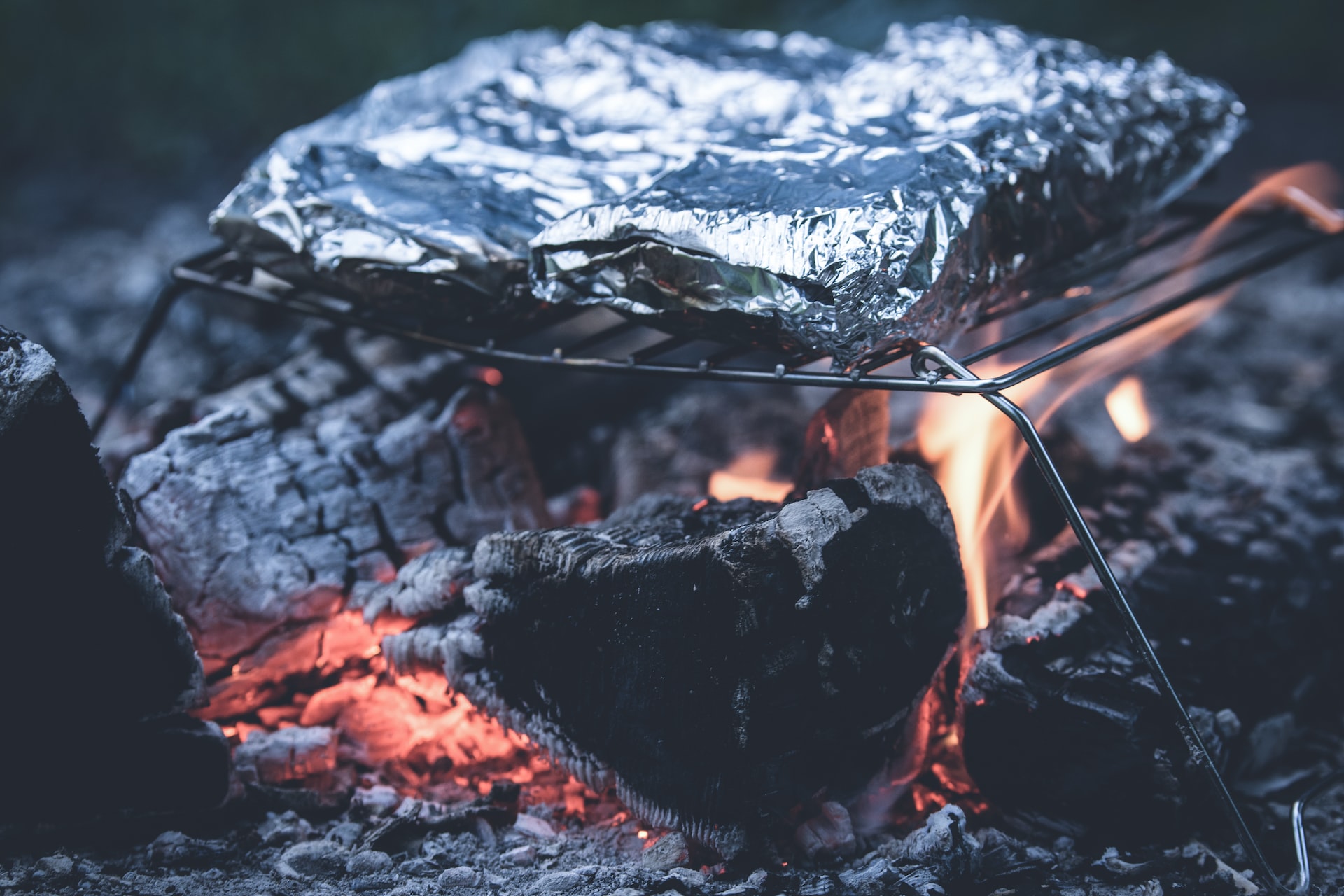 Otherwise, you can try the old style way, which is to wrap it in foil wrap, and place it on some wire, as shown in the photograph here. A more rustic camping alternative is to hold the foil parcel between two branches.
You want to ensure that the heat gets over all the foil, however naked flames not to long in one spot. Remove the parcel frequently, and check the temperature inside. Be careful, however, as the foil will be very hot to the touch!

In conclusion
We all have times where we have leftover pizza, and want to reheat it for our lunch or dinner the next day (or so). The above cooking methods are the most likely ways how to reheat pizza so it tastes great. Enjoy those leftovers!