If you are on TikTok, then it is likely you know about the pink sauce craze this year. You may even be willing and tempted to put pink sauce on pizza.
Should you, though? Worry not, as we have written this guide to help make the decision easier for you!
Although it has a creamy appearance, pink sauce is really a little runny. It has a thin consistency and seems more like runny pink milk dripping from the bottle's nozzle. It's liberally put on fried chicken or hamburgers in many of Chef Pii's videos, but it readily slides down the edges of the meal.
The website for Pink Sauce lists chilli, garlic, honey, sunflower seed oil, chilli, and dragon fruit as its colourful ingredients. Previous nutrition labels also included less than 2% of lemon juice, milk, and citric acid, as well as pink Himalayan sea salt and other ingredients.
Chef Pii can be seen consuming the sauce in previous TikTok videos. However, it was the video showing her putting sauce into a bottle and claiming that it is "edible and natural" that caught viewers' attention.
What is Pink Sauce?
Veronica Shaw is a 29-year-old personal chef from Miami, Florida, who goes by the name Chef Pii. She is the brains behind Pink Sauce. She has reportedly been making the sauce for customers for over a year, long before it became viral on TikTok.
According to Shaw, she has used it to spruce up fried chicken, French fries, and vegetables. Additionally, she spoke of lamb chops, salad dressing, and what seemed to be a McDonald's hamburger with hot pink sauce in her posts.
We haven't seen any TikTok videos of pink sauce on pizza though.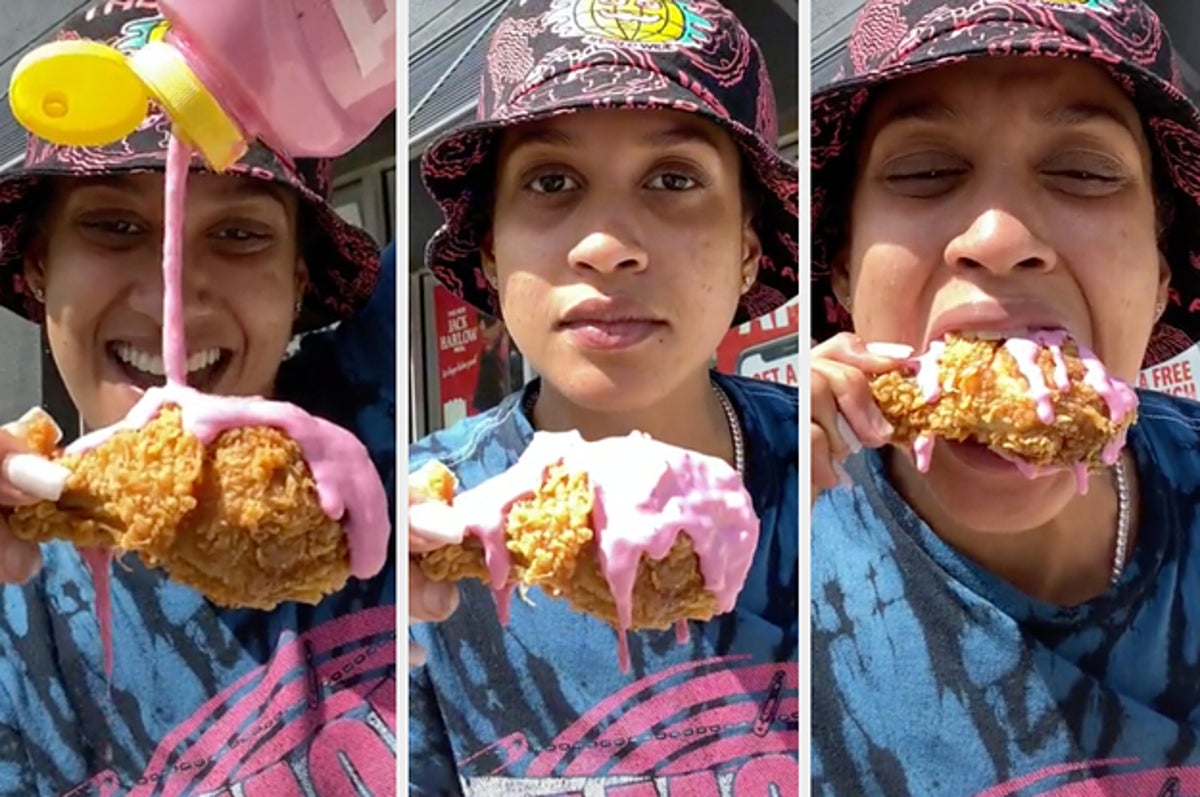 Ingredients of Pink Sauce
On the Pink Sauce website, the sauce's ingredients are listed as dragon fruit, sunflower seed oil, honey, chilli, and garlic. The pink colour of the sauce is purportedly due to pitaya, or red dragon fruit.
Pink Sauce Ingredients
Dragon fruit
Sunflower seed oil
Honey
Chilli
Garlic
Flavor of Pink Sauce
There's no way to know what Pink Sauce tastes like until you've tasted it for yourself. Shaw hasn't yet said what it tastes like since she can't explain it. Customers claim that it has a little Ranch flavour, albeit not necessarily in a nice manner.
This does not really work well for pizza lovers who like something a little more flavorful with their pizza. Therefore, pink sauce on pizza does not seem like a good option for most people.
Controversy
Due to many problems with the product's safety and labelling, the Pink Sauce has generated some criticism. People are worried about the discrepancy between the amount of sauce present in the bottle and the amount of sauce the bottle is labelled with. Additionally, there is also the fact that colour varies greatly from batch to batch, and the product's poor packaging.
Additionally, people were also suspicious about the alleged presence of ingredients not listed on the ingredient list, such as mayonnaise, to thicken it. There is also the fact that it contains milk, which could cause botulism when packaged in a bag. Also, there have been allegations of the sauce tasting and looking rancid, and several customers have purportedly been sent to the hospital.
YouTuber MatPat reviewed the pink sauce on his Food Theory channel. He said that the ingredients list and food quantities on the label were both incorrect. He also made an effort to determine the original recipe. Due to possible health hazards, MatPat advised against eating the sauce.
Can I put Pink Sauce on pizza?
You can put pink sauce on pizza and try it if you want to do something daring. However, we would recommend that you not try out your pizza with pink sauce, given how unreliable the product is. Traditional pizza sauce alternatives are way better while eating pizza.
Red pizza sauce is a favourite among many people and is flavoured with ingredients such as minced garlic, onion, oregano, basil, and other herbs and spices.
As you may have seen, there are numerous non-tomato pizza sauces as well. You can try out pesto sauce, Alfredo sauce and even barbecue sauce as well. With the wide variety of alternatives that you head to, you do not really need to add pink sauce to your pizza.