Food photography has become really popular and there are several reasons for it. Since the world of restaurants, pizzerias, groceries, bakeries, etc. has exploded and still growing, the demand for food photos is skyrocketing as well. In fact, food photography plays a significant role in the growth and promotion of these hospitality businesses.
The art of pizza photography and the ability to shoot food perfectly is a great skill for anyone to have.
When you are planning to shoot photos that sell well, you must bring something unique and purposeful to the table. This article is all about improving the quality of your food photo shoots. Even if you are an amateur photographer, keeping these points in mind will help in elevating your skills in this field.
Start to think as an artist
Of course, photography is an art but this sentence becomes more relevant while photographing pizza. Plenty of items are there, either as food items or the tools that people use to cook food. Arrange those items like you are a painter who is planning to give the canvas a whole new look.
All the things like squeeze bottles, ingredients, sauces, cutlery, pizza boxes, paper towels, etc. all can have an important role to play in styling your pizza photography shoot.
You may form patterns using sauce, chocolate syrup, etc. on the plate if you like. It is all about bringing the beauty out of the food item that you are photographing. List all the components first so that arranging them will be easier for you.
Example pizza images
In this guide, you'll find four examples of pizza photography to review. They are showing four popular methods of portraying pizza. Here's a description of each of these photographs, from top to bottom. Scroll down to see each one.
Action shot
This is where you see a hand or multiple hands pulling a slice away from the rest of the pizza. This is good, because it adds a human element to the photo.
Fire shot
Also known as the oven shot. This is typically done with wood fired pizza ovens, however there are also examples using other domestic and industrial ovens where it also works quite well to highlight the pizza cooking process.
Top down shot
This is similar to the flat lay technique. This shows the pizza front and centre, typically with an interesting texture surface behind.
Ingredients shot
This is the most styled image in this set of example pizza photos. This shows a top down shot, with ingredients scattered around the pizza itself.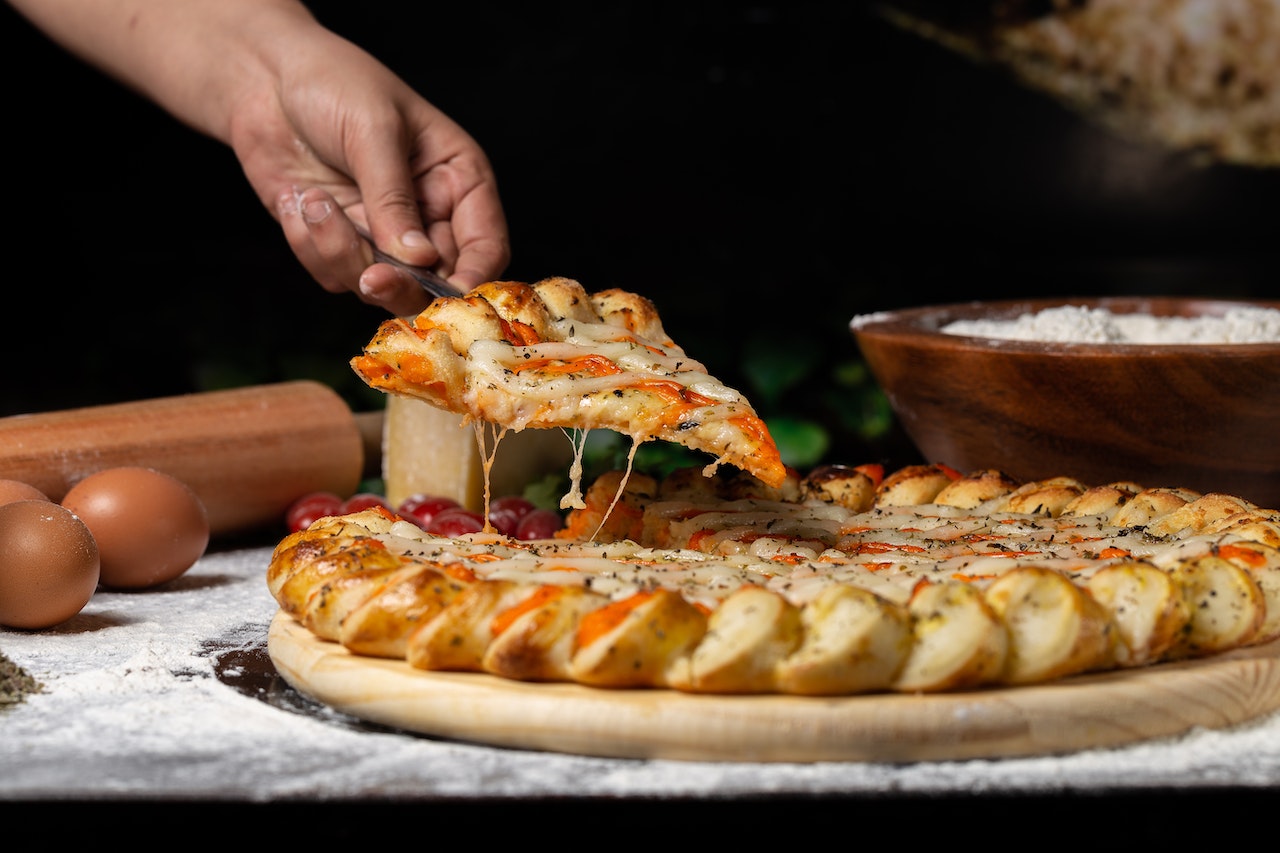 Pizza photography styling tips
Pizza photography really isn't just aim your camera or phone at your pizza and click. I mean it can be, but that's pretty boring. The more effort you put into your pizza photography, the better the results will look.
Arrange things differently for different food items
Suppose your subject is a simple Margherita pizza. You only have cheese and tomato and fresh basil to play with here. The simple toppings means that you need to highlight the pizza through colors and textures. Choose an interesting wooden board to place the pizza on, or a ceramic plate with a pattern on the edge.
Maybe add color around, by arranging a small sprinkle of cheese, or sliced tomatos or even fresh basil leaves in the background, near the plate or board.
Be careful not to arrange everything too perfectly. Maintaining a slightly candid look of the food matters a lot and gives it a more genuine feel.
Consider the inclusion of additional items, such as a pizza cutter or an apron to balance the color of your subject.
Choose the plates wisely
As I have mentioned, plates should be in accordance with the aesthetics of the food items. The color and texture of the surface beneath the pizza must help to strengthen the overall look of the subject. Consider the case of a very colorful pizza, such as a deluxe pizza.
The toppings are creating a mixture of multiple colors for you to work with, so perhaps plain white plates will serve the purpose. Other less colorful pizzas should be placed on a textured surface for a better appearance.
Try to put the subject in the middle
This is something you must try, every time you are doing a pizza photography shoot. Though photographers should feel free to break the rules but keeping the subject in the middle appeals the most, at least in food photography.
With the subject (the pizza) in the middle, add other things on the way out. This will complete the frame without messing with the boldness of the subject.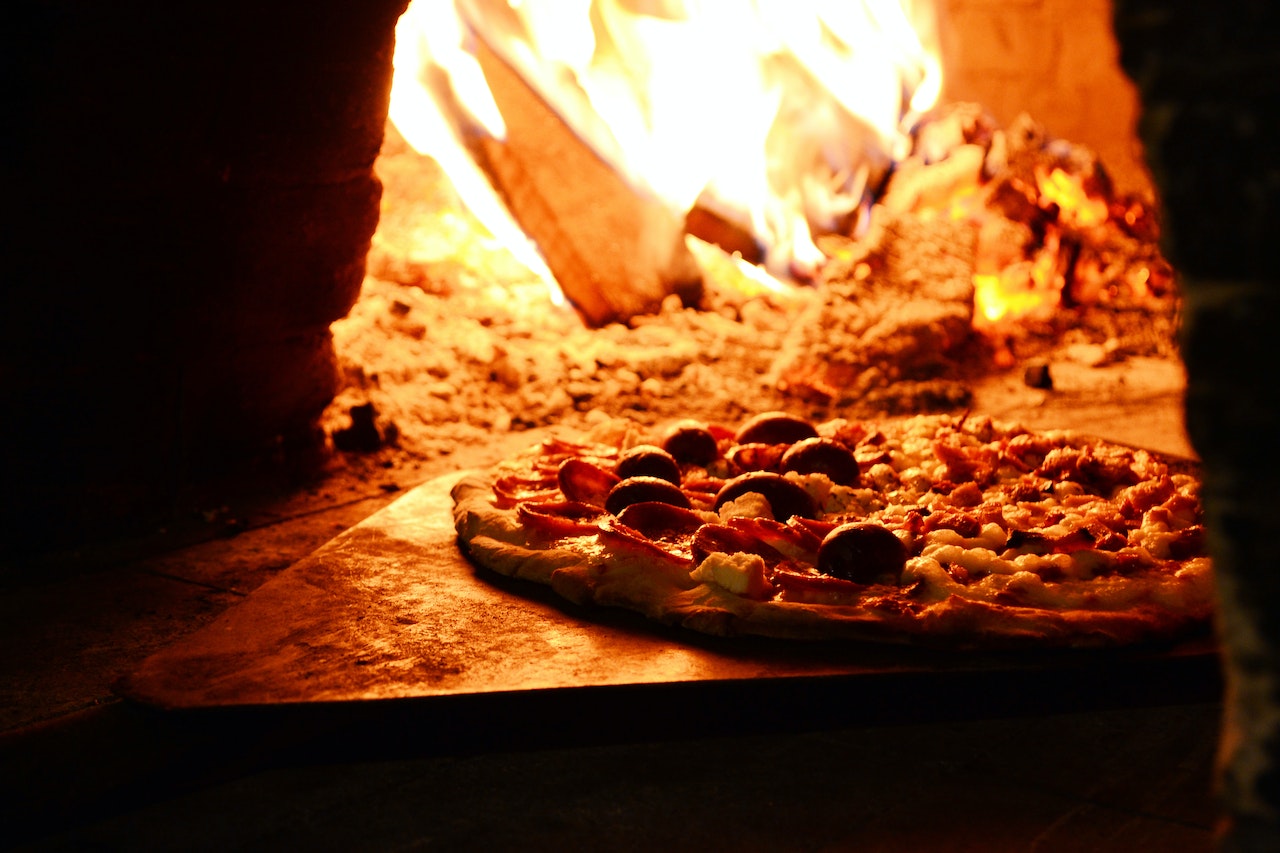 Lighting is very crucial
Since you want to highlight the tiny details and subtle textures, there is no way to achieve it without proper lighting. And you can't apply the same technique for all your food photo shoots.
Lighting arrangements need to be different based on the part of the food item you are looking to emphasize. Keep these simple tips in your mind when it comes to setting the perfect light here.
Go for natural light if possible
Natural light is bright enough to light the subject and diffused enough to avoid harsh shadows. You need to choose the place wisely in order to harness both these benefits of natural light. When indoors, do it somewhere near the window for the best results.
Use artificial lights wisely
In case you have to use artificial lights only, use them the right way. First, you have to avoid putting the light source in front of the food item. Doing that creates certain bright spots on the subject that might mess up the texture. Avoid this situation by throwing light from the sides.
Playing a little with the light source will help you find the perfect spot. Second, you have to use diffused lights only. This is the only way to light up the subject in a natural way. Use reflectors to incident light on the subject while using a bright light source.
Third, keep checking on unwanted shadows. Such shadows are easily formed since lighting the subject from the sides is the most obvious option.
Create a library of props
If you are going to be involved in pizza photography regularly, it is worth building up a series of props to use in these shots.
Two great places to source these from are thrift stores and hardware stores. Let me explain.
The big problem with shooting cutlery and shiny items is that they tend to reflect everything, and they also display fingerprints and marks easily. Go to your local thrift store or use online marketplaces to find old cutlery, especially retro looking or 'dull metal' items to use. Another great item to look for are various sizes and colours of plates.
Another great place for sourcing pizza photography props is hardware stores. You can normally buy small sheets of different woods and texture materials, that you can use to place the pizza or the pizza on a board or plate on top of. I have even shot using some artificial grass behind some food.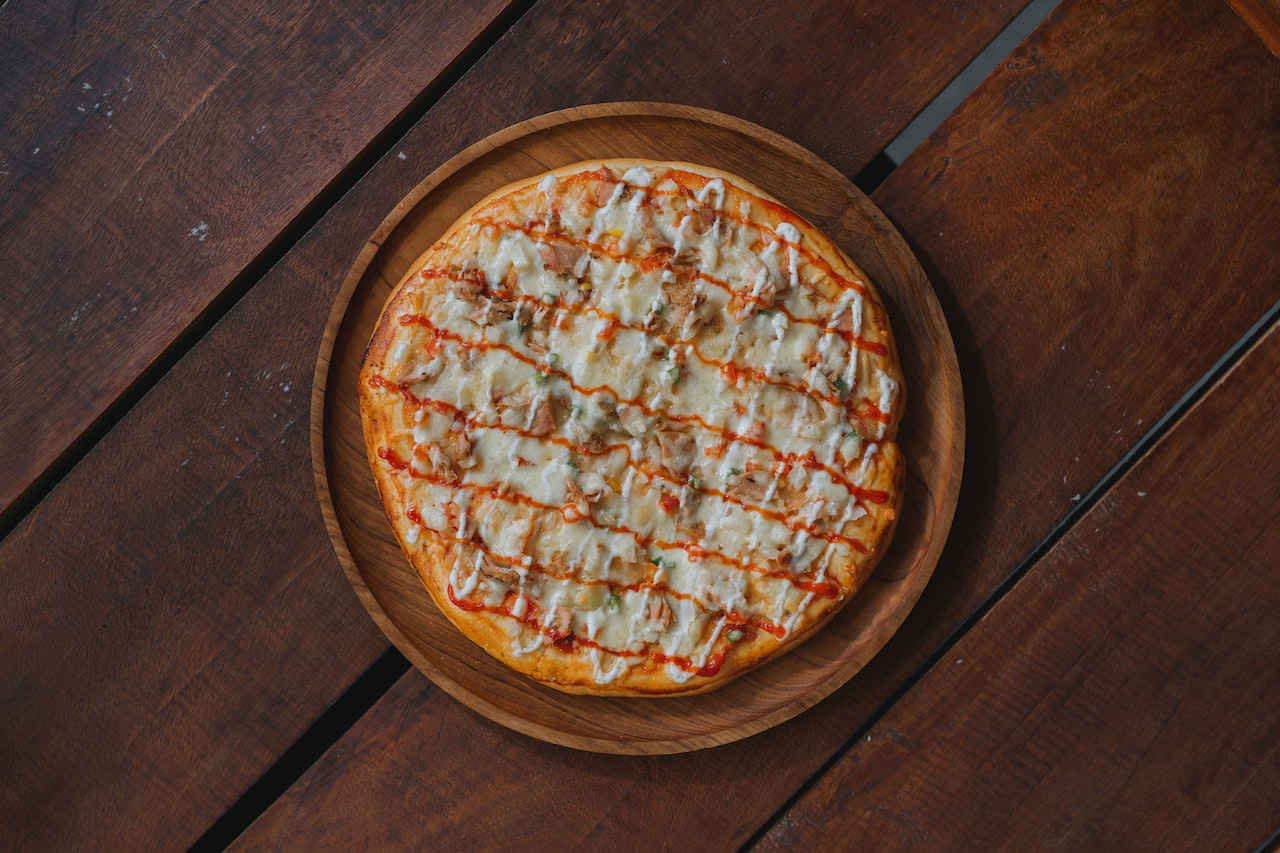 Apply the usual photography techniques
Some rules of photography remain the same throughout the genres, and not just food or pizza photography. Take a look at these common tips that can make a difference.
Use the principles of color psychology
We all understand that colors have a deep impact on people's minds. As you are trying to shoot photos that must impact people in a good way, taking care of the colors is really important.
Certain shades of color like yellow, red, and green are the ones that create an appetite. Other such options include the colors that are generally found in deserts, etc.
Be mindful of these points while choosing the toppings or ingredients you'll be highlighting.
Try shooting from different angles
Shooting the same thing from different angles easily transforms its overall look.
You must have experienced it in photography. In a field like food photography where the subjects are commonly found everywhere, perspective has a major role to play.
Try shooting from top down, side on, macro shots, long shots with small aperture and the like. It's all about experimentation!
Harness of power of post-processing
Editing is beneficial only if done well, and subtly so it doesn't stand out. Even the most appetizing colors can become unappetizing with over-editing. Start by working on the sharpness of the image. It will give the subject well-defined boundaries and the overall photo will have contrast in it.
The other important thing worth doing here is to perfect the white balance in your photos. The warmer the photo looks, the more appetizing effect will it create.
Saturation is another technique that you may rely on to bring the real colors out of the frame. Enhanced saturation is something that will make the photo more appetizing just as you like. It is an ideal way to increase the intensity of colors present in the frame. Make use of it.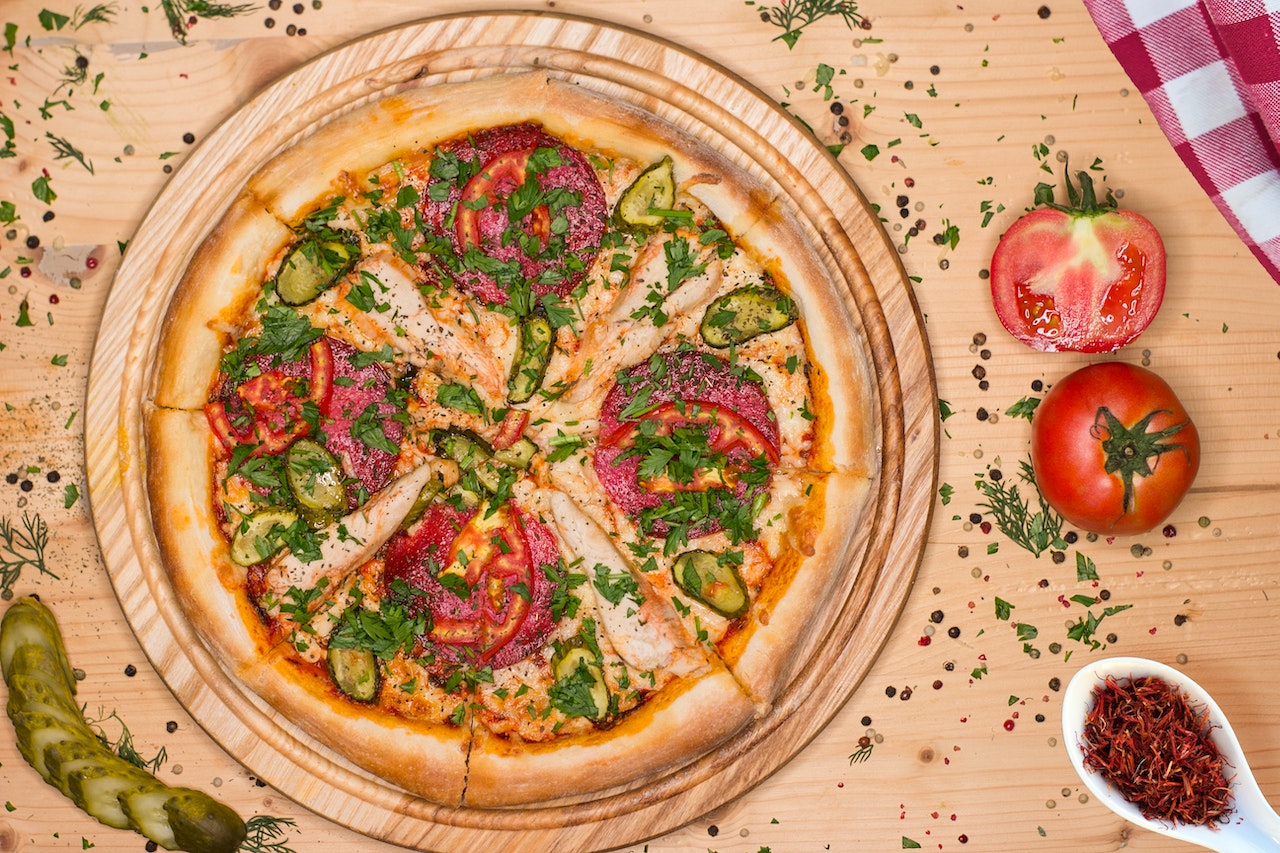 Final words
The list of tricks for best pizza photography shoots is never ending. This article will help you become better than before for sure. But keep in mind that no one is stopping you from being more creative whether in terms of photography or preparing/choosing food items.
Use innovative items to dress up your shots. Play further with different editing techniques, perspectives, etc. With these techniques, and continued experimentation, I hope you will find a lot more unique ideas along the way.