Caramelized Apple and Onion
This Caramelized Apple and Onion Pizza is an embodiment of autumn in one delicious pizza pie. It's crisp, salty, sweet, and cheesy combination is perfect for your quick afternoon snacking.
This pizza recipe is a very new, untraditional and absolutely delicious spin on pizza that is actually healthy for you.
This pizza will give you the nutty taste of the cheese, the sweet onion, the sweet apple. Add a chopped bacon for that crispy and salty taste!
If you have a taste for Dessert pizzas with No sauce sauce this pizza may be what you have been searching for.
There are a lot of reasons why people find pizza so delicious! One of the main reasons is the combination of flavors and textures. The warm and gooey cheese, the tangy tomato sauce, and the crispy crust all come together to create a truly irresistible taste.
Another reason is that pizza is a very customizable food, you can put whatever toppings you like on it, whether it's pepperoni, mushrooms, onions, or something else, there's a pizza out there for everyone. Additionally, pizza is a comfort food for many people, it's something that reminds them of home and family.
And, let's not forget, pizza is a social food, it's perfect to share with friends and family. All in all, pizza is delicious because it's a perfect combination of flavors, textures and it's a social food that many people enjoy.
Pizza in Russia
Other popular Russian meals contain Beef, lamb, pork and Chicken, and Potatoes plus root vegetables. Sour Cream, porridge and bread accompanies many meals.
Take a look at some of the other pizzas from Russia here.
Caramelized Apple and Onion Pizza at a glance

| | |
| --- | --- |
| Origin | Russia |
| Type | Dessert |
| Sauce | No sauce |
Caramelized Apple and Onion Pizza Recipe
Below we've put together a recipe for you to make your own homemade Caramelized Apple and Onion Pizza from either a woodfired oven or the oven in your kitchen.
Preparation time

| | |
| --- | --- |
| Dough | 2 hours |
| Assembly | 10 minutes |
| Baking | 12-20 minutes |
Caramelized Apple and Onion Pizza Ingredients
Choose enough pizza toppings for the amount of pizzas you will be creating. The pizza sauce and dough ingredients below are designed for 3-4 pizzas, so add more or less, if required.

Simple Pizza dough
2 tsps (7 g sachet) dried yeast
1 cup (250 ml) luke-warm water
2 2/3 cups (400 grams) pizza flour
Two tsps salt
3 tbsps (1/4 cup) virgin olive oil
Caramelized Apple and Onion Pizza Toppings
Toppings used in this pizza recipe, are;
Goat's Cheese
Caramelized Apple Slices
Caramelized Onion

Tomato Pizza Sauce
1 can (15oz/420g) diced or crushed tomatoes
1 (6oz/170g) can of tomato paste
2 cloves of garlic
1 tsp salt
1/4 small onion
1 tbsp dried Italian herbs
Want to try a different sauce? See our article on the different types of pizza sauces.
TIP
You can click on any of the tags at the bottom of this page, to find other pizzas besides Caramelized Apple and Onion Pizza, that use that topping.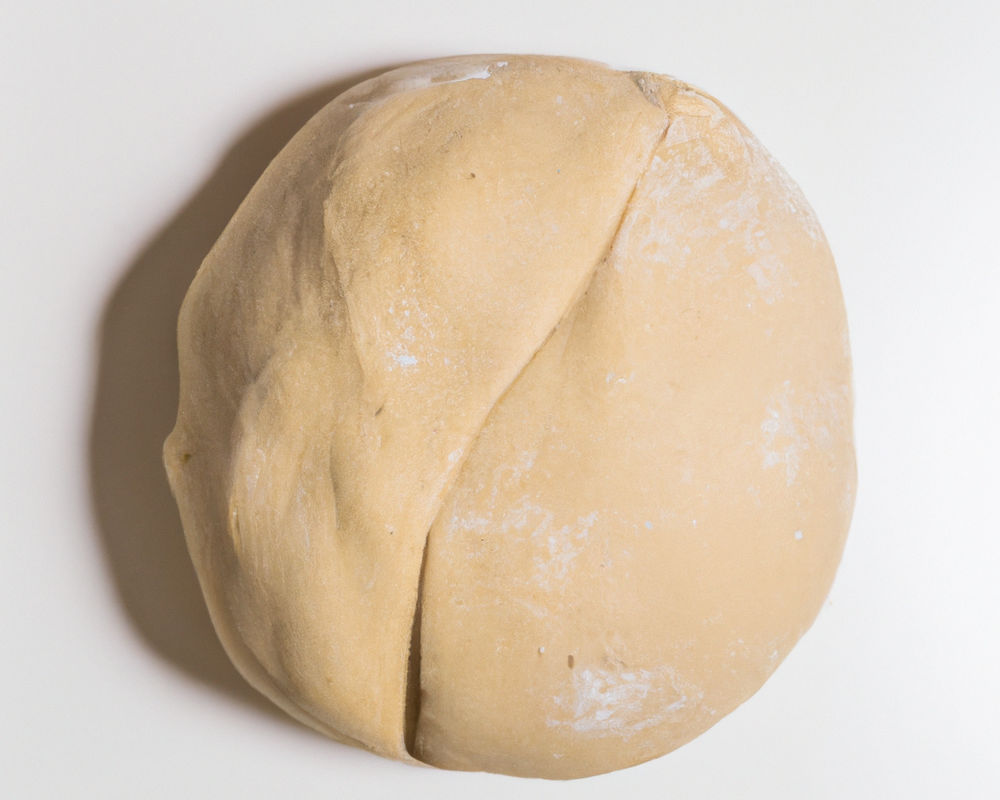 Pizza Dough Method
If you don't have much time, grab a premade pizza base at your local grocery store, or hand make your own pizza dough following the simple steps below.
Whisk the lukewarm water and yeast in a plastic or glass jug. Let the mixture stand for approx. five minutes.
Add the salt and flour in a large bowl. Create a hollow centre in the flour. Slowly pour the liquid yeast mixture and oil.
Using your hands or a mixer, mix the dough until smooth. Pour dough on a lightly floured work surface and then knead by hand for five minutes.
Place dough into lightly oiled bowl and cover with plastic wrap. Sit in a warm place for roughly 30 minutes to an hour, to rise until it doubles in size.
Fold the dough out onto a lightly floured surface. Knead gently by hand for around five minutes or until smooth.
Divide the dough roughly into equal amounts. Roll out pizza bases for the desired size.
Spread some flour on kitchen bench before rolling, in order to prevent sticking.
TIP: We have other dough recipes if you would like to try your hand at sourdough, poolish or more.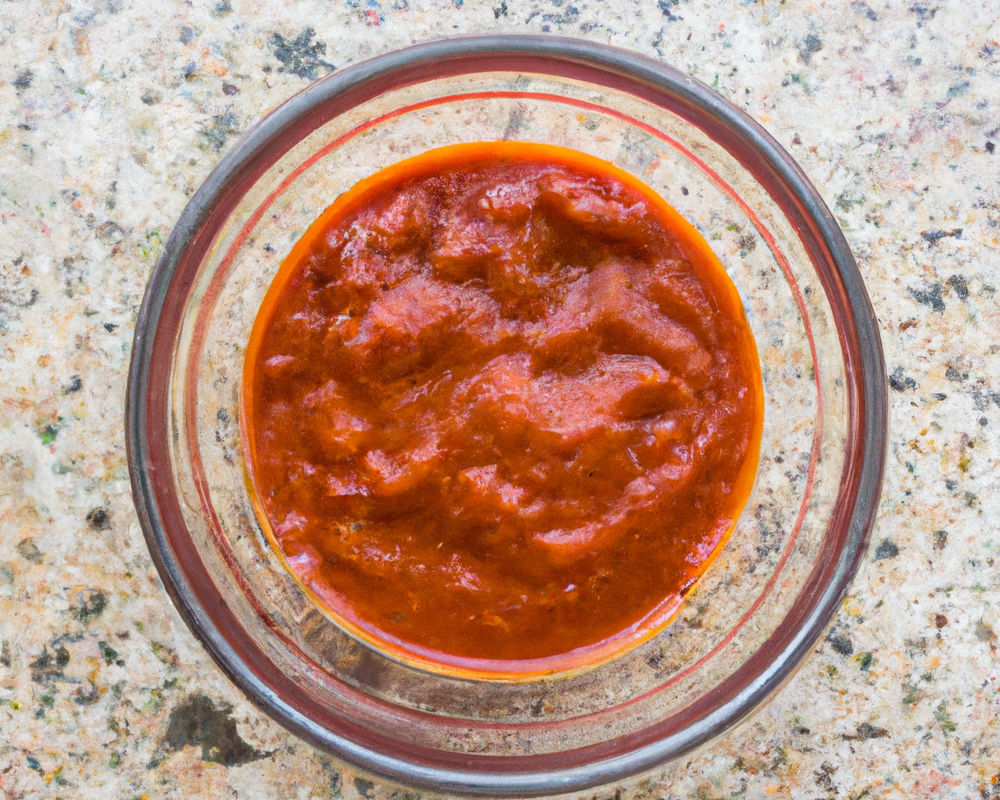 Tomato Pizza Sauce Method
Purchase a bottle of pizza sauce at your local shop, It takes around five minutes to make this tasty pizza sauce following the simple steps below.
Add ingredients in a large bowl, and mix well.
Mix well using a whisk, or blender.
Leave sitting for five minutes.
Your sauce is now ready to use or keep in the fridge for up to 3 days.
Freeze remaining sauce for up to 3 months.
If your sauce is too thick, add a splash of olive oil or water to get the right consistency.

Preparing Caramelized Apple and Onion Pizza
Turn your oven on to 450-500 degrees or more and preheat for at least 30 minutes.
Spread out the dough in a rough circle, on a floured board or surface.
If you are using a baking pan, then create the pizza in that.
Open the sauce container, and start to spread the No sauce. Spread the No sauce around the whole base, taking care to leave a gap at edges.
Add the ingredients in size order, from large to small.
Cheese gets added last.
The toppings to add to this pizza are;
Goat's Cheese
Caramelized Apple Slices
Caramelized Onion
This pizza is delicious as is, or you could enjoy it with a simple side dish?
Cooking time
Put the Caramelized Apple and Onion pizza in oven, and set alarm for ten minutes.
After 10 minutes, open the door and see how cooked pizza is.
Pizza should be ready within 15 minutes. However, allow it to cook to personal taste.

About Goat's Cheese
Goat's Cheese is often called by its French name, Chèvre, which means goat. The distinctive character of Goat's Cheese comes from capric acid, a flavourful fatty acid that promotes good intestinal bacteria in humans.
Because of its low lactose content, Goat's Cheese is a fantastic choice of cheese for people with lactose intolerance.

Pizza Tools
When making Caramelized Apple and Onion Pizza, I always recommend that you use what you have already, and avoid spending a ton of money. My recommended basic pizza tool list is…
Pizza Peel
A pizza peel aka paddle is a crucial tool for those who are making pizza often.
Pizza Cutter
The one kitchen tool every adult should have in their drawer. See our article on how to cut pizza for the various cutting tools.
Rolling Pin
Yes, I know, many people swear by hand stretching, however there's times in all our lives where we need a good wooden roller.

Caramelized Apple Slices
Caramelized Apple Slices are an often overlooked but delicious pizza topping for your next pizzeria night. This savory-sweet combination of apples and caramelized syrup will tantalize the taste buds of any pizza fan in your family.
With this easy-to-follow recipe, you'll have a topping that's sure to be a hit with everyone. All you need is some thinly sliced apples and a few simple ingredients like butter, sugar, and cinnamon to make this delightful topping.
Pizza Storage
What to do with leftovers?
Leftovers after the meal? Here are some tips.
There are many ways to reheat pizza. We cover seven of them in this article.
Can you freeze pizza?
You can freeze pizza for up to three months, however I'd suggest consuming it within the first few weeks, ideally.
Chill in the fridge
You can keep pizza in plastic wrap or a container for up to 3 days in the fridge.

Pizza making FAQ
Want to know how to make delicious pizza at home? Here are some FAQ and their answers to the most common pizza making questions.
What temperature should I use for baking pizza?
If you're using a baking pan or pizza pan, preheat your oven pretty much as high as it can go. I'm talking about 500°F (260°C) or higher. If you're using a pizza stone, don't forget to preheat that as well. Always let it heat up for at least 30 minutes, before adding your first pizzas.
How long does it take to digest pizza?
It typically takes around 6-8 hours for pizza to digest in your stomach. The higher the fat content, the longer food takes to digest. Pizza has carbs in the sauce, crust and vegetable toppings, plus high fat and protein in any meat and cheese.
Why pineapple belongs on pizza?
Pineapple belongs on pizza, in my personal opinion. It's a weird debate which has enveloped the world. Each person has their own opinion. If you like it, eat it, if not, then don't. Easy!
Have you made Caramelized Apple and Onion Pizza?
Caramelized Apple and Onion Pizza , did you love it or hate it? Tag us on our Pinterest, Facebook or Twitter and let us know what you thought of it! I'd love to know.
Featured image: Source