Cheese and Honey
First created in Japan, this Cheese and Honey pizza is a delectable vegetarian pizza you should taste.
Baked well, this pizza style has a delicious flavor, matching the utopian smell.
Make sure to always use the freshest ingredients and add them to a perfect base for you and family to savor a scrumptious pizza feast.
If you crave Vegetarian pizza with a White pizza sauce then I am positive you will like this.
Pizza is a delicious and versatile food that can be enjoyed by people of all ages. One of the best things about pizza is that it can be customized to suit your individual tastes and dietary needs. You can choose from a variety of toppings, including vegetables, meats, and cheeses, to create a pizza that is truly your own.
Additionally, pizza is a great source of carbohydrates, which provide your body with energy to power through your day. Eating pizza can also be a fun and social activity, whether you're enjoying a slice with friends or having a family pizza night at home.
So next time you're thinking of what to eat, consider trying a pizza, you won't regret it!
Pizza in Japan
Pizza is very popular throughout Japan, and they offer the classic flavours, as well as a number of Japanese takes on pizza. Popularity grew in the 1970's, when family-oriented Pizza chain restaurants spread across Japan.
Take a look at some of the other pizzas from Japan here.
Cheese and Honey Pizza at a glance

| | |
| --- | --- |
| Origin | Japan |
| Type | Vegetarian |
| Sauce | White Sauce |
Cheese and Honey Pizza Recipe
There is a recipe below for you to make a Cheese and Honey Pizza either in your woodfired oven or your kitchen oven.
Preparation time

| | |
| --- | --- |
| Dough | 2 hours |
| Assembly | 10 minutes |
| Baking | 12-20 minutes |
Cheese and Honey Pizza Ingredients
Choose enough of the pizza toppings for the amount of pizzas you plan to make. The dough and sauce amounts below are for 3-4 medium sized pizzas, so scale up or down, based on your requirements.

Simple Pizza dough
1 cup (250 ml) luke-warm water
400 g (2 2/3 cups) 00 or pizza flour
2 tsps (7 g sachet) dried yeast
3 tbsps (1/4 cup) olive oil
2 tsps salt
Cheese and Honey Pizza Toppings
Toppings used in this pizza recipe, are;
Parmesan
Gorgonzola
Cherry Tomato
Honey
Parsley

Simple White Sauce
2 tbsp butter (unsalted)
2 tbsp plain flour
1 1/4 cup milk
1/4 cup shredded parmesan
2 minced garlic cloves
1/8 tsp black pepper
1/4 tsp sea salt
Want to try a different sauce? See our article on the different types of pizza sauces.
TIP
You can click on any of the tags at the bottom of this page, to find other pizzas besides Cheese and Honey Pizza, that use that topping.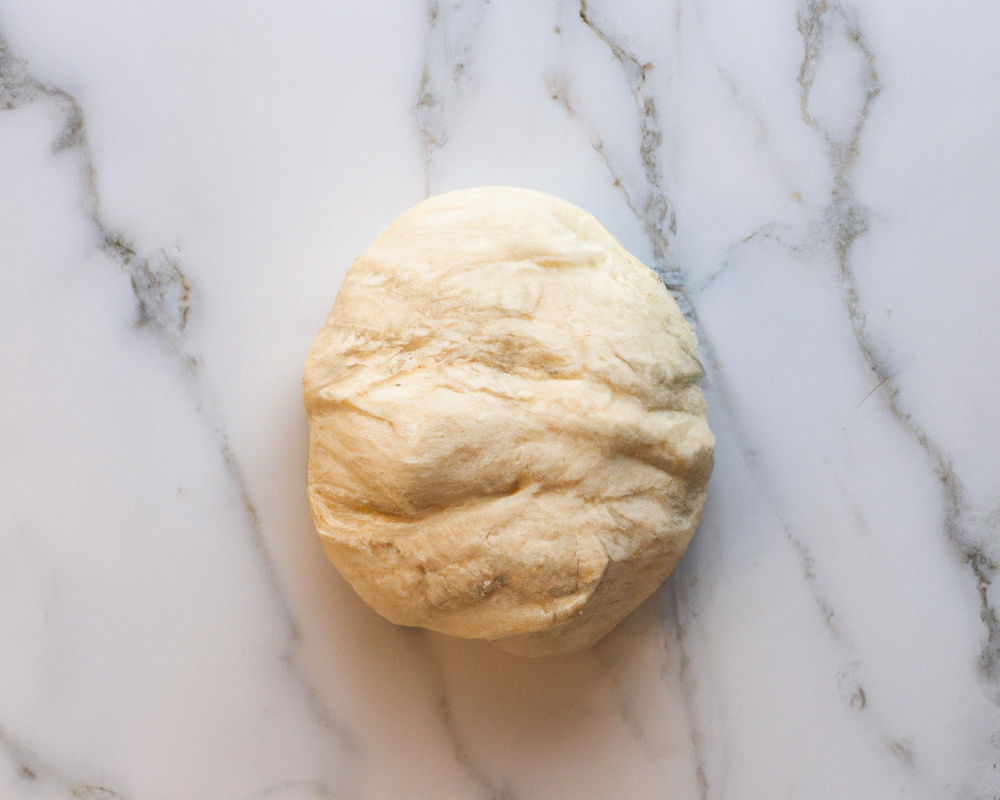 Pizza Dough Method
If you don't have much time, grab a premade pizza base at your local grocery store, or craft your own homemade pizza dough following the simple steps below.
Whisk the lukewarm water and yeast in a plastic or glass jug. Let mixture stand for five minutes.
Add salt and flour in a large bowl. Create a hollow well in the middle and gently pour the liquid yeast mixture and oil.
Using a spatula, or your hands, mix the dough really well until smooth. Turn out dough onto a lightly floured work surface and knead for five minutes.
Lightly oil a bowl, and place dough in it and cover with plastic wrap. Leave in a warm place to rise for 30 minutes to an hour, or until it doubles in size.
Turn dough out onto a lightly floured surface and knead gently for another 5 minutes or until smooth.
Sprinkle a little flour on the bench before rolling to prevent dough from sticking.
Divide the dough into balls, and roll out bases to desired size.
TIP: We have other dough recipes if you would like to try your hand at sourdough, poolish or more.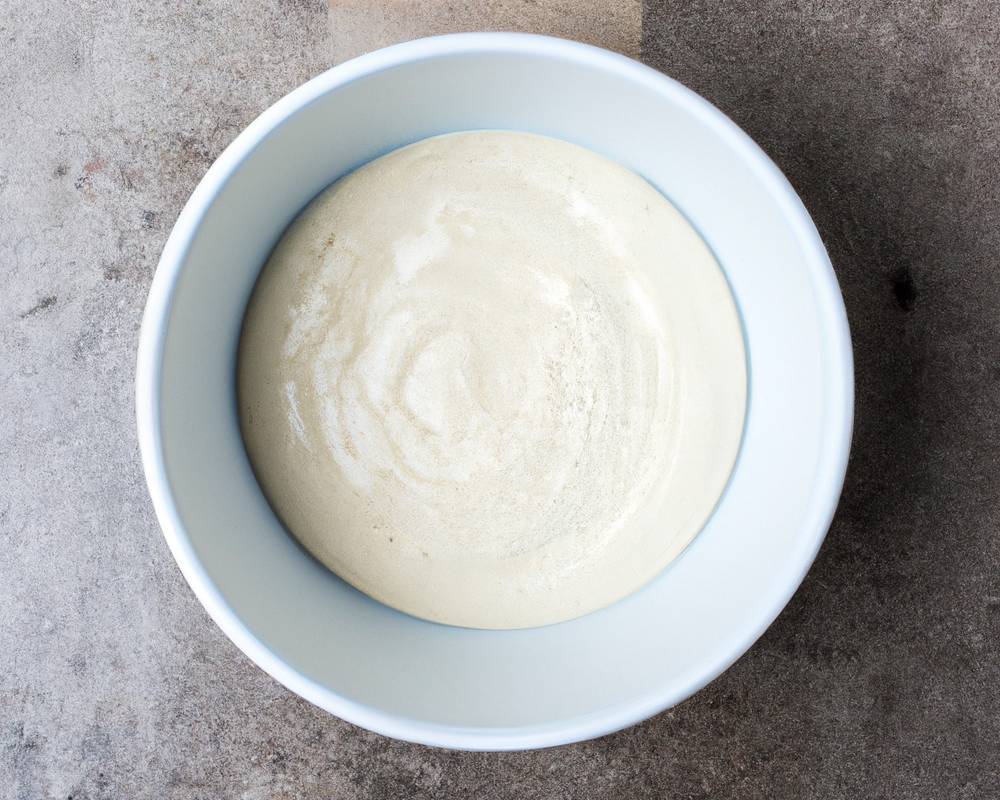 White Pizza Sauce Method
You can make this tasty pizza sauce following the simple steps below, or you can purchase a pizza sauce at your local supermarket.
Melt butter in a small saucepan over medium heat. Whisk in flour and continue whisking for 1-2 minutes.
Slowly add milk, whisking constantly until smooth, thickened, and bubbly.
Whisk in 1/4 tsp salt, 1/8 tsp black pepper, and pressed garlic.
Add parmesan cheese and whisk another 30 seconds. Remove from heat and continue whisking just until cheese is melted and sauce is smooth then set aside to cool.
Do not boil after adding cheese or sauce may curdle. Once cooled, cover and refrigerate up to 5 days.
You can keep this pizza sauce fresh in the refrigerator for up to 5 days.

Preparing Cheese and Honey Pizza
Turn your oven on to 450-500 degrees or more and preheat for at least 30 minutes.
Spread out the dough in a rough circle, on a floured board or surface.
If you are using a baking pan, then create the pizza in that.
Open the sauce container, and start to spread the White Sauce. Spread the White Sauce around the whole base, taking care to leave a gap at edges.
Add the ingredients in size order, from large to small.
Cheese gets added last.
The toppings to add to this pizza are;
Parmesan
Gorgonzola
Cherry Tomato
Honey
Parsley
This pizza is awesome as is, or you could enjoy it with a fresh salad?
Baking
Put the Cheese and Honey pizza on the middle shelf of the oven and wait for approximately 10 minutes.
After roughly 10 minutes, check on the pizza.
Pizza should be ready within 15 minutes. However, allow it to cook to personal taste.

About Parsley
Parsley is popular in European, British and Middle Eastern food. Parsley is popular thanks to the fresh and grassy flavours, which works well in Creamy sauces, salsas or pestos, and used as a garnish.
As well as fresh, Parsley is also sold dried, which is more muted in flavor than fresh. Italian parsley is available year-round and is easy to grow at home.

Pizza Tools
When making Cheese and Honey Pizza, I suggest you just use what you have available, without spending any money. My recommended basic pizza tool list is…
Pizza Peel
Sometimes called a paddle or shovel, a pizza peel is a vital tool for those who make pizza regularly.
Wooden Rolling Pin
Many people prefer hand stretching, however every cook really should have a good wooden roller nearby too.
Mesh Sieve
You will find having a seive such a useful element for pizza making as well as all your baking. It's great to filter all flours through a fine mesh sieve, to make sure they're ready for use.

Honey
The color and flavor of Honey is determined by the flowers from which the nectar is gathered by the bees. Some of the most desirable honeys are produced from clover nectar by domestic honeybees.
Honey is known to be an antidepressant, anticonvulsant and have anti-anxiety benefits as well. Some studies have shown that honey helps prevent some memory disorders.
Pizza Facts
Here are a few interesting pizza facts…
I spy with my little eye
Back in the 1960's, Pizza was used in spying techniques, by the 113th Military Intelligence Unit. The US Army aimed to spy on politicians and reporters and politicians by using fake pizza deliveries.
Sweet dreams!
In 2016, UK Pizzeria, Crazy Pedro's, launched a Cadbury Creme Egg Pizza. As well as the creme eggs, the pizza is also topped with marshmallows, brownies and chocolate sauce.
Pizza in latin
The first recorded use of the word 'pizza' has been found in a 997 AD Latin text from Gaeta, Italy.

Vegetarian Pizzas
Keen on seeing more than Cheese and Honey pizza? We have plenty of other Vegetarian pizza recipes to look at, as well. Enjoy!

Pizza making FAQ
Planning to make fantastic pizzas at home? Here are some expert answers to some of the most common pizza making questions.
How long is frozen pizza good for?
It is typically recommended that you do not store frozen pizza for any longer than three months in the freezer.
Can I substitute some of the herbs when making pizza?
Of course! One of the things I love about making pizza is trying different combinations. There's a plethora of herbs out there to choose from, some which will work together and some that don't. Explore your taste preferences and substitute any herbs in recipes.
How hot does a pizza oven get?
Pizza ovens can reach 900-1000 degrees, however most of the time, pizzas cook best around 750-850 degrees.
Have you made Cheese and Honey Pizza?
Let us know if Cheese and Honey Pizza was a hit or miss for you! Tag us on our Pinterest, Facebook or Twitter and let us know what you thought of it! I'd love to know.
Featured image: Source