Chinese Duck
Created in China, this Chinese Duck pizza is a scrummy meat pizza you can make at home.
Made as shown, the following pizza has a lush flavor with a sublime smell.
Ensure you use excellent toppings and add them to a fantastic crust for you and friends to savor a perfect homemade pizza meal.
If you crave Meat pizza with Hoisin pizza sauce you will welcome this one.
Pizza is the ultimate food for both lunch and dinner. For lunch, it's the perfect grab and go meal that will keep you full and energized throughout the day. Plus, with so many toppings to choose from, you can switch it up every day and never get bored.
For dinner, pizza is the perfect comfort food that brings people together. It's great for casual get-togethers with friends, or even more formal family dinners. The best part is that it's versatile, you can make it as healthy or indulgent as you want.
Add some vegetables for a more balanced meal or go for a classic pepperoni for a satisfying cheesy bite. Overall, pizza's convenience, tastyness, and versatility make it the perfect food for both lunch and dinner.
Pizza in China
There's an old tale that Pizza originated in China. When Marco Polo came to China, he encountered scallion pie, a flat bread that uses dough instead of a batter. When Marco Polo returned to Italy he met a chef from Naples at a dinner party and persuaded him to recreate the dish, putting the fillings on top of the dough instead of the inside.
Take a look at some of the other pizzas from China here.
Chinese Duck Pizza at a glance

| | |
| --- | --- |
| Origin | China |
| Type | Meat |
| Sauce | Hoisin Sauce |
Chinese Duck Pizza Recipe
There is a recipe below for you to make a Chinese Duck Pizza from either a pizza oven or the oven in your kitchen.
Preparation time

| | |
| --- | --- |
| Dough | 2 hours |
| Assembly | 10 minutes |
| Baking | 12-20 minutes |
Chinese Duck Pizza Ingredients
Choose enough of the pizza toppings for the amount of pizzas you plan to make. The pizza sauce and dough ingredients below are designed for 3-4 pizzas, so add more or less, if required.

Simple Pizza dough
2 tsps (7 g sachet) dried yeast
1 cup (250 ml) luke-warm water
400 g (2 2/3 cups) 00 or pizza flour
2 tsps salt
3 tbsps (1/4 cup) olive oil
Chinese Duck Pizza Toppings
Toppings used in this pizza recipe, are;
Seared Duck Breast
Roasted Sesame Seeds
Scallions
Garlic

Hoisin Sauce
4 tbsp soy sauce
2 tbsp smooth peanut butter
1 tbsp dark brown sugar
2 tsp rice wine vinegar
1 garlic clove, finely crushed
2 tsp sesame seed oil
hot sauce, to taste
Want to try a different sauce? See our article on the different types of pizza sauces.
TIP
You can click on any of the tags at the bottom of this page, to find other pizzas besides Chinese Duck Pizza, that use that topping.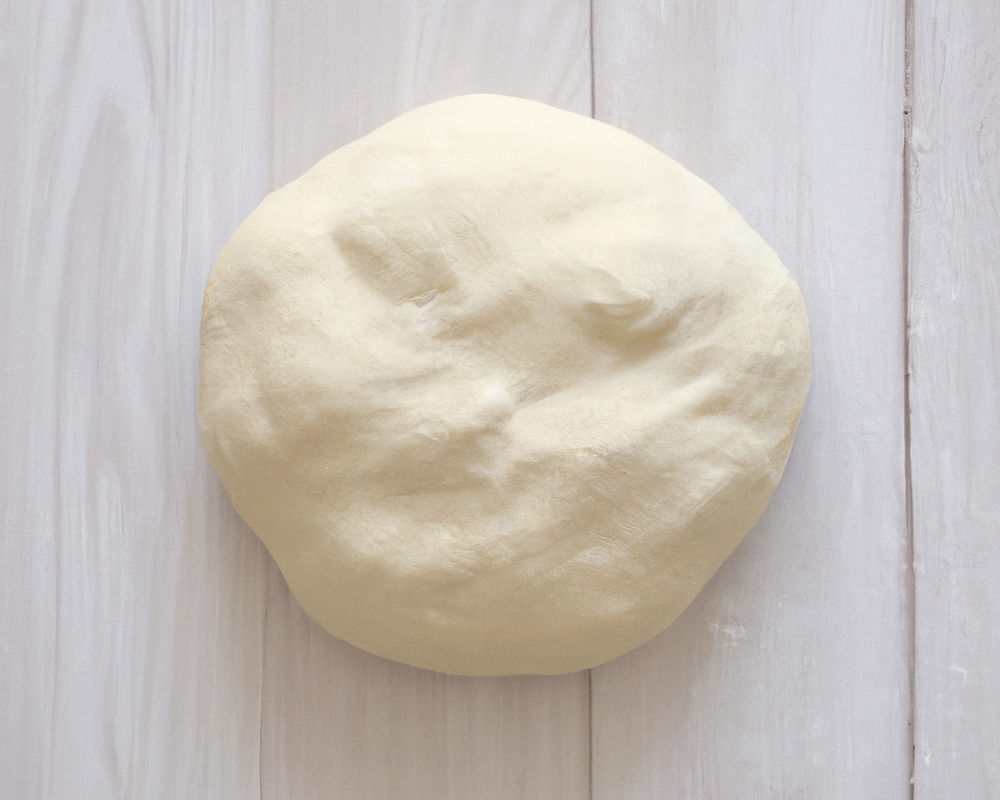 Pizza Dough Method
If you don't have much time, grab a premade pizza base at your local grocery store, or create your own homemade pizza dough following the simple steps below.
Whisk yeast and lukewarm water in a jug. Stand for around five minutes.
Add flour and salt in a large bowl. Create a well in the centre of the flour. Pour in the liquid yeast mixture and the oil.
Using a spatula, or your hands, mix the dough really well until smooth. Turn out dough onto a lightly floured work surface and knead for five minutes.
Lightly oil a bowl, and place dough in it and cover with plastic wrap. Leave in a warm place to rise for 30 minutes to an hour, or until it doubles in size.
Turn dough out onto a lightly floured surface and knead gently for another 5 minutes or until smooth.
Divide the dough into balls, and roll out bases to desired size.
Sprinkle a little flour on the bench before rolling to prevent dough from sticking.
TIP: We have other dough recipes if you would like to try your hand at sourdough, poolish or more.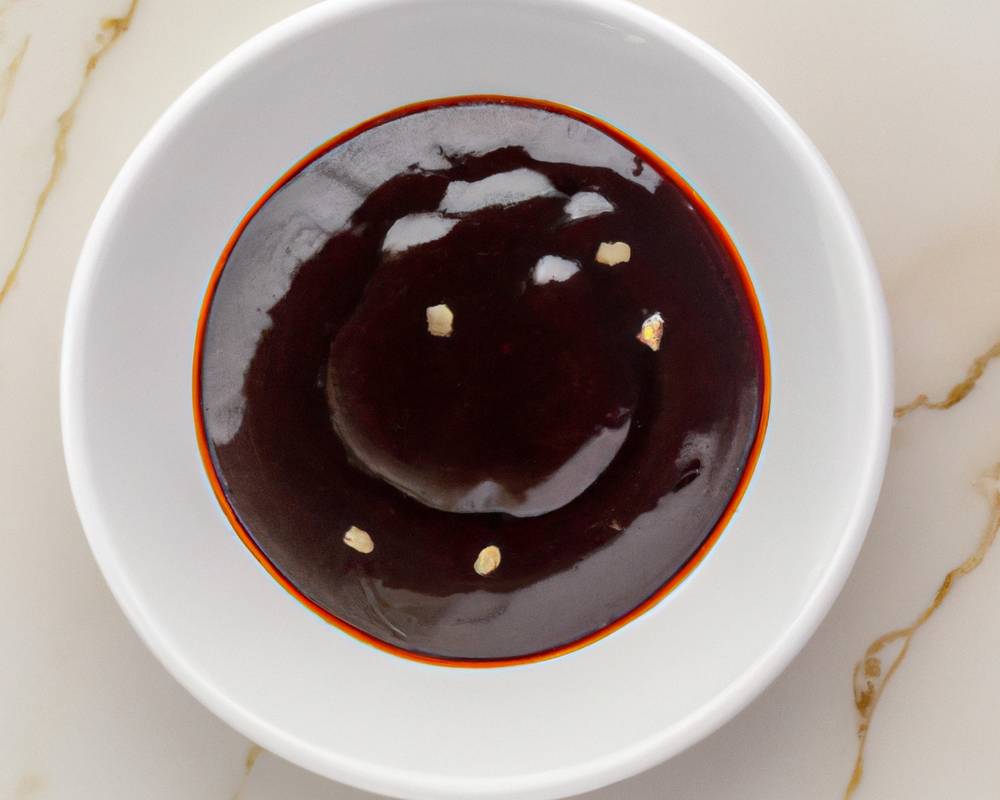 Hoisin Sauce
In less than 5 minutes, you can make your own Hoisin Sauce.
Put all the ingredients into a food processor or bowl.
Pulse or blitz with a stick blender until smooth.
Add hot sauce and pepper to season.
May keep in fridge for up to 5 days.

Preparing Chinese Duck Pizza
Start by heating your oven to at least 450 degrees.
Spread out your dough on a well floured surface.
If you have a pizza peel, flour the peel and create your pizza on it.
Start by spreading the sauce all over the base. This pizza uses Hoisin Sauce. Spread the Hoisin Sauce Thinly yet evenly, leaving a margin for the crust.
Add the largest toppings first – typically meat or seafood, then the smaller toppings.
Add cheese last, and sprinkle it all over to help keep the toppings in place when it melts.
This pizza has the following toppings:
Seared Duck Breast
Roasted Sesame Seeds
Scallions
Garlic
Whilst this pizza is fantastic by itself, yet why not try it with other pizza types?
Oven time
Put the Chinese Duck pizza on the middle shelf of the oven and set a timer for 10 minutes.
After 10 minutes, open the door and check the pizza.
This pizza should take approximately 15 minutes, however allow it to cook to personal taste.

About Hoisin Sauce
Hoisin sauce is made with a thick, fragrant sauce made with soybeans, garlic, red chili Peppers and fennel.
With a dark colored appearance and sweet and salty to taste, Hoisin Sauce is commonly used in Cantonese cuisine as a glaze for meat, an addition to stir fry, or as dipping sauce.

Pizza Tools
When making Chinese Duck Pizza, I always recommend that you use what you have already, and avoid spending a ton of money. My recommended basic pizza tool list is…
Pizza Steel
Very similar to a pizza stone, a pizza steel is made of, you guessed it, steel. It's a great modern method to heat pizza well in a normal oven.
Rubber Spatula
A quality rubber spatula really helps when it comes to scraping bowls and plates, etc.
Dough Mixer
Having a good dough mixer can make all the difference. You don't want to be manually kneading forever, do you?

Sesame Seeds
First used for cuisine more than 3,000 years ago, Sesame Seeds is one of the oldest OilSeed crops known in the world. Many ancient stories speak of them. In one, the gods created the world and drank wine made from Sesame Seeds. In another, Sesame Seeds represent a symbol of immortality.
An annual flowering herb, the Sesame plant looks very similar to okra. To harvest the Seeds, the pods are dried and collected before they can open. Then, the Seeds are made into Paste or Sesame Oil.
Pizza Facts
These facts will interest you.
Poor anchovies
There is a National Pizza with the Works Except Anchovies Day, which although a mouthful, is held on November 12 each year.
Would you try pizza perfume?
Pizza Hut Canada released a limited-edition pizza perfume, back in 2012. The scent was described as 'freshly baked, hand-tossed dough.' I love pizza, but no.
Don't worry, be happy
In Cambodia, some pizzerias have marijuana topped 'happy pizzas' on their menu.

Pizza making FAQ
Hope to make fantastic pizza at home? Here are some expert answers to some of the most Frequently asked questions.
How long to cook a pizza?
It can take anywhere form a few minutes to 20 minutes to cook a pizza, depending on the temperature and heating device used.
Can I put foil on a pizza stone before making pizza?
No. The pizza stone needs to be in contact with the pizza base for it to do its job effectively. It helps absorb moisture from the dough and heat it evenly. Putting foil between the dough and stone will prevent that from happening properly.
What to serve with pizza at a party?
Pizza goes really well with garlic bread, salads and pasta. In fact, you can serve just about any party food with pizza, and it would work.
Have you made Chinese Duck Pizza?
Chinese Duck Pizza is important to us! Tag us on our Pinterest, Facebook or Twitter and let us know what you thought of it! I'd love to know.
Featured image: Source