Chinese Pork
You can never go wrong with this pizza. A combination of simple ingredients that will give you the best of both Asian and Italian flavor.
The special sauce used in this, the Hoisin, will give your pizza a strong salty and slighly sweet flavor. Similar to an American barbecue sauce but with a more Asian twist.
Make time to choose the best toppings and add them to a fantastic crust for you and family to savor a scrumptious homemade pizza feast.
If you like Meat pizza with Chili pizza sauce get ready for your stomach to rumble!
Pizza is a delicious and versatile food that's perfect for any occasion. Whether you're in the mood for a quick lunch, a casual dinner with friends, or a celebration, pizza is always a great choice.
Not only is it tasty, but it's also a convenient option that can be customized to your preferences.
With a variety of toppings to choose from, you can make a pizza that's tailored to your specific tastes. Plus, it's a great way to get in your daily dose of carbs and protein. So why not treat yourself to a pizza today and experience the joy of all that gooey cheese and savory toppings!
Pizza in China
There's an old tale that Pizza originated in China. When Marco Polo came to China, he encountered scallion pie, a flat bread that uses dough instead of a batter. When Marco Polo returned to Italy he met a chef from Naples at a dinner party and persuaded him to recreate the dish, putting the fillings on top of the dough instead of the inside.
Take a look at some of the other pizzas from China here.
Chinese Pork Pizza at a glance

| | |
| --- | --- |
| Origin | China |
| Type | Meat |
| Sauce | Chili Sauce |
Chinese Pork Pizza Recipe
There is a recipe below for you to make a Chinese Pork Pizza from either a wood fired pizza oven or the oven in your kitchen.
Preparation time

| | |
| --- | --- |
| Dough | 2 hours |
| Assembly | 10 minutes |
| Baking | 12-20 minutes |
Chinese Pork Pizza Ingredients
Choose enough of the toppings that you will need for the amount of pizzas you plan to make. The pizza sauce and dough ingredients below are designed for 3-4 pizzas, so scale up or down, based on your requirements.

Simple Pizza dough
7 grams (2 tsps) dried yeast
250 ml (1 cup) lukewarm water
400 g (2 2/3 cups) plain flour, plus extra to dust
2 teaspoons table salt
1/4 cup (3 tbsp) extra virgin olive oil
Chinese Pork Pizza Toppings
Toppings used in this pizza recipe, are;
Glazed Pork
Spring Onion
Hoisin Sauce
Garlic
Roasted Sesame Seeds

Simple Chili Pizza Sauce
6 oz (170gms) tomato paste
2/3 cup water
1/4 cup olive oil
2 cloves garlic, finely grated
1 tsp. fried red chilli flakes
1 tsp. dried Italian herb seasoning
salt, to taste
Want to try a different sauce? See our article on the different types of pizza sauces.
TIP
You can click on any of the tags at the bottom of this page, to find other pizzas besides Chinese Pork Pizza, that use that topping.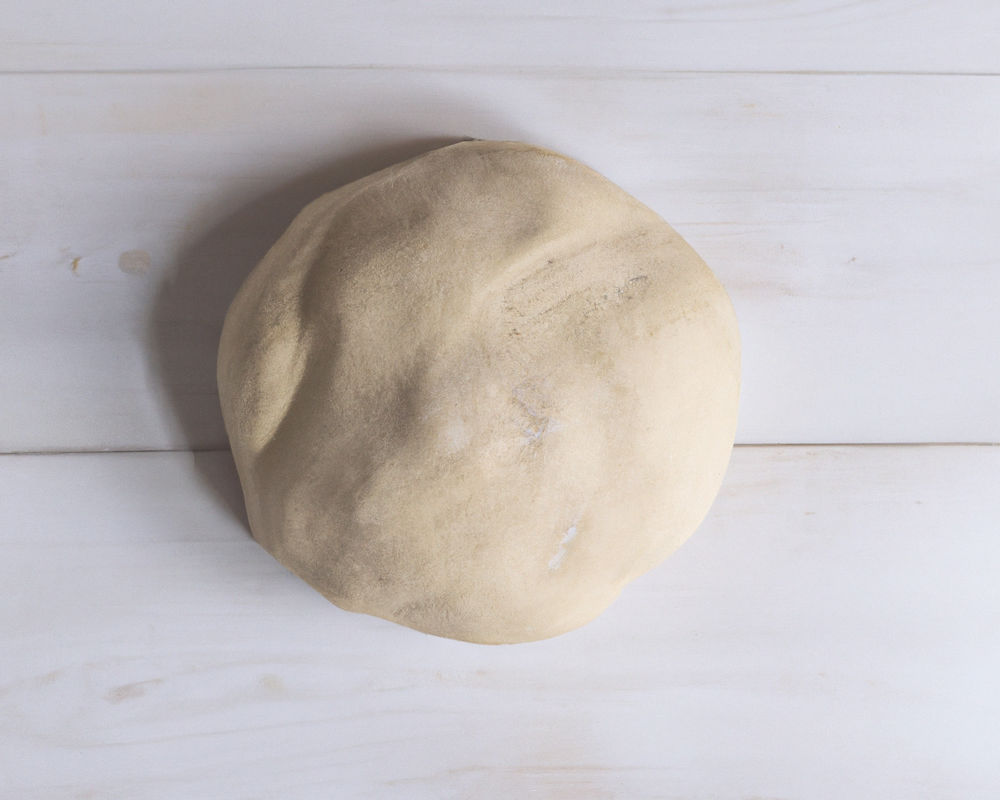 Pizza Dough Method
If you don't have much time, grab a premade pizza base at your local grocery store, or hand make your own pizza dough following the simple steps below.
Whisk yeast and lukewarm water in a jug. Stand for around five minutes.
Add the salt and flour in a large bowl. Create a hollow centre in the flour. Slowly pour the liquid yeast mixture and oil.
Using your hands or spatula, gently combine the flour mixture until smooth. Then turn out dough onto lightly floured surface and hand knead for roughly five minutes.
Place the dough mixture in to an oiled bowl, and cover with plastic wrap. Leave in a warm place until the dough has at least risen to double in size.
Turn dough out onto a lightly floured surface. Hand knead gently for five minutes until reasonably smooth.
Sprinkle some flour on work surface before rolling out dough to prevent any sticking.
Divide dough mix into equal amounts, now roll out the bases to the desired size.
TIP: We have other dough recipes if you would like to try your hand at sourdough, poolish or more.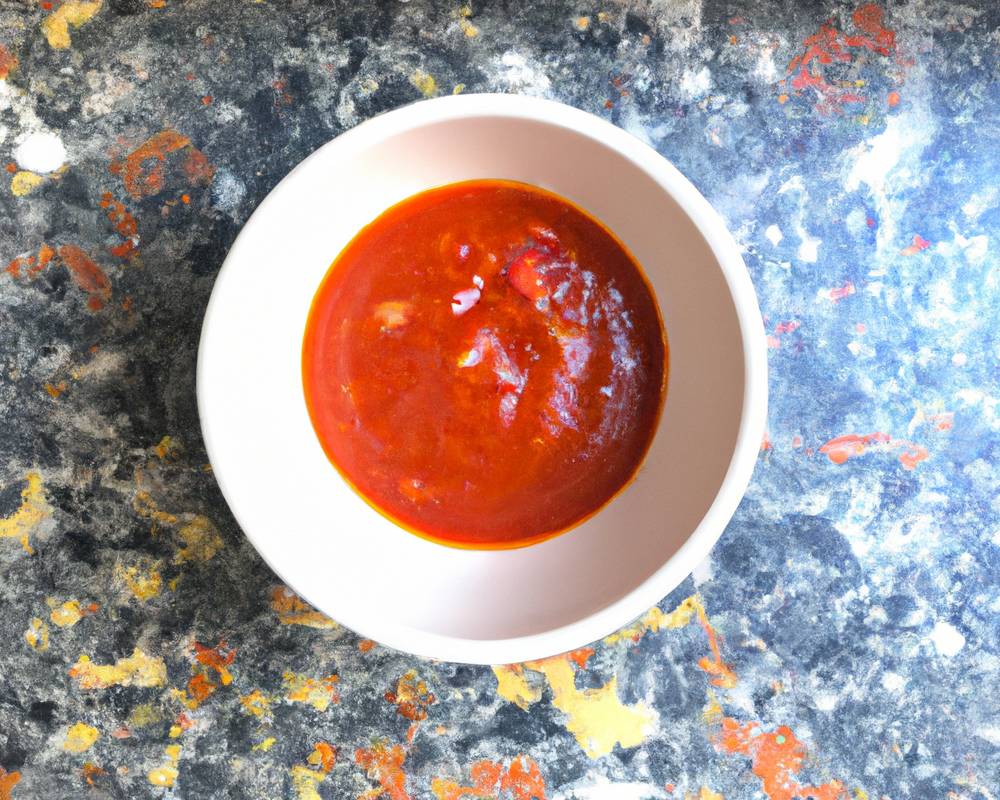 Chili Sauce Method
Purchase a bottle of pizza sauce at your local supermarket, It takes around five minutes to make this yummy pizza sauce following the simple steps below.
Combine all the ingredients in a clean, sterile jar.
Refrigerate for at least 2-3 hours before using, for the flavours to mingle.
Store refrigerated for 2-3 weeks, frozen for 3 months.
Don't forget that you can always add salt and pepper to taste.

Preparing Chinese Pork Pizza
Start by heating your oven to at least 450 degrees.
Spread out your dough on a well floured surface.
If you have a pizza peel, flour the peel and create your pizza on it.
Start by spreading the sauce all over the base. This pizza uses Chili Sauce. Spread the Chili Sauce Thinly yet evenly, leaving a margin for the crust.
Add the largest toppings first – typically meat or seafood, then the smaller toppings.
Add cheese last, and sprinkle it all over to help keep the toppings in place when it melts.
This pizza has the following toppings:
Glazed Pork
Spring Onion
Hoisin Sauce
Garlic
Roasted Sesame Seeds
Whilst this pizza is delicious by itself, yet why not try it with other pizza types?
Baking time
Put the Chinese Pork pizza in the middle of your oven (on a stone if you have one) and set timer for 10 minutes.
In 10 minutes, open oven door and check.
The pizza should take roughly 15 minutes to cook, adjust time to cook to personal taste.

About Hoisin Sauce
Hoisin sauce is made with a thick, fragrant sauce made with soybeans, garlic, red chili Peppers and fennel.
With a dark colored appearance and sweet and salty to taste, Hoisin Sauce is commonly used in Cantonese cuisine as a glaze for meat, an addition to stir fry, or as dipping sauce.

Pizza Tools
When making Chinese Pork Pizza, we always recommend that you use whatever tools you are able to get your hands on. Our basic pizza tools are…
Wooden boards
I use quality wooden boards constantly when making pizzas, botth to carry dough balls and to use when slicing baked pizzas.
Pizza Cutters
The one pizza tool everyone should own. There are a few varieities to choose from, see how to cut pizza for more.
Pizza Stone
A pizza stone is a great way to up your pizza game at home. Read more about cooking with a Pizza Stone.

Sesame Seeds
First used for cuisine more than 3,000 years ago, Sesame Seeds is one of the oldest OilSeed crops known in the world. Many ancient stories speak of them. In one, the gods created the world and drank wine made from Sesame Seeds. In another, Sesame Seeds represent a symbol of immortality.
An annual flowering herb, the Sesame plant looks very similar to okra. To harvest the Seeds, the pods are dried and collected before they can open. Then, the Seeds are made into Paste or Sesame Oil.
Pizza Facts
Here are a few interesting pizza facts…
Would you try pizza perfume?
Pizza Hut Canada released a limited-edition pizza perfume, back in 2012. The scent was described as 'freshly baked, hand-tossed dough.' I love pizza, but no.
Record for most pizzas sliced
The most pizzas sliced in three minutes was achieved by Rory Coughlan-Allen (UK) from Wales, UK, sliced 17 pizzas in three minutes on 1 March 2022.
Celebrate everything cheese pizza
Did you know the US celebrates National Cheese Pizza Day, every 5th of September.

Pizza making FAQ
Want to know how to make fantastic pizza at home? Here are some FAQ and their answers to the most common pizza making questions.
Can I use durum wheat flour for pizza dough?
It depends; if it's fine enough, yes. Durum wheat is a variety that is usually ground down to make semolina, which is used to make pasta. If it is ground into a finer flour, it can be used to make pizza dough and breads.
Should I double every ingredient when making pizza dough?
Not typically, no. If a pizza recipe states that, it may be inferring that to get twice the dough you need twice the ingredients. See our baker's percentage guide on why we should use baker's percent rather than fixed ingredient amounts. It makes a lot of sense!
How much sodium is in a slice of pizza?
Pizza has a significant amount of sodium. A typical slice of pizza can have anywhere from 600 to 1500 mg of sodium per slice. This makes it easy to hit the daily 2,300mg limit that they recommend.
Have you made Chinese Pork Pizza?
Chinese Pork Pizza ! Tag us on our Pinterest, Facebook or Twitter and let us know what you thought of it! I'd love to know.
Featured image: Source