Chorizo Prawn
Originally from New Zealand, this Chorizo Prawn pizza is a flavorful meat pizza you should try at home.
Created as described, the below pizza has a rare flavor, perfectly matched with a impeccable smell to delight you.
Make sure to purchase perfect toppings and complement them with a fantastic crust for you and friends to savor a perfect pizza meal together.
Are you into Meat pizza with Tomato sauce? Then you can't ignore this one.
Experimenting with different pizza toppings is a great way to discover new and exciting flavors! By trying new toppings, you open yourself up to a world of taste possibilities that you may never have considered before. Plus, switching up your toppings can also add some much-needed variety to your meals and prevent you from getting bored of having the same pizza over and over again.
Also, experimenting with different toppings can be a great way to incorporate more nutrients into your diet. Whether it's adding some veggies like bell peppers, mushrooms or spinach, or trying some lean meats like chicken or turkey, experimenting with toppings can make your pizza a more well-rounded and nutritious meal.
You can have fun experimenting with different pizza toppings, you can mix and match flavors, textures and even different cuisines for a one of a kind pizza creation. So, next time you order a pizza, take a chance on something new, and see where your taste buds take you!
Pizza in New Zealand
Naples-style pizza is very popular throughout New Zealand, with a crunchy, crispy crust with a selection of toppings that are local from New Zealand, as well as imported Aged Cheeses and Meats.
Take a look at some of the other pizzas from New Zealand here.
Chorizo Prawn Pizza at a glance

| | |
| --- | --- |
| Origin | New Zealand |
| Type | Meat |
| Sauce | Tomato Sauce |
Chorizo Prawn Pizza Recipe
Below we've created a recipe for you to make a delicious homemade Chorizo Prawn Pizza from either a backyard pizza oven or the oven in your kitchen.
Preparation time

| | |
| --- | --- |
| Dough | 2 hours |
| Assembly | 10 minutes |
| Baking | 12-20 minutes |
Chorizo Prawn Pizza Ingredients
Get enough of the toppings that you will need for the amount of pizzas you plan to make. The dough and sauce are designed for 3-4 medium sized pizzas, so scale up or down, based on your requirements.

Simple Pizza dough
250 ml (1 cup) lukewarm water
2 2/3 cups (400 grams) 00 fine flour
7 grams (2 tsps) dried yeast
1/4 cup (3 tbsp) olive oil
2 tsps salt
Chorizo Prawn Pizza Toppings
Toppings used in this pizza recipe, are;

Easy Tomato Pizza Sauce
1 can (15oz/420g) crushed or diced tomatoes
1 small can (6oz/170g) tomato paste
Two garlic cloves
1 tbsp dried Italian herbs
1 tsp salt
1/4 small brown onion
Want to try a different sauce? See our article on the different types of pizza sauces.
TIP
You can click on any of the tags at the bottom of this page, to find other pizzas besides Chorizo Prawn Pizza, that use that topping.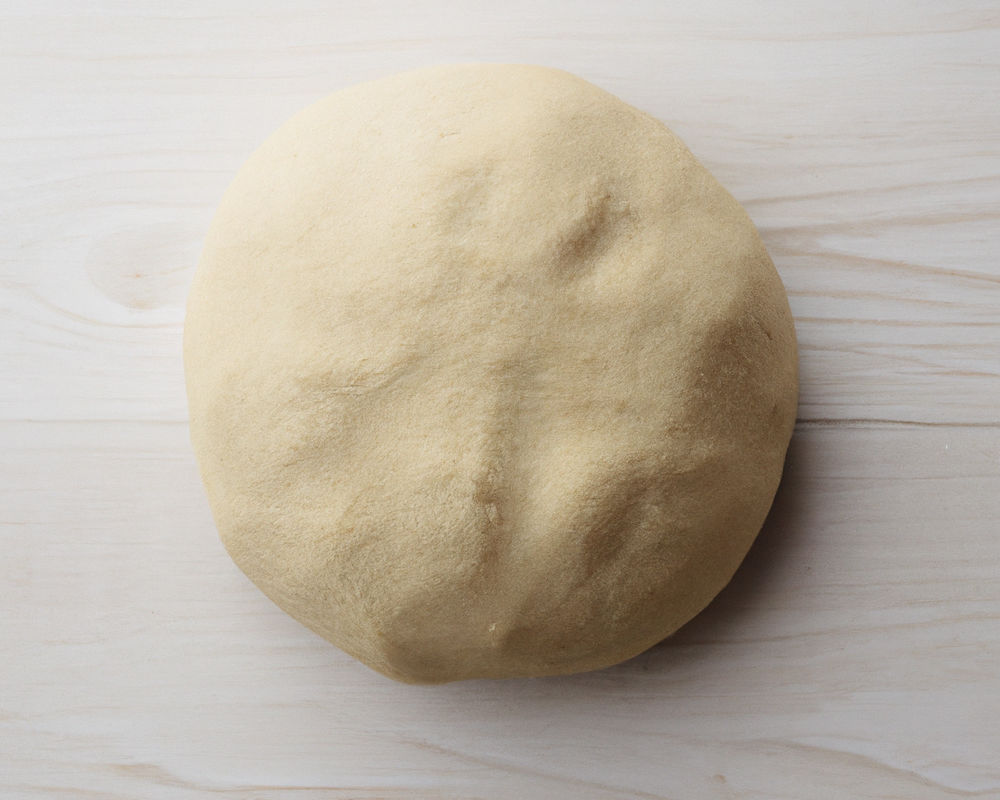 Pizza Dough Method
If you don't have much time, grab a premade pizza base at your local grocery store, or hand make your own pizza dough following the simple steps below.
Whisk the lukewarm water and yeast in a plastic or glass jug. Let the mixture stand for approx. five minutes.
Add salt and flour in a large bowl. Create a hollow well in the middle and gently pour the liquid yeast mixture and oil.
Using dough mixer or hands, gently mix dough until smooth. Place pizza dough on a lightly floured work surface and then knead by hand for five minutes.
Lightly oil a bowl, and place mixture in and cover with plastic wrap. Leave in a warm place to rise until the dough doubles in size.
Pour dough mix out onto a clean, floured surface. Now hand knead gently for another five minutes.
Sprinkle a little flour on the bench before rolling to prevent dough from sticking.
Divide dough mixture into equal sized balls. Hand stretch or roll out the bases to the expected size.
TIP: We have other dough recipes if you would like to try your hand at sourdough, poolish or more.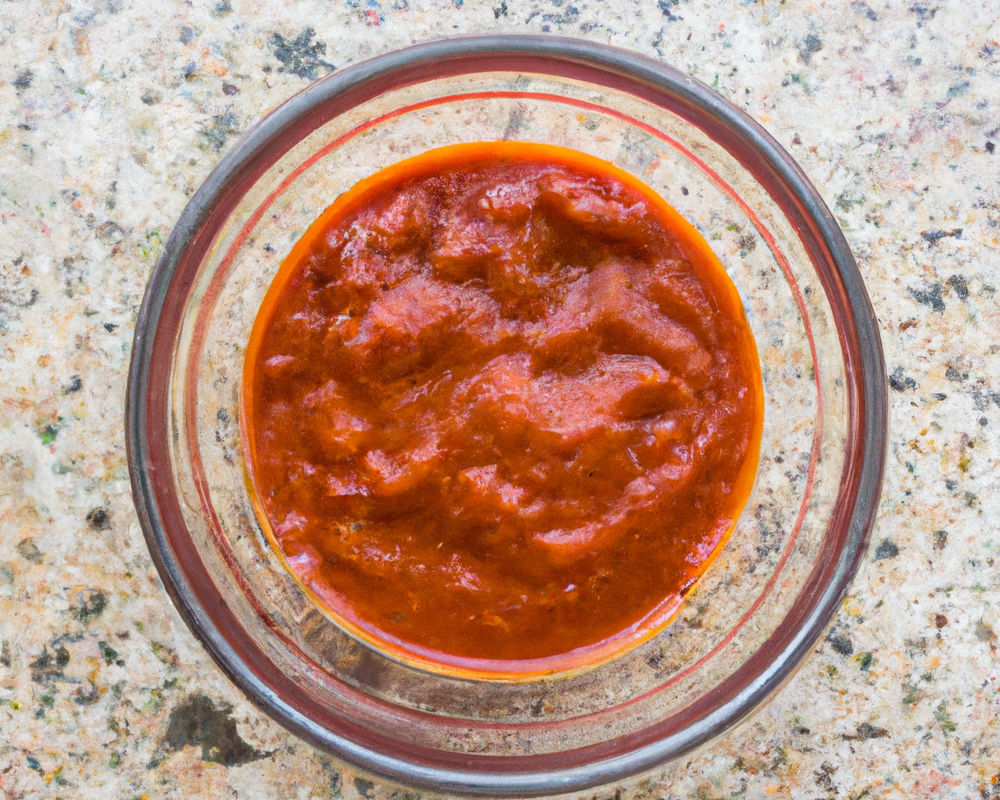 Tomato Pizza Sauce Method
If you're feeling adventurous, why not try making your own pizza sauce using the recipe provided?
Stir in all ingredients in a large bowl.
Using either a whisk, or blender, mix well.
Let sit for five minutes.
The pizza sauce is ready to use immediately or chill in fridge for 2-3 days.
You can also freeze any leftover sauce for up to 3 months.
If your sauce is too watery, adding some more tomato paste will thicken it up.

Preparing Chorizo Prawn Pizza
Start by heating your oven to at least 450 degrees.
Spread out your dough on a well floured surface.
If you have a pizza peel, flour the peel and create your pizza on it.
Start by spreading the sauce all over the base. This pizza uses Tomato Sauce. Spread the Tomato Sauce Thinly yet evenly, leaving a margin for the crust.
Add the largest toppings first – typically meat or seafood, then the smaller toppings.
Add cheese last, and sprinkle it all over to help keep the toppings in place when it melts.
This pizza has the following toppings:
This pizza is fantastic as is, or you could with other pizzas as well?
Baking time
Put the Chorizo Prawn pizza in the middle of your oven (on a stone if you have one) and set timer for 10 minutes.
After roughly 10 minutes, check on the pizza.
Pizza should be ready within 15 minutes. However, allow it to cook to personal taste.

About Chorizo
Made with pork, smoked paprika and garlic, Chorizo is coarsely chopped Pork mixed with seasonings which vary with the region. The mixture is then stuffed into natural casings, and the chorizos are left to cure and dry.
The origins of chorizo date back to the 1500's and the Spanish conquest of the Aztec empire. Already a popular dish in Spain, the Spanish soldiers began raising pigs for the purpose of producing Chorizo

Pizza Tools
When making Chorizo Prawn Pizza, I always recommend that you use whatever kitchen items you have. My basic pizza tools are…
Glass Measuring Jug
A good quality, heavy glass measuring jug with clear marking for various measures to me is a must. I hate taking chances with portions, so it's an important tool for me.
Dough Proofing Box
If you make a lot of dough through the year, you'll find owning a pizza dough proofing box very useful.
Glass Measuring Jug
I hate taking chances with portions, so having a quality glass jug with clear to read measurements a vital kitchen tool for me.

Prawn
Small aquatic crustaceans with an exoskeleton and ten legs, Prawns are completely different creatures to Shrimps and similar. Prawns periodically shed their shell, to grow. The shell is made of protein, calcium carbonate and chitin, which is a substance similar to human nails and hair.
Prawns have plenty of vitamins and minerals, and a good source of zinc and B vitamins. They are low in unhealthy fats, and rich in unsaturated fats.
Pizza Trivia
Here are some interesting facts about pizza.
Record for most pizzas sliced
The most pizzas sliced in three minutes was achieved by Rory Coughlan-Allen (UK) from Wales, UK, sliced 17 pizzas in three minutes on 1 March 2022.
Poor anchovies
There is a National Pizza with the Works Except Anchovies Day, which although a mouthful, is held on November 12 each year.
A couple of dollars
As a whole, US pizza restaurants sold US$45.6 billion worth of the good stuff in 2021. That was actually less than the US$46.24 billion the year before.

Meat Pizzas
Keen on seeing more than Chorizo Prawn pizza? We have plenty of other Meat pizza recipes to look at, as well. Enjoy!

Pizza making FAQ
Want to know how to make delicious pizza at home? Here are some FAQ and their answers to the most common pizza making questions.
How to eat pizza with acid reflux?
Try eating low fat pizza, and reduce the amount of cheese and tomato sauce; the two worst culprits for acid reflux in a pizza.
How long to air fry pizza?
You can air fry a pizza in around 7-8 minutes, if your air fryer can cook at 380 degrees.
What is double cut pizza?
A double cut pizza is exactly as it sounds. Say your large pizza normally gets cut into 8 slices. A double cut pizza will be 16 slices. So double the cuts (and resulting pizza slices).
Have you made Chorizo Prawn Pizza?
How did you like Chorizo Prawn Pizza ? Let us know! Tag us on our Pinterest, Facebook or Twitter and let us know what you thought of it! I'd love to know.
Featured image: Source