Cream Cheese
Cream Cheese has a subtle sweetness, mild tanginess, and silky smooth texture that make it extremely versatile. Use it as a spread on a bagel, mix it into your cookie dough/cake batter, but a must try is to add it on your pizza!
The smoothness of the cream cheese in this pizza softens the saltiness of other toppings, a perfect combination! Melting the cream cheese onto the crust of the pizza keeps the dough tender and provides a creamy sauce-like base for your toppings.
Always make time to choose the best toppings and add them to a perfect base for you and friends to savor a perfect homemade pizza meal.
If you enjoy Vegetarian pizzas with White sauce then you're in luck.
Pizza is a tasty food all around the world, but did you know that it can be quite different depending on where you go? That's because the ingredients, cooking methods, and pizza-making traditions vary greatly from place to place. For example, in Italy, pizza is typically made with simple and high-quality ingredients such as fresh mozzarella and tomatoes, and cooked in a wood-fired oven, which gives it its characteristic soft and chewy crust.
In contrast, in America, pizza is often loaded with toppings and cooked in a gas oven, resulting in a much crispier crust. Even within the same country, you can find different regional variations.
For example, in New York, you will find the classic thin-crust pizza, while in Chicago, you will find a deep-dish pizza with a thick crust. The unique characteristics of pizza in different places make it a fascinating food to explore and try. It's like a culinary journey around the world, in one slice!
Pizza in South Korea
Pizza isn't regularly consumed in South Korea, compared to many other local dishes. Most South Korean meals are based on rice, Meat, seafood and vegetables. The very tasty Kimchi is served with just about every meal.
Take a look at some of the other pizzas from South Korea here.
Cream Cheese Pizza at a glance

| | |
| --- | --- |
| Origin | South Korea |
| Type | Vegetarian |
| Sauce | White Sauce |
Cream Cheese Pizza Recipe
Below we've created a recipe for you to make a delicious homemade Cream Cheese Pizza either in your wood fired pizza oven or your usual oven.
Preparation time

| | |
| --- | --- |
| Dough | 2 hours |
| Assembly | 10 minutes |
| Baking | 12-20 minutes |
Cream Cheese Pizza Ingredients
Choose enough pizza toppings for the amount of pizzas you will be creating. The dough and sauce amounts below are for 3-4 medium sized pizzas, so scale up or down, based on your requirements.

Simple Pizza dough
1 cup (250 ml) luke-warm water
2 2/3 cups (400 grams) pizza flour
2 tsps (7 g sachet) dried yeast
3 tbsps (1/4 cup) virgin olive oil
Two tsps salt
Cream Cheese Pizza Toppings
Toppings used in this pizza recipe, are;

Easy White Sauce
2 tbsp unsalt butter
2 tbsp flour
1 1/4 full cream milk
1/4 parmesan (shredded)
2 x cloves garlic (shredded or minced)
1/4 tsp sea salt
1/8 tsp black pepper
Want to try a different sauce? See our article on the different types of pizza sauces.
TIP
You can click on any of the tags at the bottom of this page, to find other pizzas besides Cream Cheese Pizza, that use that topping.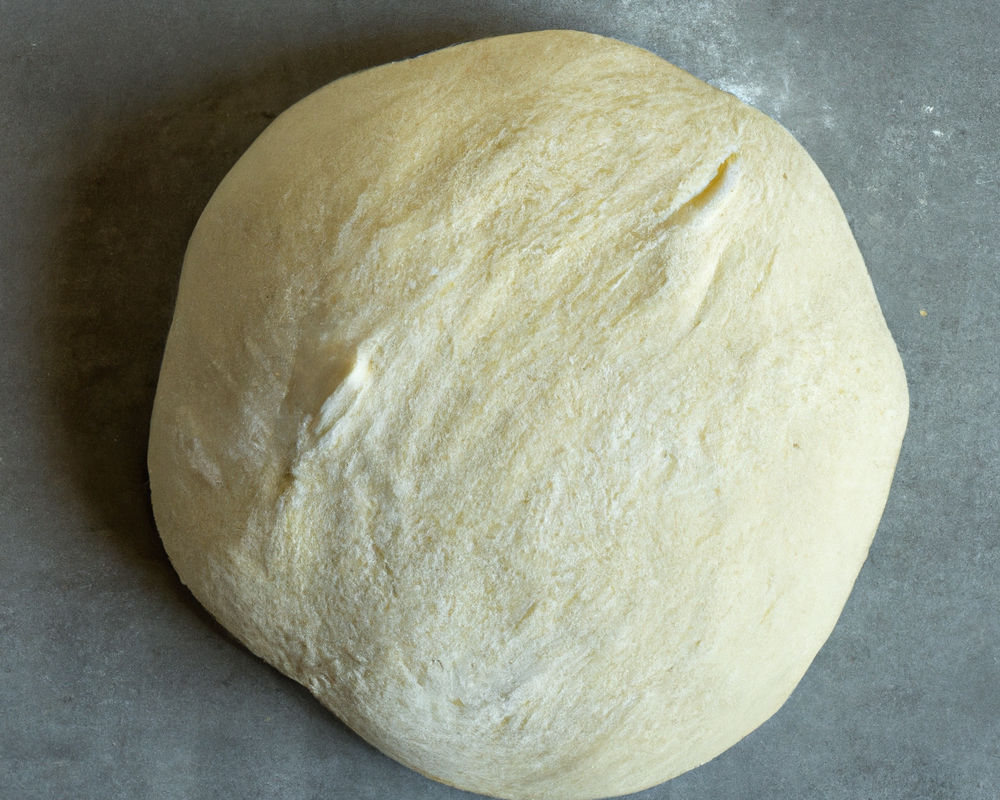 Pizza Dough Method
If you don't have much time, grab a premade pizza base at your local grocery store, or hand make your own pizza dough following the simple steps below.
Whisk the lukewarm water and yeast in a plastic or glass jug. Let the mixture stand for approx. five minutes.
Add the salt and flour in a large bowl. Create a hollow centre in the flour. Slowly pour the liquid yeast mixture and oil.
Using your hands or a mixer, mix the dough until smooth. Pour dough on a lightly floured work surface and then knead by hand for five minutes.
Place dough into lightly oiled bowl and cover with plastic wrap. Sit in a warm place for roughly 30 minutes to an hour, to rise until it doubles in size.
Fold the dough out onto a lightly floured surface. Knead gently by hand for around five minutes or until smooth.
Divide the dough roughly into equal amounts. Roll out pizza bases for the desired size.
Spread some flour on kitchen bench before rolling, in order to prevent sticking.
TIP: We have other dough recipes if you would like to try your hand at sourdough, poolish or more.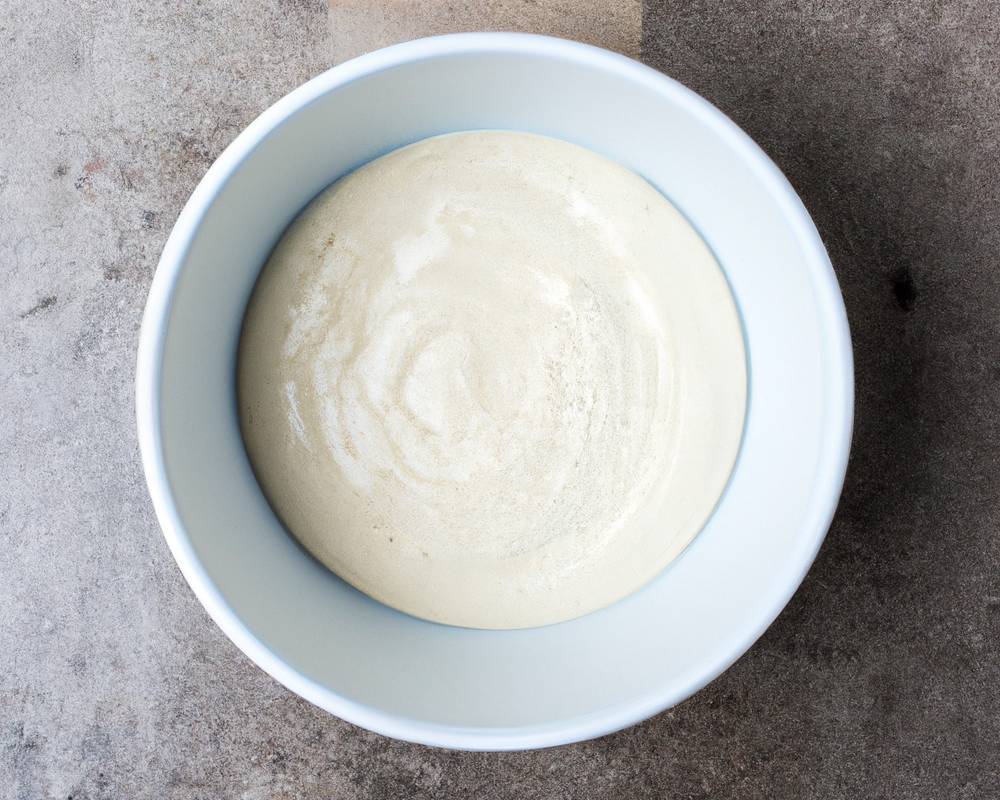 Perfect White Pizza Sauce Method
You can either make your own pizza sauce following the simple steps below, or you can purchase a pizza sauce at your local store.
Using a small saucepan over medium heat, melt the butter. Once melted, whisk in the flour. Continue whisking for 1-2 minutes.
Add milk slowly, whisking constantly until smooth, thickened, and bubbly.
Add the garlic, salt and pepper whilst whisking.
Add parmesan, then whisk for another 30 sec. Remove from heat and continue whisking until cheese is melted and sauce is smooth. Set aside to cool.
Do not boil after adding cheese. Once cool, cover and refrigerate. Can be used for up to 5 days.
Mix in some chilli or sweet chilli sauce to this pizza sauce recipe for a spicy twist.

Preparing Cream Cheese Pizza
Turn your oven on to 450-500 degrees or more and preheat for at least 30 minutes.
Spread out the dough in a rough circle, on a floured board or surface.
If you are using a baking pan, then create the pizza in that.
Open the sauce container, and start to spread the White Sauce. Spread the White Sauce around the whole base, taking care to leave a gap at edges.
Add the ingredients in size order, from large to small.
Cheese gets added last.
The toppings to add to this pizza are;
Whilst this pizza is great tasting by itself, yet why not with another pizza variety?
Oven time
Put the Cream Cheese pizza on the middle shelf of the oven and set a timer for 10 minutes.
After approximately 10 minutes, open oven door and check on pizza.
The pizza should be done within roughly 15 minutes. Always cook to personal tastes.

About Cream Cheese
Cream cheese is a soft, mild-tasting fresh cheese made from milk and Cream. It is meant to be consumed fresh, Cream cheese is not naturally matured, so it differs from other soft cheeses such as Brie and Neufchâtel.
It is comparable in taste and production methods to Mascarpone and Boursin. Whether it's in sweet, savoury, keto or healthy dishes, Cream cheese is one versatile ingredient.

Pizza Tools
When making Cream Cheese Pizza, I always recommend that you use what you have already, and avoid spending a ton of money. My recommended basic pizza tool list is…
Dough Containers
Having quality, air tight dough storage containers is a must.
Glass Measuring Jug
A good quality, heavy glass measuring jug with clear marking for various measures to me is a must. I hate taking chances with portions, so it's an important tool for me.
Dough Proofing Box
If you make a lot of dough through the year, you'll find owning a pizza dough proofing box very useful.

Basil
One of the most popular and easy to grow garden herbs, Basil is a sun loving herb which grows in warm weather. Originally found in India, there are between 80-150 species of Basil, which can be found in so many cuisines around the globe, including Thai and Italian foods.
Most types of Basil that we eat belong to the sweet basil species. Basil used to be used in Egyptian embalming techniques, and has been found in mummies in Egypt. Handy!
Pizza Trivia
Here are some interesting facts about pizza.
Most expensive pizza sold at an online auction
The "Pizza Royale 2007", created by Domenico Crolla (UK/Italy) for the premiere of Casino Royale (2007), was auctioned off for charity on eBay to an Italian lawyer for a record £2,150 US$3,321.
Longest calzone
The longest calzone came in at a whopping length of 18.22 m (59 ft 9.5 in) in July 2019. It was achieved by The Vaughan Pizza Fest and Roberto Vergalito (both Canada) at Revel Park in Vaughan, Ontario, Canada.
The first pizzeria in the US
The first pizzeria in the US opened in 1905 in Manhattan. Italian-American Gennaro Lombardi started his mini-pizza business at his street-front shop. Sadly, the shop no longer stands where it was, however Lombardi's are still operating with the same oven it used upon opening.

Vegetarian Pizzas
Keen on seeing more than Cream Cheese pizza? We have plenty of other Vegetarian pizza recipes to look at, as well. Enjoy!

Pizza making FAQ
Want to know how to make fantastic pizza at home? Here are some FAQ and their answers to the most common pizza making questions.
How do I make pizza in a cast iron skillet?
It is easy to make pizza in a cast iron skillet! Just preheat your cast iron skillet or pan, carefully lay your stretched-out pizza dough inside, add your pizza toppings and cheese, return the pan to the oven, and bake away. If you find it sticks, try adding more flour or oil underneath the base when placing it in the skillet.
Is it OK to use store-bought pizza dough?
Of course it is! It's fine to use pizza dough you bought at the store. In fact, in many cases you can buy balls of pizza dough from your favorite pizzeria, if you ask nicely. Make sure that the ingredients belong there (flour, sugar, salt, yeast) and not lots of preservatives. If the dough you buy is chilled, always let it come fully to room temperature before you use it.
How to freeze pizza?
Pizza is best frozen not long after it has cooled from cooking. Ensure that it is wrapped well, or in a zip lock bag and air tight. Consume the pizza within 2-3 months.
Have you made Cream Cheese Pizza?
Tell us what you think of Cream Cheese Pizza ! Tag us on our Pinterest, Facebook or Twitter and let us know what you thought of it! I'd love to know.
Featured image: Source