Hoisin Garlic
Originating from China, this Hoisin Garlic pizza is a mouth watering pizza worth eating.
Created as described, the following pizza has a luscious taste and splendid scent.
Make sure to always use excellent toppings and add them to the perfect crust for your family to take part in a out of this world meal together.
If you have a taste for Vegetarian pizza that has Hoisin sauce then this pizza will be tempting.
Pizza is a beloved food all around the world and it's no surprise why. But, have you ever thought about trying different types of pizza from different cultures? Each country has their own unique take on pizza that offers a distinct flavor and texture.
For example, Neapolitan pizza from Italy is known for its soft and chewy crust, while Greek pizza is known for its crispy crust and toppings like feta cheese and olives. You can also try pizza from India, Japan, or even Mexico, which all have their own unique toppings and flavors.
Trying different types of pizza from around the world is a great way to expand your palate and discover new flavor combinations that you may not have tried before. So, next time you're craving pizza, why not try something new and explore different types of pizza from around the world? It's a fun and delicious way to broaden your horizons.
Pizza in China
There's an old tale that Pizza originated in China. When Marco Polo came to China, he encountered scallion pie, a flat bread that uses dough instead of a batter. When Marco Polo returned to Italy he met a chef from Naples at a dinner party and persuaded him to recreate the dish, putting the fillings on top of the dough instead of the inside.
Take a look at some of the other pizzas from China here.
Hoisin Garlic Pizza at a glance

| | |
| --- | --- |
| Origin | China |
| Type | Vegetarian |
| Sauce | Hoisin Sauce |
Hoisin Garlic Pizza Recipe
Below we've put together a recipe for you to make your own homemade Hoisin Garlic Pizza either in your wood pizza oven or your typical kitchen oven.
Preparation time

| | |
| --- | --- |
| Dough | 2 hours |
| Assembly | 10 minutes |
| Baking | 12-20 minutes |
Hoisin Garlic Pizza Ingredients
Get enough of the toppings that you will need for the amount of pizzas you plan to make. The pizza sauce and dough ingredients below are designed for 3-4 pizzas, so scale up or down, based on your requirements.

Simple Pizza dough
7 grams (2 tsps) dried yeast
250 ml (1 cup) lukewarm water
2 2/3 cups (400 grams) 00 fine flour
2 tsps salt
1/4 cup (3 tbsp) olive oil
Hoisin Garlic Pizza Toppings
Toppings used in this pizza recipe, are;
Scallions
Roasted Sesame Seeds
Ginger
Garlic

Hoisin Sauce
4 tbsp soy sauce
2 tbsp smooth peanut butter
1 tbsp dark brown sugar
2 tsp rice wine vinegar
1 garlic clove, finely crushed
2 tsp sesame seed oil
hot sauce, to taste
Want to try a different sauce? See our article on the different types of pizza sauces.
TIP
You can click on any of the tags at the bottom of this page, to find other pizzas besides Hoisin Garlic Pizza, that use that topping.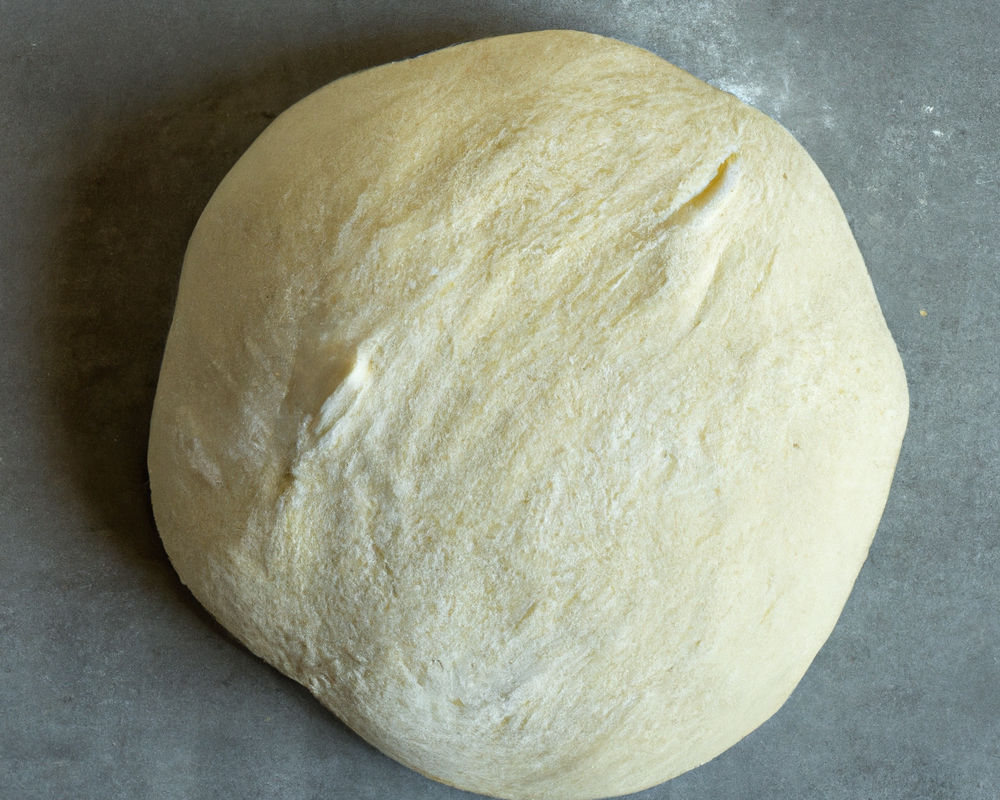 Pizza Dough Method
Purchase a premade pizza base at your local store, or if you have time, make your own homemade dough following the simple steps below. Some shops even carry pizza dough balls.
Whisk the lukewarm water and yeast in a plastic or glass jug. Let the mixture stand for approx. five minutes.
Add salt and flour in a large bowl. Create a hollow well in the middle and gently pour the liquid yeast mixture and oil.
Using dough mixer or hands, gently mix dough until smooth. Place pizza dough on a lightly floured work surface and then knead by hand for five minutes.
Lightly oil a bowl, and place mixture in and cover with plastic wrap. Leave in a warm place to rise until the dough doubles in size.
Pour dough mix out onto a clean, floured surface. Now hand knead gently for another five minutes.
Sprinkle a little flour on the bench before rolling to prevent dough from sticking.
Divide dough mixture into equal sized balls. Hand stretch or roll out the bases to the expected size.
TIP: We have other dough recipes if you would like to try your hand at sourdough, poolish or more.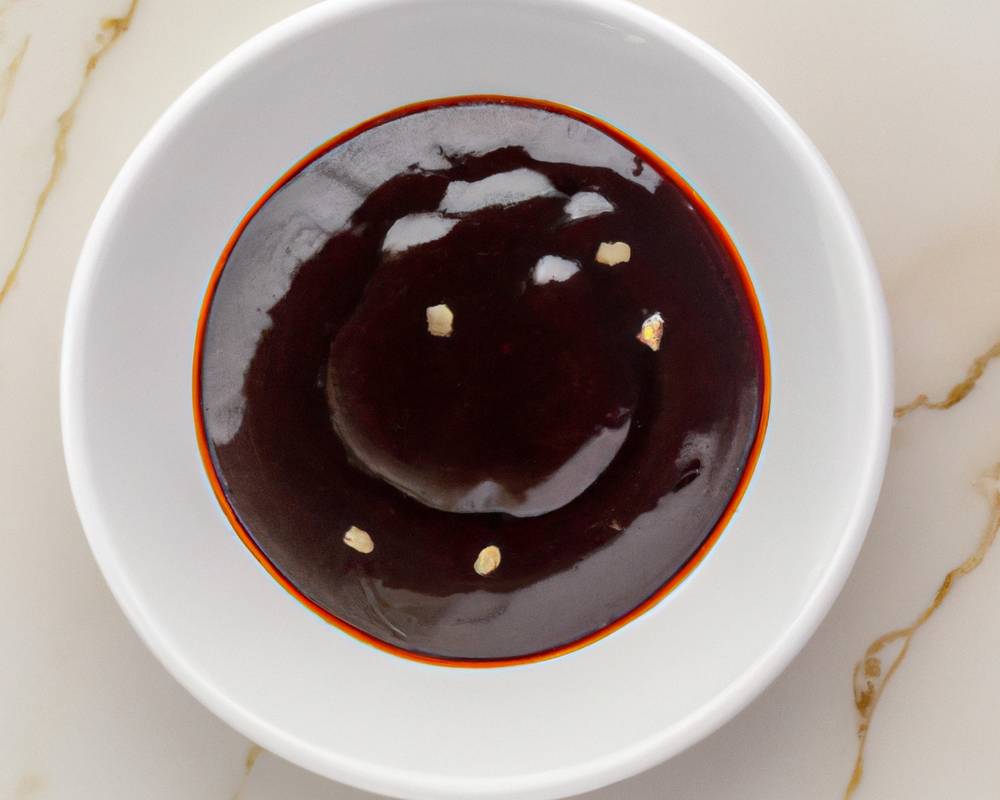 Hoisin Sauce
In less than 5 minutes, you can make your own Hoisin Sauce.
Put all the ingredients into a food processor or bowl.
Pulse or blitz with a stick blender until smooth.
Add hot sauce and pepper to season.
May keep in fridge for up to 5 days.

Preparing Hoisin Garlic Pizza
Preheat your kitchen oven to approximately 500 degrees.
Roll out the dough to either slightly smaller than your pizza stone (if you have one) or on a metal tray for the kitchen oven.
Alternatively, if you have a pizza oven, roll out to be smaller than your pizza peel.
First, spread the sauce around. This pizza calls for Hoisin Sauce. Spread the Hoisin Sauce evenly using the back of a large spoon or the blunt side of a knife.
You should start by adding the largest ingredients, then work your way down. The last is any cheese topping, such as Mozzarella, which you should evenly cover the other toppings with, and then finally any herbs.
The toppings to include on this pizza are;
Scallions
Roasted Sesame Seeds
Ginger
Garlic
Whilst this pizza is very nice by itself, yet why not with another pizza variety?
Cooking
Put the Hoisin Garlic pizza on the middle shelf in oven, and wait ten minutes.
After approximately 10 minutes, open oven door and check on pizza.
The pizza should be done within roughly 15 minutes. Always cook to personal tastes.

About Ginger
Native to South east Asia, China and India, Ginger belongs to the same family as cardamom and turmeric.
The Ginger root, most widely used in alternative forms of medicine, is rich in volatile components such as gingerol, which is a very potent anti-inflammatory compound.

Pizza Tools
When making Hoisin Garlic Pizza, I always recommend that you use what you have available, without spending lots of money. My basic pizza tool list is…
Dough Mixer
OK, so this isn't vital, but if you make enough pizza, breads, etc it is worth investing in a good mixer for your dough.
Mesh Sieve
You will find having a seive such a useful element for all your baking, not just for pizza. It's great to filter all flours through a fine mesh sieve before adding to recipes.
Pizza Peel
A pizza peel aka paddle is a crucial tool for those who are making pizza often.

Hoisin Sauce
Hoisin sauce is made with a thick, fragrant sauce made with soybeans, garlic, red chili Peppers and fennel.
With a dark colored appearance and sweet and salty to taste, Hoisin Sauce is commonly used in Cantonese cuisine as a glaze for meat, an addition to stir fry, or as dipping sauce.
Keeping Pizza
Leftovers after the meal? Here are some tips.
Chill in the fridge
You can keep pizza in plastic wrap or a container for up to 3 days in the fridge.
Can you freeze pizza?
You can freeze pizza for up to three months, however I'd suggest consuming it within the first few weeks, ideally.
How to reheat
There are many ways to reheat pizza. We cover seven of them in this article.

Pizza making FAQ
Want to know how to make fantastic pizza at home? Here are some helpful answers to the most frequently asked questions.
How to defrost pizza dough?
You should defrost frozen pizza dough by leaving it in a warm place for at least a few hours. You can also then use the defrost mode on your microwave to speed up the process a little.
Can I make pizza without making pizza dough?
Absolutely! Just buy a premade base at your shopping centre, or even ask your local pizza store if they will sell you some bases or dough. It's amazing how many people will willingly do this, to encourage you to start your homemade pizza hobby.
Can I use Baking Powder instead of yeast?
I don't recommend using baking powder as a replacement at all. Baking powder is a chemical leavener. It isn't the same as yeast at all. Yeast is an organism that enables pizza dough to develop richer flavors and texture. Types of bread that are made with chemical leaveners are a totally different texture than pizza.
Have you made Hoisin Garlic Pizza?
Hoisin Garlic Pizza review, let us know what you think! Tag us on our Pinterest, Facebook or Twitter and let us know what you thought of it! I'd love to know.
Featured image: Source