Hummus Avocado
Being from Israel, this pizza is Kosher.
Made well, this pizza boasts a yummy flavor, coupled with an extraordinary scent.
Make time to choose the freshest toppings and pair these with a fantastic crust for you to enjoy a delicious pizza meal.
If you enjoy a tasty Vegetarian pizzas with a Tomato pizza sauce then you are in luck with this one.
There's something about pizza that just makes it irresistible to so many people. One reason is the combination of flavors and textures. The combination of warm, gooey cheese and flavorful sauce is hard to beat. Plus, you can add all sorts of toppings to a pizza, from meats like pepperoni and sausage to vegetables like mushrooms and bell peppers.
This allows for endless flavor combinations to suit everyone's taste. Another reason is that pizza is a comfort food, it's warm, it's filling and it brings back memories of happy times with friends and family.
Additionally, pizza is also a social food, it's perfect to share with friends and family while watching a game or just hanging out. All of these reasons contribute to why pizza is one of the most beloved foods around the world.
Pizza in Israel
Pizza is popular in Israel's culinary scene, found on the menu of most cafés and bars as well as all Italian restaurants. Israelis are lucky to enjoy great Italian, Roman or New York-inspired pizzas.
Take a look at some of the other pizzas from Israel here.
Hummus Avocado Pizza at a glance

| | |
| --- | --- |
| Origin | Israel |
| Type | Vegetarian |
| Sauce | Tomato Sauce |
Hummus Avocado Pizza Recipe
There is a recipe below for you to make a Hummus Avocado Pizza from either a backyard pizza oven or your kitchen oven.
Preparation time

| | |
| --- | --- |
| Dough | 2 hours |
| Assembly | 10 minutes |
| Baking | 12-20 minutes |
Hummus Avocado Pizza Ingredients
Get enough of the toppings that you will need for the amount of pizzas you plan to make. The pizza sauce and dough ingredients below are designed for 3-4 pizzas, so add more or less, if required.

Simple Pizza dough
2 tsps (7 g sachet) dried yeast
1 cup (250 ml) luke-warm water
400 g (2 2/3 cups) 00 or pizza flour
2 tsps salt
3 tbsps (1/4 cup) olive oil
Hummus Avocado Pizza Toppings
Toppings used in this pizza recipe, are;
Onion
Avocado
Hummus
Garlic

Simple Tomato Pizza Sauce
1 can (15oz/420g) tomatoes, whole or crushed
1 can (6oz/170g) tomato paste
2 large garlic cloves
1/4 a small onion
1 tbsp dried Italian herbs
1 tsp salt
Want to try a different sauce? See our article on the different types of pizza sauces.
TIP
You can click on any of the tags at the bottom of this page, to find other pizzas besides Hummus Avocado Pizza, that use that topping.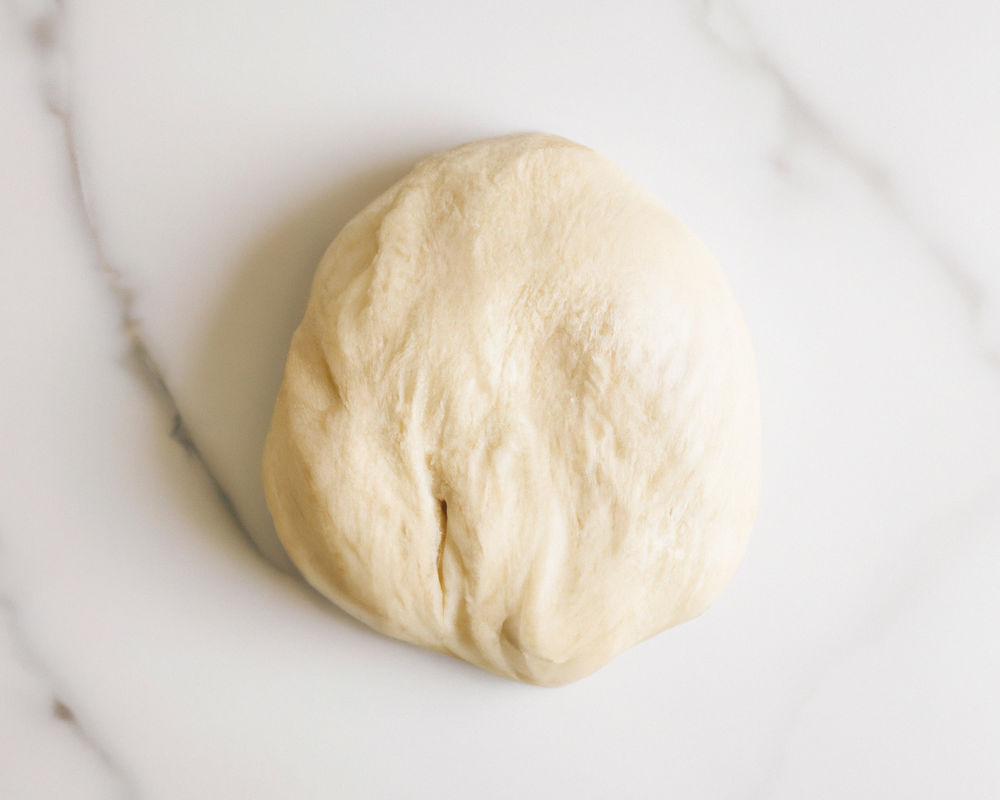 Pizza Dough Method
If you don't have much time, grab a premade pizza base at your local grocery store, or create your own homemade pizza dough following the simple steps below.
Whisk yeast and lukewarm water in a jug. Stand for around five minutes.
Add flour and salt in a large bowl. Create a well in the centre of the flour. Pour in the liquid yeast mixture and the oil.
Using a spatula, or your hands, mix the dough really well until smooth. Turn out dough onto a lightly floured work surface and knead for five minutes.
Lightly oil a bowl, and place dough in it and cover with plastic wrap. Leave in a warm place to rise for 30 minutes to an hour, or until it doubles in size.
Turn dough out onto a lightly floured surface and knead gently for another 5 minutes or until smooth.
Divide the dough into balls, and roll out bases to desired size.
Sprinkle a little flour on the bench before rolling to prevent dough from sticking.
TIP: We have other dough recipes if you would like to try your hand at sourdough, poolish or more.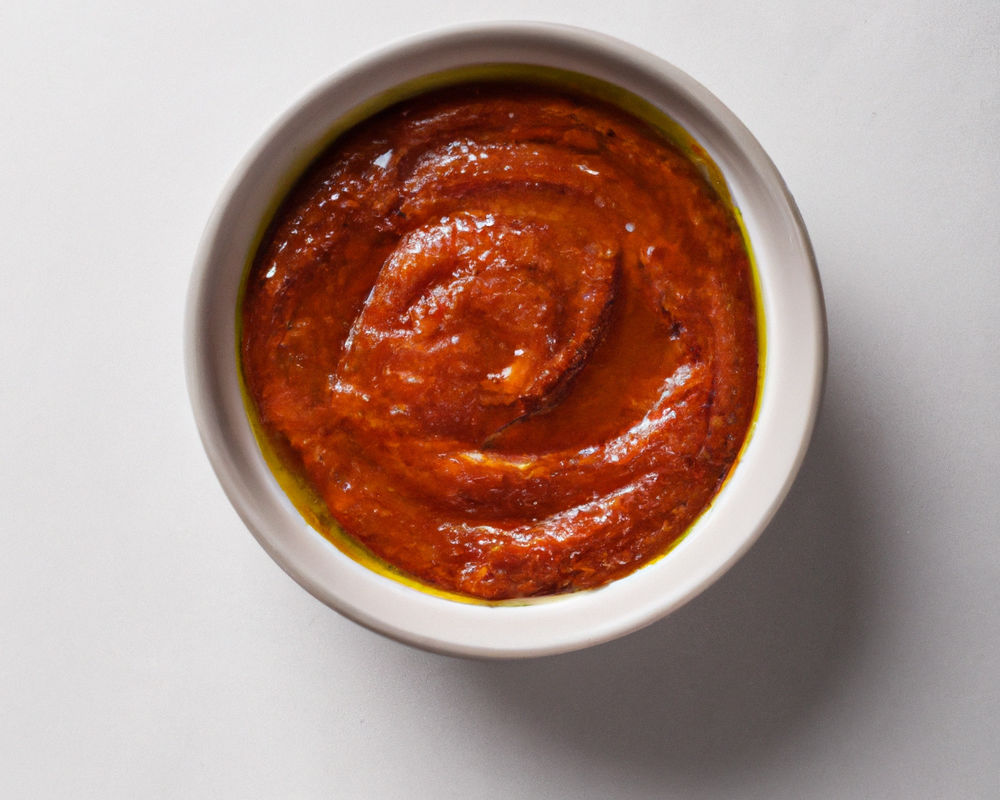 Tomato Pizza Sauce Method
You can either make your own pizza sauce following the simple steps below, or you can purchase a pizza sauce at your local store.
Add ingredients in a large bowl, and stir or blend well.
Ensure all ingredients are mixed together well.
Keep mixture sitting for five minutes.
Your sauce is now ready. Enjoy!
Keep sauce in fridge or freeze for future use.
By not heating these sauce ingredients, you give this simple pizza sauce a very fresh taste.

Preparing Hummus Avocado Pizza
Start by heating your oven to at least 450 degrees.
Spread out your dough on a well floured surface.
If you have a pizza peel, flour the peel and create your pizza on it.
Start by spreading the sauce all over the base. This pizza uses Tomato Sauce. Spread the Tomato Sauce Thinly yet evenly, leaving a margin for the crust.
Add the largest toppings first – typically meat or seafood, then the smaller toppings.
Add cheese last, and sprinkle it all over to help keep the toppings in place when it melts.
This pizza has the following toppings:
Onion
Avocado
Hummus
Garlic
Whilst this pizza is very nice by itself, yet why not make some homemade garlic bread as well?
Oven time
Put the Hummus Avocado pizza on the middle shelf of the oven and set a timer for 10 minutes.
After 10 minutes, open the door and check the pizza.
This pizza should take approximately 15 minutes, however allow it to cook to personal taste.

About Avocado
Avocado, also known as alligator pears or Butter fruit, were first domesticated by Mesoamerican tribes more than 5,000 years ago. They are native to the Western Hemisphere and are widely grown in warm climates.
Avocados are an excellent source of monounsaturated fat and vitamin E, and are a good source of folate. Avocado also supplies more soluble fibre than other fruit on the market.

Pizza Tools
When making Hummus Avocado Pizza, I always recommend that you use whatever kitchen items you have. My basic pizza tools are…
Oil Jug
Having a nice oil jug to pour olive oil gives you a decadent edge. They don't cost that much either!
Wooden boards
I use quality wooden boards constantly when making pizzas, botth to carry dough balls and to use when slicing baked pizzas.
Pizza Cutters
The one pizza tool everyone should own. There are a few varieities to choose from, see how to cut pizza for more.

Onion
Ancient Egyptians saw onions as a symbol of eternal life because of the circular layers. Farmed and eaten for at least 5,000 years, Onions have been used as medicine, food and even helped in Egyptian mummification.
The three most common onion colors are white, red and yellow. Onions are easy to grow, store and are cheap and full of flavour, making them very popular across the world. China consumes nearly 25% of the world's onions every year.
Pizza Facts
Here are a few interesting pizza facts…
Would you try pizza perfume?
Pizza Hut Canada released a limited-edition pizza perfume, back in 2012. The scent was described as 'freshly baked, hand-tossed dough.' I love pizza, but no.
Record for most pizzas sliced
The most pizzas sliced in three minutes was achieved by Rory Coughlan-Allen (UK) from Wales, UK, sliced 17 pizzas in three minutes on 1 March 2022.
Celebrate everything cheese pizza
Did you know the US celebrates National Cheese Pizza Day, every 5th of September.

Pizza making FAQ
Want to make great pizza at home? Here are some expert answers to some of the most Frequently asked questions.
What is double cut pizza?
A double cut pizza is exactly as it sounds. Say your large pizza normally gets cut into 8 slices. A double cut pizza will be 16 slices. So double the cuts (and resulting pizza slices).
How many carbs in pizza sauce?
For every 100 grams of pizza sauce, there are roughly 9 grams of carbohydrates.
Why didn't my pizza dough rise?
If your pizza dough hasn't risen, it's because there was little or no fermentation. A few reasons could be (a) the yeast was dead. Try using fresh yeast again and see. (b) there wasn't enough yeast – normally you need 1% to 5% of your flour weight. Try increasing the yeast percentage. (c) The conditions are too cold. You will find that it may take longer, depending how cold your kitchen is. Try placing the bowl near a sunny window perhaps?
Have you made Hummus Avocado Pizza?
Hummus Avocado Pizza is important to us, let us know what you thought! Tag us on our Pinterest, Facebook or Twitter and let us know what you thought of it! I'd love to know.
Featured image: Source