Mochi Teriyaki
Mochi means rice balls
Created with care, this pizza gives a delectable taste, coupled with a utopian smell to delight you.
Always ensure you get the best toppings and add them to a fantastic crust for you and family to savor a scrumptious feast.
If you like Chicken pizza with a Tomato pizza sauce then you will enjoy this.
Pizza is a beloved food all around the world and it's no surprise why. But, have you ever thought about trying different types of pizza from different cultures? Each country has their own unique take on pizza that offers a distinct flavor and texture.
For example, Neapolitan pizza from Italy is known for its soft and chewy crust, while Greek pizza is known for its crispy crust and toppings like feta cheese and olives. You can also try pizza from India, Japan, or even Mexico, which all have their own unique toppings and flavors.
Trying different types of pizza from around the world is a great way to expand your palate and discover new flavor combinations that you may not have tried before. So, next time you're craving pizza, why not try something new and explore different types of pizza from around the world? It's a fun and delicious way to broaden your horizons.
Pizza in Japan
Pizza is very popular throughout Japan, and they offer the classic flavours, as well as a number of Japanese takes on pizza. Popularity grew in the 1970's, when family-oriented Pizza chain restaurants spread across Japan.
Take a look at some of the other pizzas from Japan here.
Mochi Teriyaki Pizza at a glance

| | |
| --- | --- |
| Origin | Japan |
| Type | Chicken |
| Sauce | Tomato Sauce |
Mochi Teriyaki Pizza Recipe
Below we've created a recipe for you to make a delicious homemade Mochi Teriyaki Pizza using a wood oven or using a pizza stone.
Preparation time

| | |
| --- | --- |
| Dough | 2 hours |
| Assembly | 10 minutes |
| Baking | 12-20 minutes |
Mochi Teriyaki Pizza Ingredients
Choose enough of the toppings that you will need for the amount of pizzas you plan to make. The pizza sauce and dough ingredients below are designed for 3-4 pizzas, so add more or less, if required.

Simple Pizza dough
7 grams (2 tsps) dried yeast
250 ml (1 cup) lukewarm water
400 g (2 2/3 cups) plain flour, plus extra to dust
2 teaspoons table salt
1/4 cup (3 tbsp) extra virgin olive oil
Mochi Teriyaki Pizza Toppings
Toppings used in this pizza recipe, are;
Teriyaki Chicken
Cheese
Nori
Mochi

Simple Tomato Pizza Sauce
1 can (15oz/420g) crushed or diced tomatoes
1 small can (6oz/170g) tomato paste
Two garlic cloves
1 tbsp dried Italian herbs
1 tsp salt
1/4 small brown onion
Want to try a different sauce? See our article on the different types of pizza sauces.
TIP
You can click on any of the tags at the bottom of this page, to find other pizzas besides Mochi Teriyaki Pizza, that use that topping.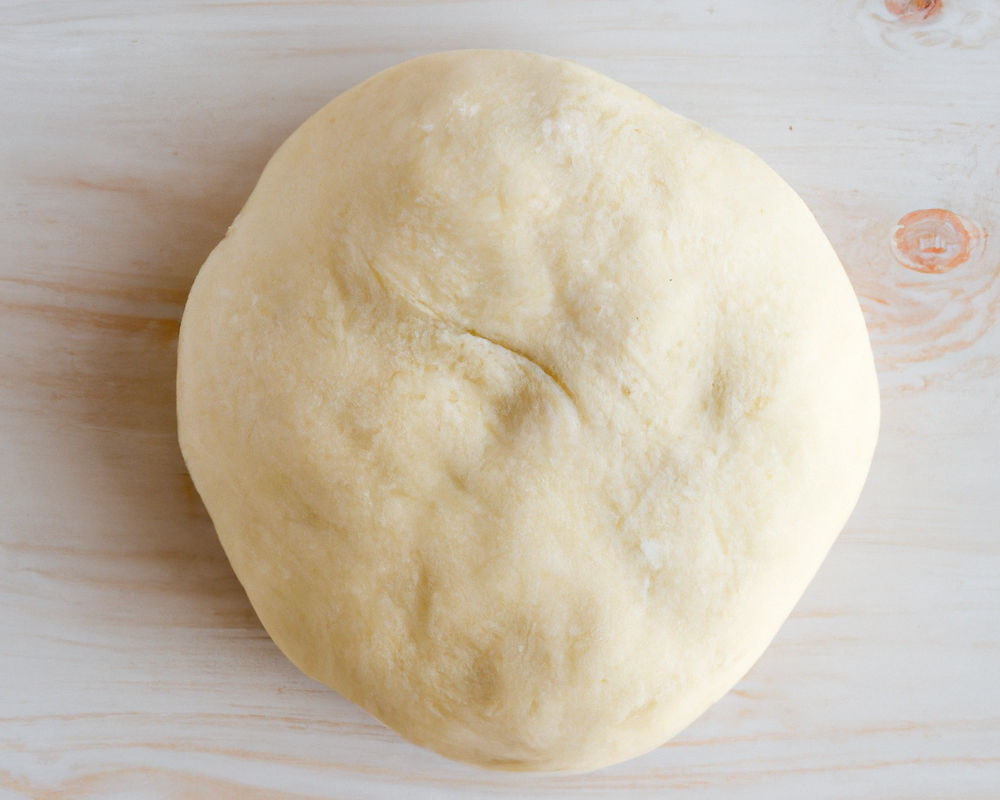 Pizza Dough Method
If you don't have much time, grab a premade pizza base at your local grocery store, or craft your own homemade pizza dough following the simple steps below.
Whisk yeast and lukewarm water in glass or plastic container. Let stand for approximately 5 minutes.
Add salt and flour in a large bowl. Create a hollow well in the middle and gently pour the liquid yeast mixture and oil.
Using your hands or spatula, gently combine the flour mixture until smooth. Then turn out dough onto lightly floured surface and hand knead for roughly five minutes.
Place the dough mixture in to an oiled bowl, and cover with plastic wrap. Leave in a warm place until the dough has at least risen to double in size.
Turn dough out onto a lightly floured surface. Hand knead gently for five minutes until reasonably smooth.
Divide dough mix into equal amounts, now roll out the bases to the desired size.
Sprinkle some flour on work surface before rolling out dough to prevent any sticking.
TIP: We have other dough recipes if you would like to try your hand at sourdough, poolish or more.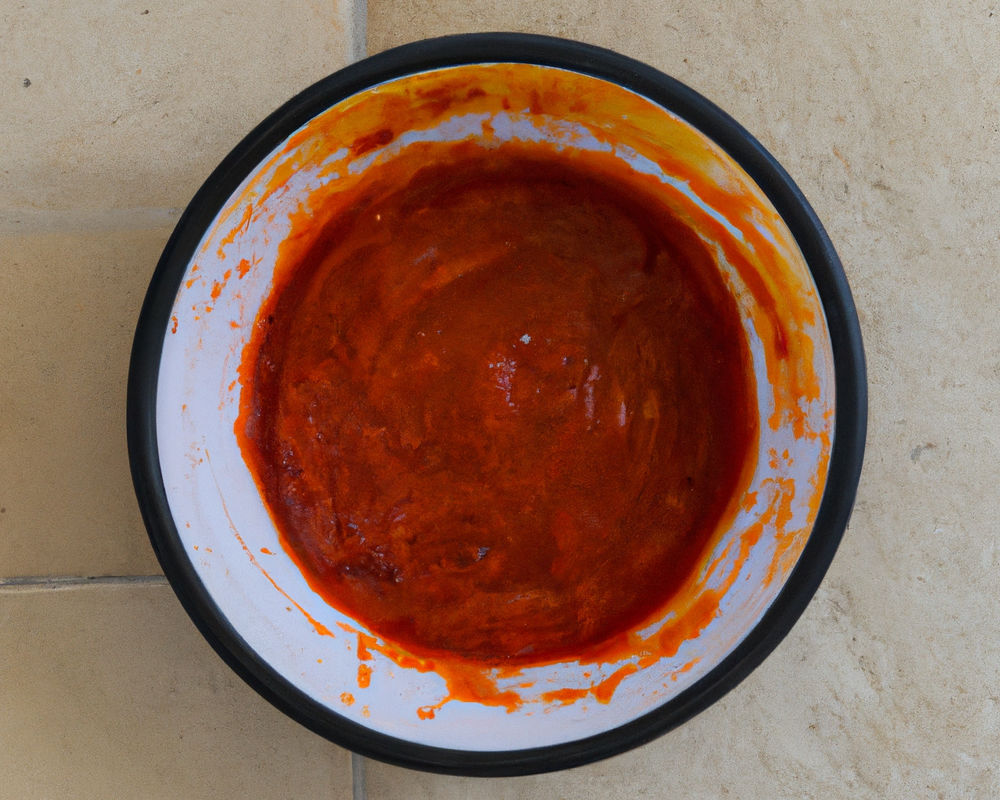 Tomato Pizza Sauce Method
It takes around five minutes to make this tasty pizza sauce following the simple steps below, or you can purchase a bottle of pizza sauce at your local shop.
Blend all sauce ingredients in a large bowl.
Mix well using a whisk, or blender.
Leave sitting for five minutes.
Your pizza sauce is now ready to use.
You can keep in the fridge for up to 3 days.
Remember that you can add salt and pepper to taste for the perfect flavor in your dish.

Preparing Mochi Teriyaki Pizza
Turn your oven on to 450-500 degrees or more and preheat for at least 30 minutes.
Spread out the dough in a rough circle, on a floured board or surface.
If you are using a baking pan, then create the pizza in that.
Open the sauce container, and start to spread the Tomato Sauce. Spread the Tomato Sauce around the whole base, taking care to leave a gap at edges.
Add the ingredients in size order, from large to small.
Cheese gets added last.
The toppings to add to this pizza are;
Teriyaki Chicken
Cheese
Nori
Mochi
Whilst this pizza is tasty on its own, or why not with another pizza variety?
Baking time
Put the Mochi Teriyaki pizza in the middle of your oven (on a stone if you have one) and set timer for 10 minutes.
In 10 minutes, open oven door and check.
The pizza should take roughly 15 minutes to cook, adjust time to cook to personal taste.

About Mochi
Mochi is a Japanese rice cake, made from short-grain glutinous rice called mochigome (mochi rice), which has a chewier texture than regular types of rice.
When you combine rice and seaweed, mochi is low in saturated fat and very low in cholesterol. It is also a good source of a range of vitamins and minerals.

Pizza Tools
When making Mochi Teriyaki Pizza, I always recommend that you use what you have already, and avoid spending a ton of money. My recommended basic pizza tool list is…
Pizza Stone
A pizza stone is a great way to up your pizza game at home. Read more about cooking with a Pizza Stone.
Food Containers
Leftovers need to go somewhere, and I hate using lots of plastic wrap or alfoil. I prefer good air tight clear containers for my fridge.
Dough Containers
Dough storage containers must be of high quality and airtight.

Chicken
Chickens were first domesticated in Southeast Asia approximately 5,400 years ago. It's true; Chickens really have been proven to be living descendants of dinosaurs. There are more chickens on earth than people, so watch out if they decide to take over!
Chicken is a healthy alternative to red meats. In every 100 grams of chicken, there are 38 grams of protein. Every year, the United States consumes approximately 15,000 metric tons of chicken.
Pizza Facts
These facts will interest you.
Longest calzone
The longest calzone came in at a whopping length of 18.22 m (59 ft 9.5 in) in July 2019. It was achieved by The Vaughan Pizza Fest and Roberto Vergalito (both Canada) at Revel Park in Vaughan, Ontario, Canada.
Pizza as currency
The world's first pizza ATM went live in 2016, at Xavier University, Ohio. Customers can purchase a medium pizza using a touchscreen, which the machine then heats up and dispenses through a slot.
That's alot of pizza
There are over 61,000 pizzerias trading in the USA.

Chicken Pizzas
Keen on seeing more than Mochi Teriyaki pizza? We have plenty of other Chicken pizza recipes to look at, as well. Enjoy!

Pizza making FAQ
Want to make delicious pizzas at home? Here are some expert answers to some of the most common pizza making questions.
How do I find the best pizza dough recipe, given there are so many?
You aren't wrong – there are seemingly thousands of pizza dough recipes out there, and it is hard to know what works best for each person. Overwhelmed? Try your hand at the simplest looking ones first, and as you build your pizza dough making confidence, turn your hand to some of the many other different pizza dough recipes. Before you know it, you'll find one that satisfies everyone's tastes in your group.
What is calabrese pizza?
A Calabrese style Pizza usually has a small amount of grated cheese, a slightly thicker crust and multiple toppings (including spicier ones).
Who delivers pizza underwater?
Daniel Blezio is a certified scuba diver and instructor. His daily duties include bringing guests their belongings and he also delivers pizza to guests of the Jules Undersea Lodge, located 22 feet below sea level in a Florida Keys lagoon.
Have you made Mochi Teriyaki Pizza?
What did you think of Mochi Teriyaki Pizza ? We're curious! Tag us on our Pinterest, Facebook or Twitter and let us know what you thought of it! I'd love to know.
Featured image: Source