Peking Duck
Get your fix of two crowd favorites, a chinese food and a pizza, in this one crusty and flavorful treat. Grab a slice of this Chinese-inspired pizza, topped with Hoisin sauce, peking duck breasts and chilli sauce.
Baked as shown, the following pizza has a mouthwatering taste, coupled with a superb smell to delight you.
Ensure you always pick excellent toppings and add them to a delicious crust for you and family to savor a scrumptious homemade pizza feast.
Are you into Meat pizza with Hoisin sauce? Then read on!
Pizza is one of the most beloved foods in the world, and for good reason! For starters, it's incredibly versatile and can be customized to suit any taste or dietary preference. Plus, it's the perfect comfort food, satisfying and delicious no matter what kind of day you've had.
One of the best things about pizza is that it's a great food for sharing with friends and family. It's perfect for a casual dinner party or a lazy weekend night in. And let's not forget, it's also an easy meal to make at home, you can make your own dough, sauce, and toppings.
In short, pizza is delicious, easy to make, and a great way to bring people together. So go ahead and treat yourself to a slice (or two) of your favorite pie!
Pizza in UK
According to a study in 2021, the most popular family meals in homes throughout the UK are the traditional roast dinner, fish and chips, and you guessed it… pizza!
Take a look at some of the other pizzas from UK here.
Peking Duck Pizza at a glance

| | |
| --- | --- |
| Origin | UK |
| Type | Meat |
| Sauce | Hoisin Sauce |
Peking Duck Pizza Recipe
There is a recipe below for you to make a Peking Duck Pizza either in your wood pizza oven or on a pizza stone in your oven.
Preparation time

| | |
| --- | --- |
| Dough | 2 hours |
| Assembly | 10 minutes |
| Baking | 12-20 minutes |
Peking Duck Pizza Ingredients
Choose enough pizza toppings for the amount of pizzas you will be creating. The pizza sauce and dough ingredients below are designed for 3-4 pizzas, so scale up or down, based on your requirements.

Simple Pizza dough
400 g (2 2/3 cups) 00 or pizza flour
1 cup (250 ml) luke-warm water
2 tsps (7 g sachet) dried yeast
2 tsps salt
3 tbsps (1/4 cup) olive oil
Peking Duck Pizza Toppings
Toppings used in this pizza recipe, are;
Roasted Duck
Provolone
Onion
Scallions
Brown Sugar
Soy Sauce
Sesame Oil
Garlic
Chinese 5-spices powder

Hoisin Sauce
4 tbsp soy sauce
2 tbsp smooth peanut butter
1 tbsp dark brown sugar
2 tsp rice wine vinegar
1 garlic clove, finely crushed
2 tsp sesame seed oil
hot sauce, to taste
Want to try a different sauce? See our article on the different types of pizza sauces.
TIP
You can click on any of the tags at the bottom of this page, to find other pizzas besides Peking Duck Pizza, that use that topping.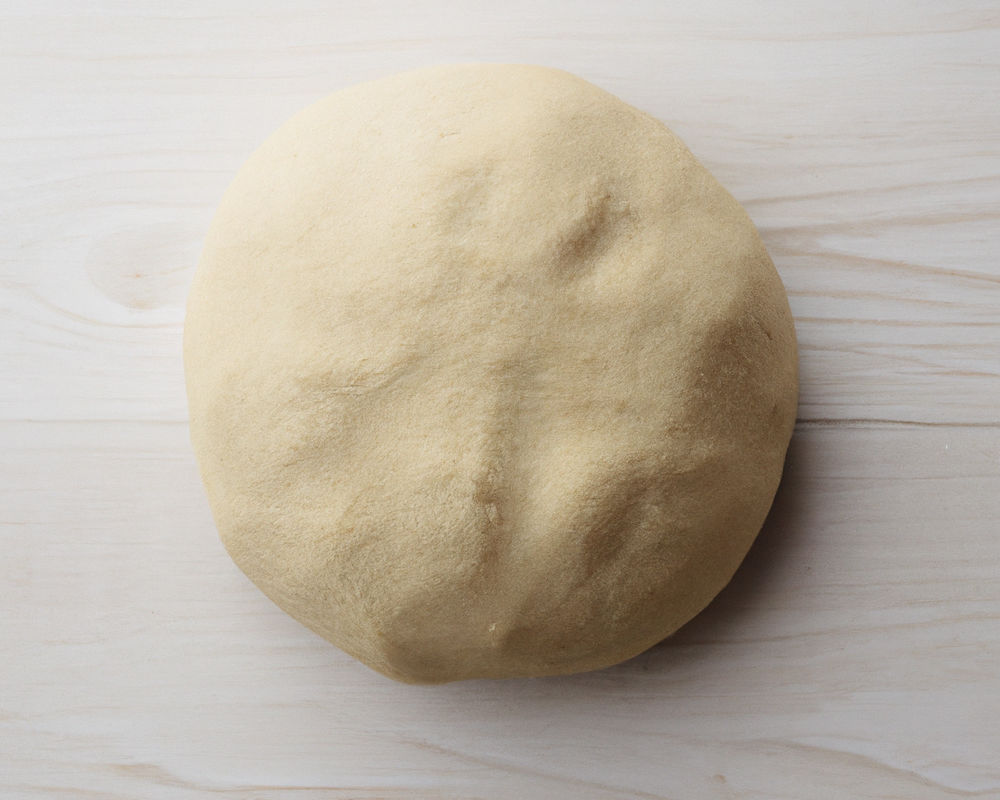 Pizza Dough Method
You can either make your own pizza dough following the simple steps below, or you can purchase a premade base at your local store.
Whisk the lukewarm water and yeast in a plastic or glass jug. Let mixture stand for five minutes.
Add salt and flour in a large bowl. Create a hollow well in the middle and gently pour the liquid yeast mixture and oil.
Using a spatula, or your hands, mix the dough really well until smooth. Turn out dough onto a lightly floured work surface and knead for five minutes.
Lightly oil a bowl, and place dough in it and cover with plastic wrap. Leave in a warm place to rise for 30 minutes to an hour, or until it doubles in size.
Turn dough out onto a lightly floured surface and knead gently for another 5 minutes or until smooth.
Sprinkle a little flour on the bench before rolling to prevent dough from sticking.
Divide the dough into balls, and roll out bases to desired size.
TIP: We have other dough recipes if you would like to try your hand at sourdough, poolish or more.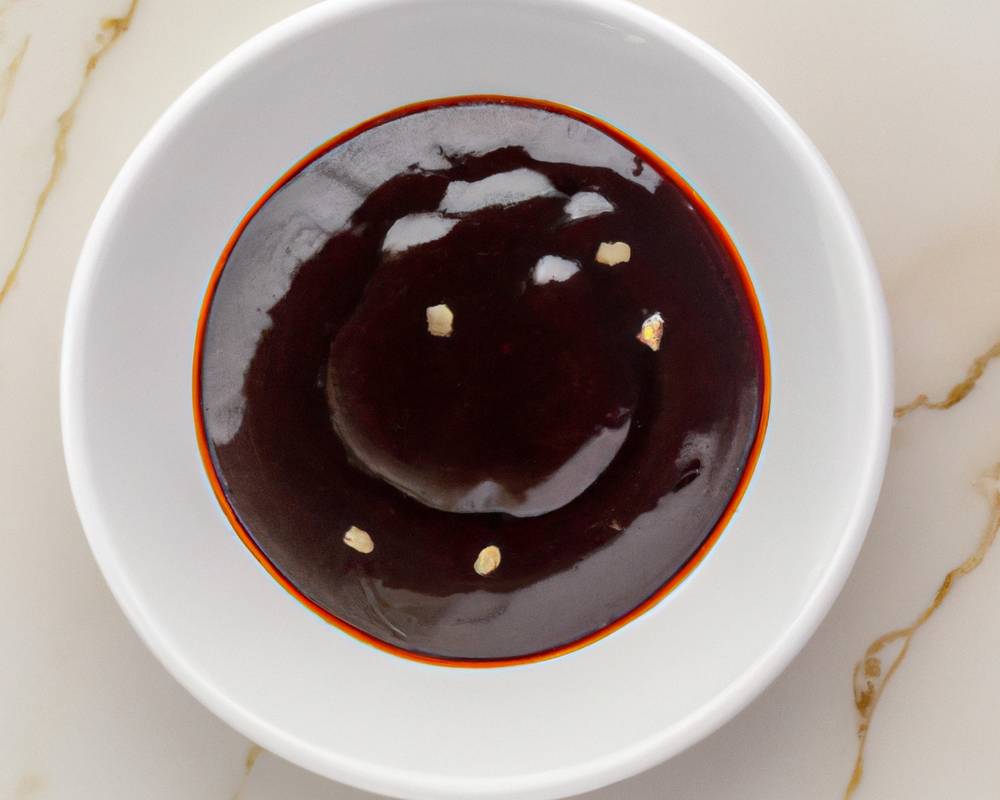 Hoisin Sauce
In less than 5 minutes, you can make your own Hoisin Sauce.
Put all the ingredients into a food processor or bowl.
Pulse or blitz with a stick blender until smooth.
Add hot sauce and pepper to season.
May keep in fridge for up to 5 days.

Preparing Peking Duck Pizza
Turn your oven on to 450-500 degrees or more and preheat for at least 30 minutes.
Spread out the dough in a rough circle, on a floured board or surface.
If you are using a baking pan, then create the pizza in that.
Open the sauce container, and start to spread the Hoisin Sauce. Spread the Hoisin Sauce around the whole base, taking care to leave a gap at edges.
Add the ingredients in size order, from large to small.
Cheese gets added last.
The toppings to add to this pizza are;
Roasted Duck
Provolone
Onion
Scallions
Brown Sugar
Soy Sauce
Sesame Oil
Garlic
Chinese 5-spices powder
This pizza is great tasting by itself, yet why not with another style of pizza?
Cooking time
Put the Peking Duck pizza in oven, and set alarm for ten minutes.
After 10 minutes, open oven and look at pizza.
The pizza should be done within roughly 15 minutes. Always cook to personal tastes.

About Brown Sugar
This sweet and salty treat adds a unique flavor profile to pizzas that can be both savory and sweet. When used in moderation, brown sugar is also considered healthy because it contains fewer calories than other sugary toppings like honey or maple syrup.
It's also low in sodium and provides essential vitamins and minerals such as calcium, iron, magnesium and phosphorus.

Pizza Tools
When making Peking Duck Pizza, it's always handy to have the right pizza making tools. Here's what items I always recommend…
Kitchen Scales
Do you have quality digital kitchen scales? It's a great tool for any chef or pizza cook.
Pizza Scissors
These may seem like a weird tool to some, however other pizzaiolo's swear by using scissors instead of a traditional pizza cutter.
Pizza Steel
A pizza steel is very similar to a pizza stone, and works the same way in a normal kitchen oven.

Sesame Seeds
First used for cuisine more than 3,000 years ago, Sesame Seeds is one of the oldest OilSeed crops known in the world. Many ancient stories speak of them. In one, the gods created the world and drank wine made from Sesame Seeds. In another, Sesame Seeds represent a symbol of immortality.
An annual flowering herb, the Sesame plant looks very similar to okra. To harvest the Seeds, the pods are dried and collected before they can open. Then, the Seeds are made into Paste or Sesame Oil.
Pizza Facts
Here are a few interesting pizza facts…
Largest pizza delivery
The largest pizza delivery was organised by Pizzas 4 Patriots (USA), who sent 30,000 pizzas with DHL Express to the United States Armed Forces, in Kandahar Airfield, Bagram Airbase and Camp Bastion, Afghanistan, on 4 July 2012. The 12 inch pizzas were made by Great Kitchens, Inc. in Illinois in June 2012.
Salami in space
Pizza Hut made history when they sent a 6-inch salami pizza via a Russian rocket to the International Space Station. Russian cosmonaut Yuri Usachov munched on the treat and even took marketing photos.
Ah, a museum
There is a Pizza museum in Philadelphia called Pizza Brain. It contains one of the world's largest collections of pizza themed memorabilia. Oh and you can buy and eat pizza there too.

Pizza making FAQ
Want to make delicious pizzas at home? Here are some expert answers to some of the most common pizza making questions.
Can I use a mixer to make the dough?
Sure thing! I regularly do. Always use a mixer with a dough hook attachment to make your pizza dough. First, add the dry ingredients and form a well to add the liquid, then always start on the lowest speed first, before increasing the speed and mixing for 5-6 minutes. If your mixer starts sounding like it's straining, turn it to a slower speed for a longer time.
Where was the world's most expensive pizza made?
The worlds most expensive pizza costs $12,000 and is made in Salerno, Italy.
Can I use ciabatta bread for making pizza?
Yes! Breads are great to make pizza on, as it is quicker than making your own dough from scratch. Try my favourite, which is flat bread. It gets very crispy though, so don't cook it for long. Otherwise, ciabatta or italian breads are also good alternatives if you are short on time.
Have you made Peking Duck Pizza?
Peking Duck Pizza ? Let us know and help us improve. Tag us on our Pinterest, Facebook or Twitter and let us know what you thought of it! I'd love to know.
Featured image: Source