Pesto Bacon
Pesto is a thick, green sauce that tastes bright and herby. Commonly made with basil, garlic, pine nuts, cheese, and olive oil, this classic Italian condiment is perfect for pizzas, pasta, sandwiches, and more, you can use pesto with everything!
Pesto and bacon go amazingly well together with the saltiness of the bacon and the garlicky basil flavors from the pesto packs a combination of different flavors.
Make sure to purchase the best ingredients and add them to a fantastic crust for you to take part in a nice homemade pizza meal.
If you enjoy a tasty Meat pizza using a Green Pesto sauce this could be the new love of your life.
The beauty of pizza is that there are so many different varieties to choose from! One reason for this is that pizza is a dish that can be easily customized to suit different tastes and preferences. Whether you prefer a classic Margherita with tomato sauce, mozzarella, and basil or a more unconventional option like a barbecue chicken pizza, the possibilities are endless.
Another reason for the variety of pizzas is its adaptability to the different regions and cultures around the world, for example pizza in Italy has a thin crust with simple toppings, whereas in the United States, pizza often has a thicker crust and more elaborate toppings.
Additionally, with new ingredients, cooking methods and technological innovations, the variety of pizza keeps on increasing making it more and more delicious and unique. Finally, Pizza is a classic that has been around for centuries and has been interpreted in many ways. It's a dish that inspires experimentation and creativity in chefs, making it one of the most versatile foods.
Pizza in Denmark
Pizza in Denmark is becoming fairly common. The Danish love their Meat, fish and soups, which they combine with Potatoes, Beans, vegetables and fruits.
Take a look at some of the other pizzas from Denmark here.
Pesto Bacon Pizza at a glance

| | |
| --- | --- |
| Origin | Denmark |
| Type | Meat |
| Sauce | Green Pesto |
Pesto Bacon Pizza Recipe
Below we've put together a recipe for you to make your own homemade Pesto Bacon Pizza whether it be in your wood fired pizza oven or your usual oven.
Preparation time

| | |
| --- | --- |
| Dough | 2 hours |
| Assembly | 10 minutes |
| Baking | 12-20 minutes |
Pesto Bacon Pizza Ingredients
Choose enough pizza toppings for the amount of pizzas you plan to make. The dough and sauce amounts below are for 3-4 medium sized pizzas, so scale up or down, based on your requirements.

Simple Pizza dough
400 g (2 2/3 cups) plain flour, plus extra to dust
250 ml (1 cup) lukewarm water
7 grams (2 tsps) dried yeast
2 teaspoons table salt
1/4 cup (3 tbsp) extra virgin olive oil
Pesto Bacon Pizza Toppings
Toppings used in this pizza recipe, are;
Bacon
Mozzarella
Green Chili Peppers
Red Chili Peppers

Simple Tomato Pizza Sauce
1 can (6oz/170g) tomato paste
1 can (15oz/420g) tomatoes, whole or crushed
2 large garlic cloves
1/4 a small onion
1 tbsp dried Italian herbs
1 tsp salt
Want to try a different sauce? See our article on the different types of pizza sauces.
TIP
You can click on any of the tags at the bottom of this page, to find other pizzas besides Pesto Bacon Pizza, that use that topping.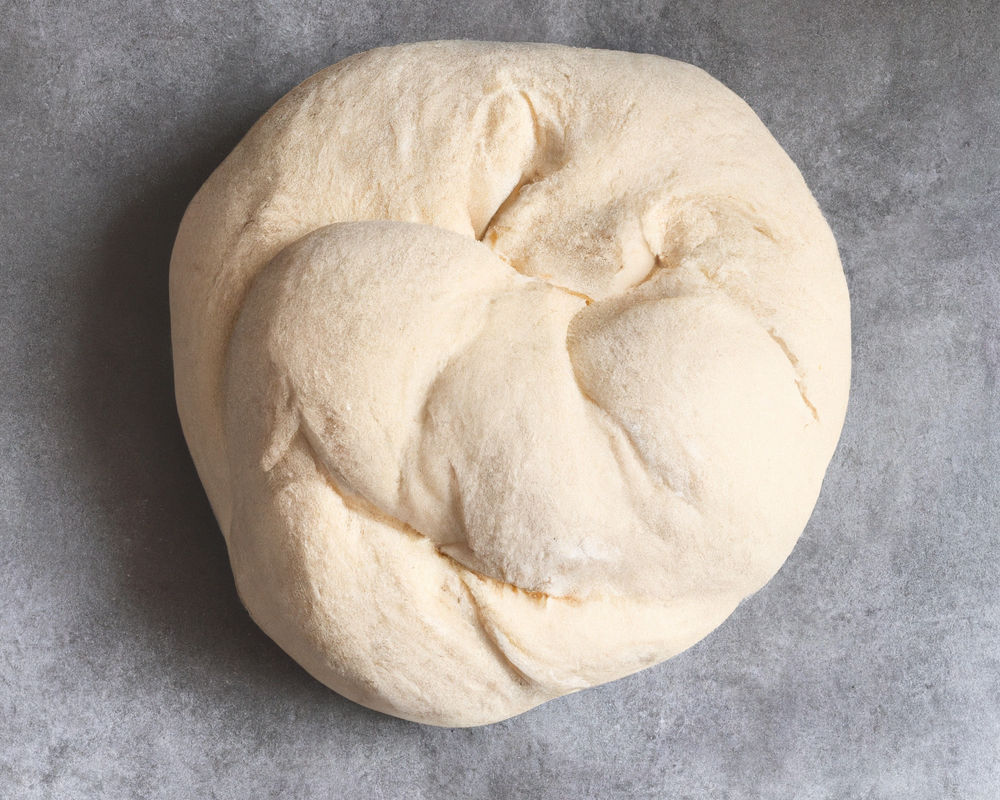 Pizza Dough Method
You can purchase a premade pizza base at your local shop or make your own dough following the simple steps below.
Whisk yeast and lukewarm water in glass or plastic container. Let stand for approximately 5 minutes.
Add salt and flour in a large bowl. Create a hollow well in the middle and gently pour the liquid yeast mixture and oil.
Using your hands or spatula, gently combine the flour mixture until smooth. Then turn out dough onto lightly floured surface and hand knead for roughly five minutes.
Place the dough mixture in to an oiled bowl, and cover with plastic wrap. Leave in a warm place until the dough has at least risen to double in size.
Turn dough out onto a lightly floured surface. Hand knead gently for five minutes until reasonably smooth.
Divide dough mix into equal amounts, now roll out the bases to the desired size.
Sprinkle some flour on work surface before rolling out dough to prevent any sticking.
TIP: We have other dough recipes if you would like to try your hand at sourdough, poolish or more.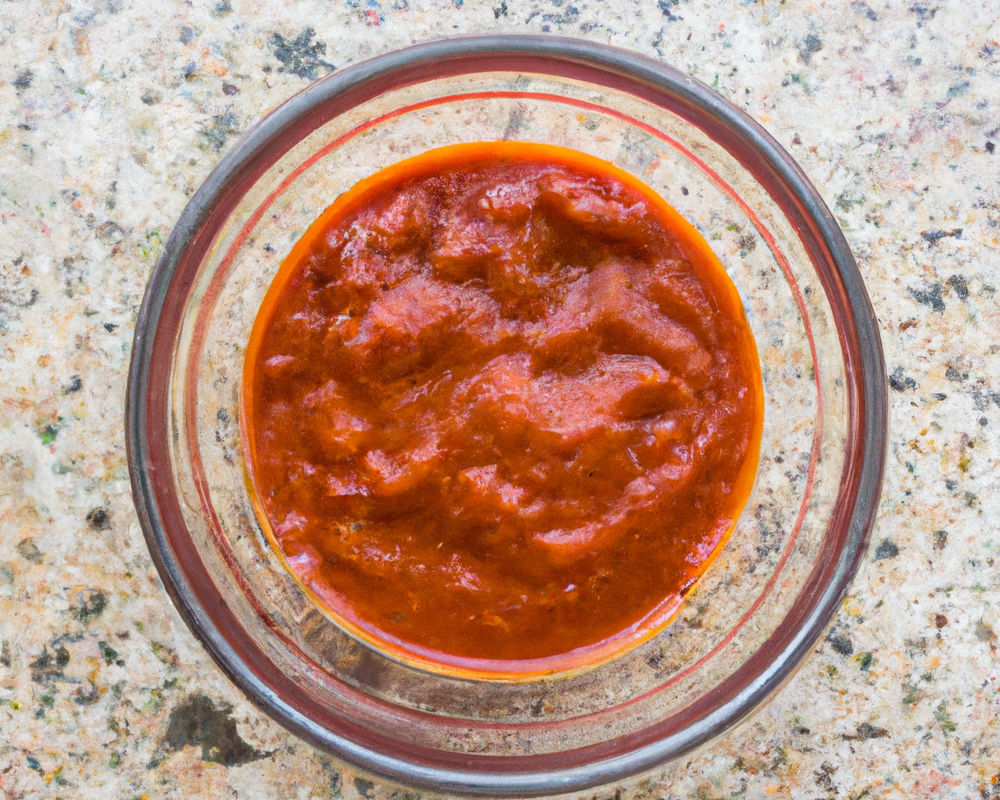 Tomato Pizza Sauce Method
You can either make your own pizza sauce following the simple steps below, or you can purchase a pizza sauce at your local store.
Combine all ingredients in a large bowl.
Pizza sauce should be reasonably smooth.
Let sit in the bowl for 5 minutes.
Your pizza sauce is now ready to use.
You can keep in the fridge for up to 3 days.
If you need to freeze this sauce, use an ice cube tray. Each cube is perfect for a small to medium sized pizza.

Preparing Pesto Bacon Pizza
Start by heating your oven to at least 450 degrees.
Spread out your dough on a well floured surface.
If you have a pizza peel, flour the peel and create your pizza on it.
Start by spreading the sauce all over the base. This pizza uses Green Pesto. Spread the Green Pesto Thinly yet evenly, leaving a margin for the crust.
Add the largest toppings first – typically meat or seafood, then the smaller toppings.
Add cheese last, and sprinkle it all over to help keep the toppings in place when it melts.
This pizza has the following toppings:
Bacon
Mozzarella
Green Chili Peppers
Red Chili Peppers
I find this pizza great tasting by itself, yet why not make some homemade garlic bread as well?
Cooking
Put the Pesto Bacon pizza on the middle shelf in oven, and wait ten minutes.
After 10 minutes, open the door and check the pizza.
This pizza should take approximately 15 minutes, however allow it to cook to personal taste.

About Pesto
Originating during ancient Roman times from Genoa, Italy, Pesto is traditionally made with fresh Basil Leaves, crushed garlic, coarse salt, pine nuts and a hard cheese like Parmesan.
The Pesto name comes from the Genoese word 'pestare', which means 'crush' or 'to pound'. It became popular among Genoa's sailors, as garlic was known to ward off illnesses.

Pizza Tools
When making Pesto Bacon Pizza, I always recommend that you use what you have available, without spending lots of money. My basic pizza tool list is…
Quality Food Containers
Leftovers need to go somewhere, and I don't enjoy using aluminium foil or plastic wrap all the time. A couple of good air tight containers should be in every home.
Pizza Peel
Sometimes called a paddle or shovel, a pizza peel is a vital tool for those who make pizza regularly.
Wooden Rolling Pin
Many people prefer hand stretching, however every cook really should have a good wooden roller nearby too.

Bacon
Often used as a flavouring or side dish, Bacon is a type of salt-cured pork. Bacon is created through a curing process, where the meat is soaked in a solution of salt, nitrates and sometimes sugar. Afterwards, the Bacon is typically smoked.
Bacon's history goes back thousands of years to China in 1500 BC. Pigs were also being raised in Europe by 1500 BC, possibly for the same purpose. In Middle English the word Bacon meant all pork in general.
Facts about Pizza
What do you think about these facts?
Norway loves pizza
Each person that lives in Norway eats approximately 11 pounds of pizza each per year.
Pizza by plane
There's a restaurant located in Alaska, called Airport Pizza. As the name suggests, they deliver pizzas by plane.
Frozen pizza was invented in 1957
Originally only available in grocery stores at first, until popularity grew, and is now on shelves at convenience stores, grocery stores, gas stations and bars.

Pizza making FAQ
Hope to make fantastic pizza at home? Here are some expert answers to some of the most Frequently asked questions.
When did pizza delivery start?
The first ever recorded pizza delivery occurred in 1889, when Queen Margherita of Savoy fell ill after eating rotten food in Naples. The Queen and her husband, King Umberto I of Italy, were hungry and requested that authentic Italian pizza be sent to them.
How to eat pizza with acid reflux?
Try eating low fat pizza, and reduce the amount of cheese and tomato sauce; the two worst culprits for acid reflux in a pizza.
How long to air fry pizza?
You can air fry a pizza in around 7-8 minutes, if your air fryer can cook at 380 degrees.
Have you made Pesto Bacon Pizza?
Pesto Bacon Pizza , share your experience with us! Tag us on our Pinterest, Facebook or Twitter and let us know what you thought of it! I'd love to know.
Featured image: Source