Pesto Chicken
Originally from Denmark, this Pesto Chicken pizza is a delightful chicken pizza you can make at home.
Carefully baked, this pizza has a delectable flavor, matching the superb smell.
Spend the energy to find delicious ingredients and complement them with a perfect base for you to take part in a nice pizza feast.
If you crave Chicken pizza with a Green Pesto pizza sauce then you shouldn't look any further than this one.
Pizza is a delicious food that is enjoyed by many, and it's no surprise why. But have you ever thought about experimenting with different toppings? Trying new toppings can take your pizza experience to a whole new level.
From the classic pepperoni and mushroom to more unique options like shrimp and pesto, the possibilities are endless. Not only will you get to try new and exciting flavors, but you'll also discover new combinations that you never thought were possible.
So next time you're ordering a pizza, don't be afraid to step out of your comfort zone and try something new. You never know, you might just find your new favorite topping!
Pizza in Denmark
Pizza in Denmark is becoming fairly common. The Danish love their Meat, fish and soups, which they combine with Potatoes, Beans, vegetables and fruits.
Take a look at some of the other pizzas from Denmark here.
Pesto Chicken Pizza at a glance

| | |
| --- | --- |
| Origin | Denmark |
| Type | Chicken |
| Sauce | Green Pesto |
Pesto Chicken Pizza Recipe
There is a recipe below for you to make a Pesto Chicken Pizza either in your wood pizza oven or on a pizza stone in your oven.
Preparation time

| | |
| --- | --- |
| Dough | 2 hours |
| Assembly | 10 minutes |
| Baking | 12-20 minutes |
Pesto Chicken Pizza Ingredients
Buy enough pizza toppings for the amount of pizzas you plan to make. The dough and sauce amounts below are for 3-4 medium sized pizzas, so scale up or down, based on your requirements.

Simple Pizza dough
2 2/3 cups (400 grams) 00 fine flour
250 ml (1 cup) lukewarm water
7 grams (2 tsps) dried yeast
2 tsps salt
1/4 cup (3 tbsp) olive oil
Pesto Chicken Pizza Toppings
Toppings used in this pizza recipe, are;
Chicken Breast
Mozzarella
Broccoli

Tomato Pizza Sauce
1 (6oz/170g) can of tomato paste
1 can (15oz/420g) diced or crushed tomatoes
2 cloves of garlic
1 tsp salt
1/4 small onion
1 tbsp dried Italian herbs
Want to try a different sauce? See our article on the different types of pizza sauces.
TIP
You can click on any of the tags at the bottom of this page, to find other pizzas besides Pesto Chicken Pizza, that use that topping.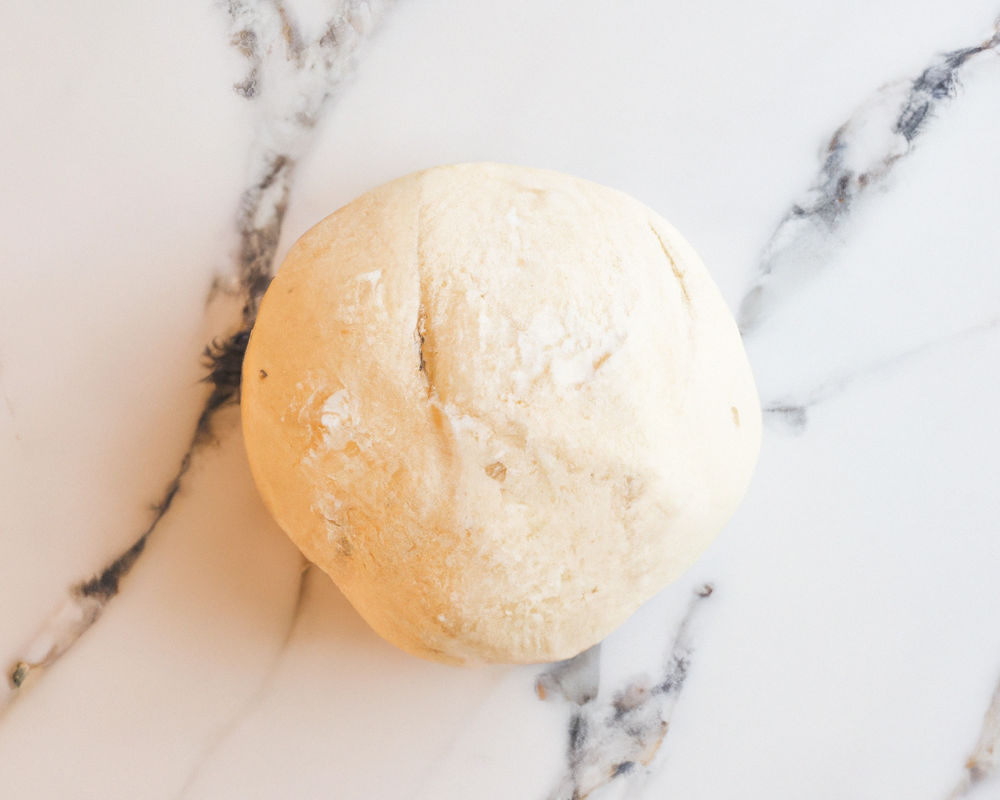 Pizza Dough Method
If you don't have much time, grab a premade pizza base at your local grocery store, or hand make your own pizza dough following the simple steps below. Some shops even carry premade pizza dough in balls.
Whisk the lukewarm water and yeast in a plastic or glass jug. Let the mixture stand for approx. five minutes.
Add salt and flour in a large bowl. Create a hollow well in the middle and gently pour the liquid yeast mixture and oil.
Using dough mixer or hands, gently mix dough until smooth. Place pizza dough on a lightly floured work surface and then knead by hand for five minutes.
Lightly oil a bowl, and place mixture in and cover with plastic wrap. Leave in a warm place to rise until the dough doubles in size.
Pour dough mix out onto a clean, floured surface. Now hand knead gently for another five minutes.
Sprinkle a little flour on the bench before rolling to prevent dough from sticking.
Divide dough mixture into equal sized balls. Hand stretch or roll out the bases to the expected size.
TIP: We have other dough recipes if you would like to try your hand at sourdough, poolish or more.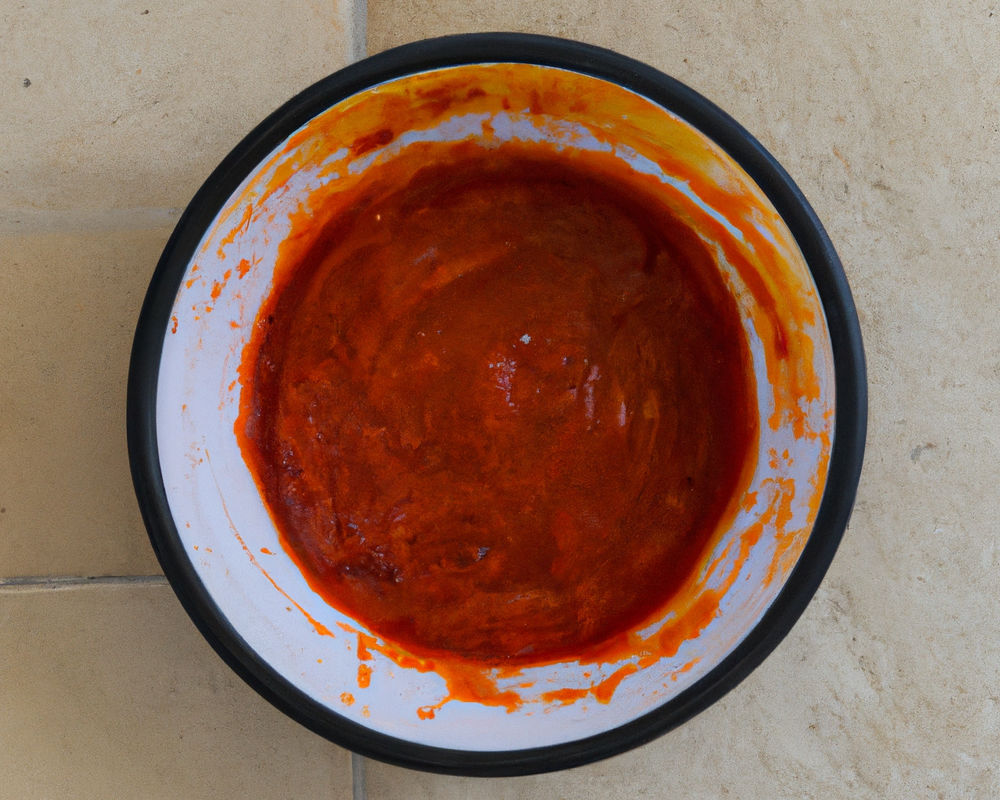 Tomato Pizza Sauce Method
You can either make your own pizza sauce following the simple steps below, or you can purchase a pizza sauce at your local store.
Add ingredients in a large bowl, and mix well.
Mix well using a whisk, or blender.
Leave sitting for five minutes.
Your sauce is now ready to use or keep in the fridge for up to 3 days.
Freeze remaining sauce for up to 3 months.
Add some chilli or sweet chilli sauce to the recipe for a spicy kick in this pizza sauce.

Preparing Pesto Chicken Pizza
Turn your oven on to 450-500 degrees or more and preheat for at least 30 minutes.
Spread out the dough in a rough circle, on a floured board or surface.
If you are using a baking pan, then create the pizza in that.
Open the sauce container, and start to spread the Green Pesto. Spread the Green Pesto around the whole base, taking care to leave a gap at edges.
Add the ingredients in size order, from large to small.
Cheese gets added last.
The toppings to add to this pizza are;
Chicken Breast
Mozzarella
Broccoli
This pizza is very good on its own, or why not enjoy it with a fresh salad?
Oven time
Put the Pesto Chicken pizza in the middle of your oven (on a pizza steel if you have one) and set timer for 10 minutes.
After 10 minutes, open the door and see how cooked pizza is.
Pizza should be ready within 15 minutes. However, allow it to cook to personal taste.

About Pesto
Originating during ancient Roman times from Genoa, Italy, Pesto is traditionally made with fresh Basil Leaves, crushed garlic, coarse salt, pine nuts and a hard cheese like Parmesan.
The Pesto name comes from the Genoese word 'pestare', which means 'crush' or 'to pound'. It became popular among Genoa's sailors, as garlic was known to ward off illnesses.

Pizza Tools
When making Pesto Chicken Pizza, it's always handy to have the right pizza making tools. Here's what items I always recommend…
Dough Mixer
Having a good dough mixer can make all the difference. You don't want to be manually kneading forever, do you?
Oil Jug
Having a nice oil jug to pour olive oil gives you a decadent edge. They don't cost that much either!
Wooden boards
I use quality wooden boards constantly when making pizzas, botth to carry dough balls and to use when slicing baked pizzas.

Chicken
The most common type of poultry to eat in the world, is Chicken. Humans have been eating Chicken since around 600BC. It is often prepared by frying, baking, BBQ, grilling and boiling.
The the color of the hen's earlobes effects the color of the shells on the eggs they produce. Studies have shown that there are more than 33 billion Chickens around the globe. There is scientific proof that Chickens have common ancestry with the Tyrannosaurus rex.
Pizza Care
Need advice on storing pizza. Here goes!
Freezer guide
You can store leftover pizza in the freezer for up to 3 months. Reheat from frozen as directed above until heated through.
Store in the fridge
Leftover slices of pizza may be kept in an airtight container in the fridge for up to 3 days.
Warm in the center of a 450 degree F oven for approximately 6 minutes, on a pizza stone if possible, until heated through. See our article on reheating pizza for more.

Chicken Pizzas
Keen on seeing more than Pesto Chicken pizza? We have plenty of other Chicken pizza recipes to look at, as well. Enjoy!

Pizza making FAQ
Want to know how to make fantastic pizza at home? Here are some FAQ and their answers to the most common pizza making questions.
How much sodium is in a slice of pizza?
Pizza has a significant amount of sodium. A typical slice of pizza can have anywhere from 600 to 1500 mg of sodium per slice. This makes it easy to hit the daily 2,300mg limit that they recommend.
Can I use a mixer to make the dough?
Sure thing! I regularly do. Always use a mixer with a dough hook attachment to make your pizza dough. First, add the dry ingredients and form a well to add the liquid, then always start on the lowest speed first, before increasing the speed and mixing for 5-6 minutes. If your mixer starts sounding like it's straining, turn it to a slower speed for a longer time.
Where was the world's most expensive pizza made?
The worlds most expensive pizza costs $12,000 and is made in Salerno, Italy.
Have you made Pesto Chicken Pizza?
We're eager to hear your thoughts on Pesto Chicken Pizza , did you love it or hate it? Tag us on our Pinterest, Facebook or Twitter and let us know what you thought of it! I'd love to know.
Featured image: Source