Pictou County
First created in Canada, this Pictou County pizza is a mouth watering meat pizza you may enjoy.
Baked with love, this type of pizza has a lush taste, matched with a imaginative smell.
Make sure to get the the freshest ingredients and add them to a perfect base for you to take part in a nice pizza meal.
If you're in the mood for a Meat pizza with Brown sauce here is the sign you need to get one.
Pizza is a universally loved food, and there are many reasons why it's so popular. For starters, it's versatile and can be customized to suit any taste. Whether you like your pizza loaded with toppings or prefer a simple Margherita, there's a pizza for everyone.
Additionally, pizza is a great option for any occasion, whether it's a casual dinner with friends, a family night in, or even a special occasion. It's also a great option for a quick and easy meal, as it can be delivered right to your door or picked up at a local pizzeria.
Plus, who doesn't love the combination of a warm, crispy crust with melted cheese and delicious toppings? All these reasons make pizza a popular food choice.
Pizza in Canada
Pizza is big in Canada. In a recent study, 45% of Canadians indicated that they want more authentic pizzas. However, they also want to try new things; 22% stated that they're more interested in trying pizza with unique toppings or ingredients.
Take a look at some of the other pizzas from Canada here.
Pictou County Pizza at a glance

| | |
| --- | --- |
| Origin | Canada |
| Type | Meat |
| Sauce | Brown Sauce |
Pictou County Pizza Recipe
We've put together a recipe for you to make a delicious home baked Pictou County Pizza , whether you're using a backyard pizza oven or a typical kitchen oven.
Preparation time

| | |
| --- | --- |
| Dough | 2 hours |
| Assembly | 10 minutes |
| Baking | 12-20 minutes |
Pictou County Pizza Ingredients
Get enough of the toppings that you will need for the amount of pizzas you plan to make. The pizza sauce and dough ingredients below are designed for 3-4 pizzas, so add more or less, if required.

Simple Pizza dough
2 tsps (7 g sachet) dried yeast
1 cup (250 ml) luke-warm water
2 2/3 cups (400 grams) pizza flour
Two tsps salt
3 tbsps (1/4 cup) virgin olive oil
Pictou County Pizza Toppings
Toppings used in this pizza recipe, are;
Celery
Garlic Cloves
Tomato
Onion
Mushroom
Oregano
Black Pepper

Simple Tomato Pizza Sauce
1 can (15oz/420g) diced or crushed tomatoes
1 (6oz/170g) can of tomato paste
2 cloves of garlic
1 tsp salt
1/4 small onion
1 tbsp dried Italian herbs
Want to try a different sauce? See our article on the different types of pizza sauces.
TIP
You can click on any of the tags at the bottom of this page, to find other pizzas besides Pictou County Pizza, that use that topping.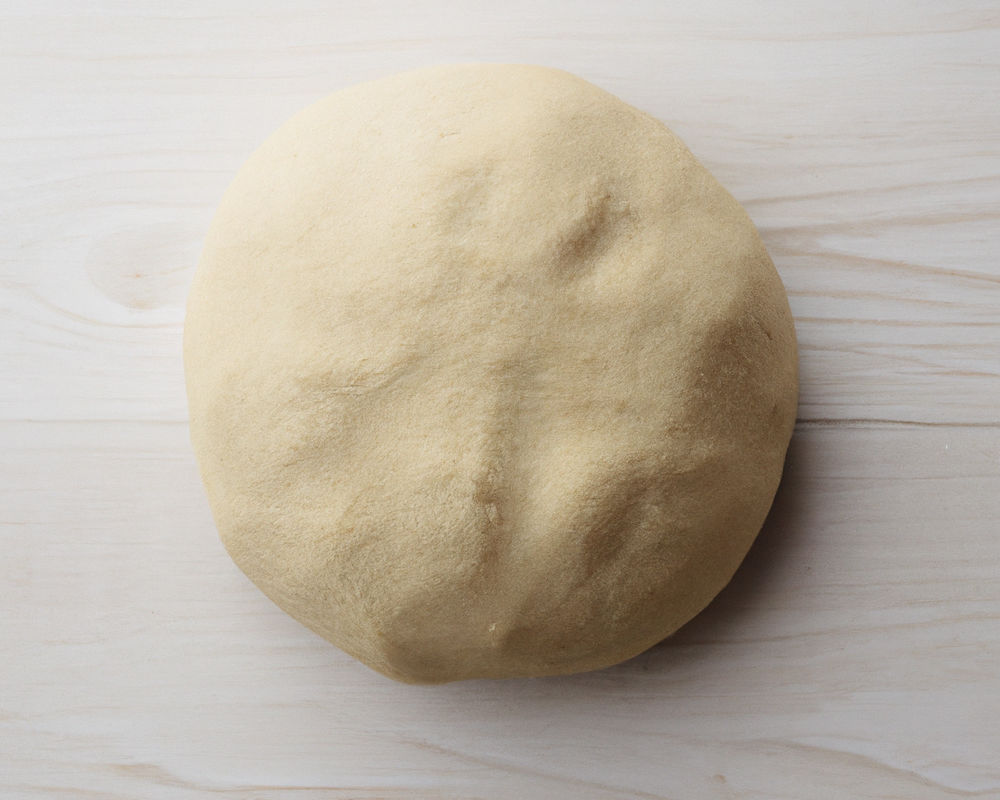 Pizza Dough Method
If you don't have much time, grab a premade pizza base at your local grocery store, or create your own homemade pizza dough following the simple steps below.
Whisk the lukewarm water and yeast in a plastic or glass jug. Let the mixture stand for approx. five minutes.
Add the salt and flour in a large bowl. Create a hollow centre in the flour. Slowly pour the liquid yeast mixture and oil.
Using your hands or a mixer, mix the dough until smooth. Pour dough on a lightly floured work surface and then knead by hand for five minutes.
Place dough into lightly oiled bowl and cover with plastic wrap. Sit in a warm place for roughly 30 minutes to an hour, to rise until it doubles in size.
Fold the dough out onto a lightly floured surface. Knead gently by hand for around five minutes or until smooth.
Divide the dough roughly into equal amounts. Roll out pizza bases for the desired size.
Spread some flour on kitchen bench before rolling, in order to prevent sticking.
TIP: We have other dough recipes if you would like to try your hand at sourdough, poolish or more.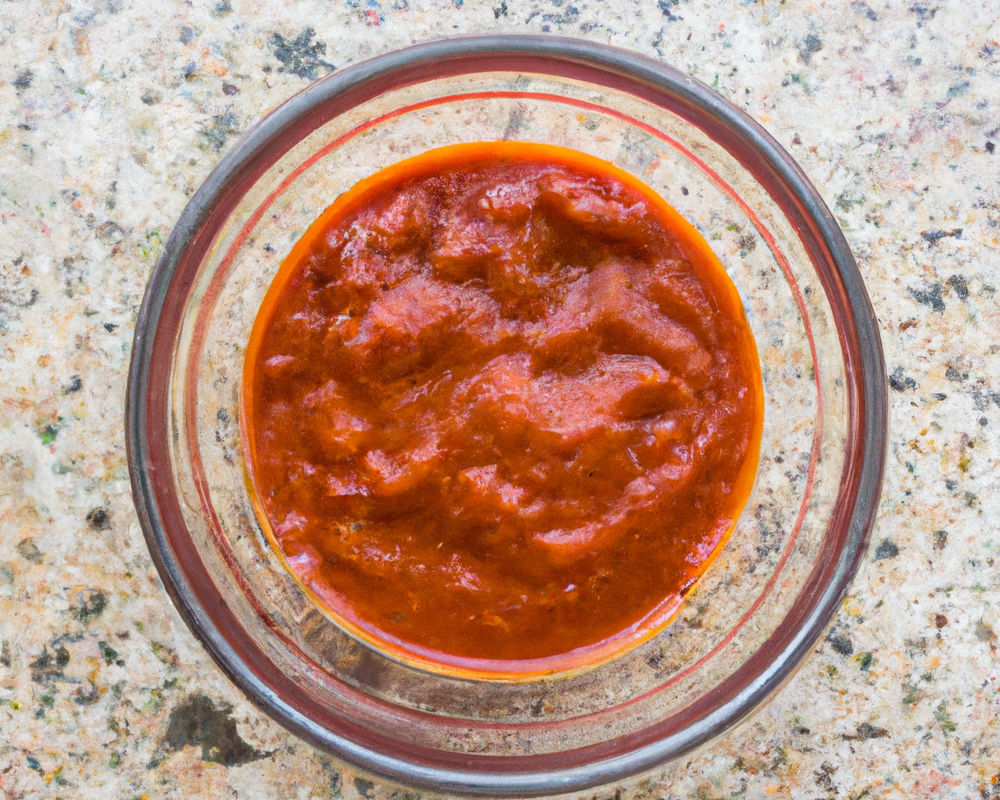 Tomato Pizza Sauce Method
You can make this delicious pizza sauce following the simple steps below, or you can purchase a pizza sauce at your local store.
Mix ingredients in a large bowl.
Mix well using a whisk, or blender.
Leave sitting for five minutes.
Your sauce is now ready. Enjoy!
Keep sauce in fridge or freeze for future use.
To adjust the consistency, if your sauce is too thick, a splash of olive oil or water should do the trick.

Preparing Pictou County Pizza
Preheat your oven to roughly 500 degrees.
Roll out the dough to either slightly smaller than your pizza stone or tray.
Alternatively, if you have a pizza peel, roll out to be smaller than that.
You start by spreading the sauce around. This pizza calls for Brown Sauce. Spread the Brown Sauce evenly using the back of a large spoon or ladle.
Then start adding the largest ingredients, then work your way down. The last is any cheese topping, such as Mozzarella, which you should evenly cover the other toppings with, and then finally any herbs.
Toppings to put on this pizza are;
Celery
Garlic Cloves
Tomato
Onion
Mushroom
Oregano
Black Pepper
This pizza is tasty as is, or you could enjoy it with a simple side dish?
Cooking time
Put the Pictou County pizza in oven, and set alarm for ten minutes.
After 10 minutes, open the door and see how cooked pizza is.
Pizza should be ready within 15 minutes. However, allow it to cook to personal taste.

About Oregano
Oregano is one of the most widely-used herbs worldwide, found in Mediterranean and Mexican cuisine. Oregano is an ingredient in chili powder, as well as a number of pizza and pasta sauces.
The taste of Oregano can be described as Green and earthy, with hints of mint. It can often be slightly bitter.

Pizza Tools
When making Pictou County Pizza, it's always handy to have the right pizza making tools. Here's the basic pizza tools that I always suggest…
Glass Measuring Jug
I hate taking chances with portions, so having a quality glass jug with clear to read measurements a vital kitchen tool for me.
Chef Apron
OK, not really pizza related, but a good chef apron makes me feel the part when I am making my pizzas. I'd probably wear a chef hat if I got one too!
Pastry Brush
A pastry brush is vital if you need to ever coat your dough in water, oil, eggs or more. They are cheap to have and very handy to use.

Celery
Celery is an often overlooked pizza topping, but it can add a unique flavor to your pie. For the daring chef, celery can turn a simple cheese pizza into something extraordinary.
Not only does celery add crunch and texture to your pizza, but it also adds an unexpected burst of flavor that will take your recipe from delicious to divine. When adding celery as a topping for your pizzas, you should opt for freshly-chopped celery instead of jarred or canned slices.
Pizza Storage
What to do with leftovers?
Leftovers after the meal? Here are some tips.
There are many ways to reheat pizza. We cover seven of them in this article.
Can you freeze pizza?
You can freeze pizza for up to three months, however I'd suggest consuming it within the first few weeks, ideally.
Chill in the fridge
You can keep pizza in plastic wrap or a container for up to 3 days in the fridge.

Meat Pizzas
Keen on seeing more than Pictou County pizza? We have plenty of other Meat pizza recipes to look at, as well. Enjoy!

Pizza making FAQ
Want to make great pizza at home? Here are some expert answers to some of the most Frequently asked questions.
How hot does a pizza oven get?
Pizza ovens can reach 900-1000 degrees, however most of the time, pizzas cook best around 750-850 degrees.
How to keep pizza from sticking to stone?
The best way to avoid pizza sticking to a pizza stone is to ensure the base has plenty of flour or polenta between the pizza and the stone.
How to preheat oven for pizza?
To preheat an oven before pizza, put it on the highest temperature for at least 30 minutes prior to adding your pizzas.
Have you made Pictou County Pizza?
We're dying to know if Pictou County Pizza was a hit or miss for you Tag us on our Pinterest, Facebook or Twitter and let us know what you thought of it! I'd love to know.
Featured image: Source