Prawn and Veg
First created in Australia, this Prawn and Veg pizza is a delectable seafood pizza worth trying.
Made with care, this type of pizza enjoys a pleasant flavor, perfectly matched with a ideal smell to delight you.
Spend the time to find high quality toppings and complement them with a fantastic crust for your family and friends to enjoy a gratifying pizza meal together.
Are you into Seafood pizza with Tomato sauce? This pizza right here is screaming your name.
Pizza is truly a global phenomenon! There are so many reasons why people all over the world enjoy this delicious dish. One reason is that it's such a versatile food. Pizza can be made in countless different ways, using a variety of different toppings, sauces, and crusts. This allows different cultures and regions to put their own spin on the dish, making it appealing to many diverse palates.
Another reason is that it's a relatively inexpensive and convenient food that can be made at home or easily ordered from a local pizzeria.
Additionally, Pizza can be a perfect comfort food as well as to be enjoyed while socializing with friends and family, which makes it a great food to enjoy on any occasion, be it a casual night in, a birthday party, and even a romantic dinner. All of these factors combined make pizza a beloved food that is enjoyed around the world.
Pizza in Australia
Did you know? Pizza is Australia's favourite takeaway food by far. 34% of Australians say it's their preferred choice. The next most popular takeaway is Chinese at 15%.
Take a look at some of the other pizzas from Australia here.
Prawn and Veg Pizza at a glance

| | |
| --- | --- |
| Origin | Australia |
| Type | Seafood |
| Sauce | Tomato Sauce |
Prawn and Veg Pizza Recipe
Below we've put together a recipe for you to make your own homemade Prawn and Veg Pizza either in your backyard pizza oven or the oven in your kitchen.
Preparation time

| | |
| --- | --- |
| Dough | 2 hours |
| Assembly | 10 minutes |
| Baking | 12-20 minutes |
Prawn and Veg Pizza Ingredients
Choose enough pizza toppings for the amount of pizzas you will be creating. The pizza sauce and dough ingredients below are designed for 3-4 pizzas, so scale up or down, based on your requirements.

Simple Pizza dough
250 ml (1 cup) lukewarm water
400 g (2 2/3 cups) plain flour, plus extra to dust
7 grams (2 tsps) dried yeast
1/4 cup (3 tbsp) extra virgin olive oil
2 teaspoons table salt
Prawn and Veg Pizza Toppings
Toppings used in this pizza recipe, are;
King Prawns
Parmesan
Semi-Dried Tomatoes
Spanish Onion
Basil
Baby Spinach
Extra Virgin Olive Oil
Chili Flakes

Simple Tomato Pizza Sauce
1 (6oz/170g) can of tomato paste
1 can (15oz/420g) diced or crushed tomatoes
2 cloves of garlic
1 tsp salt
1/4 small onion
1 tbsp dried Italian herbs
Want to try a different sauce? See our article on the different types of pizza sauces.
TIP
You can click on any of the tags at the bottom of this page, to find other pizzas besides Prawn and Veg Pizza, that use that topping.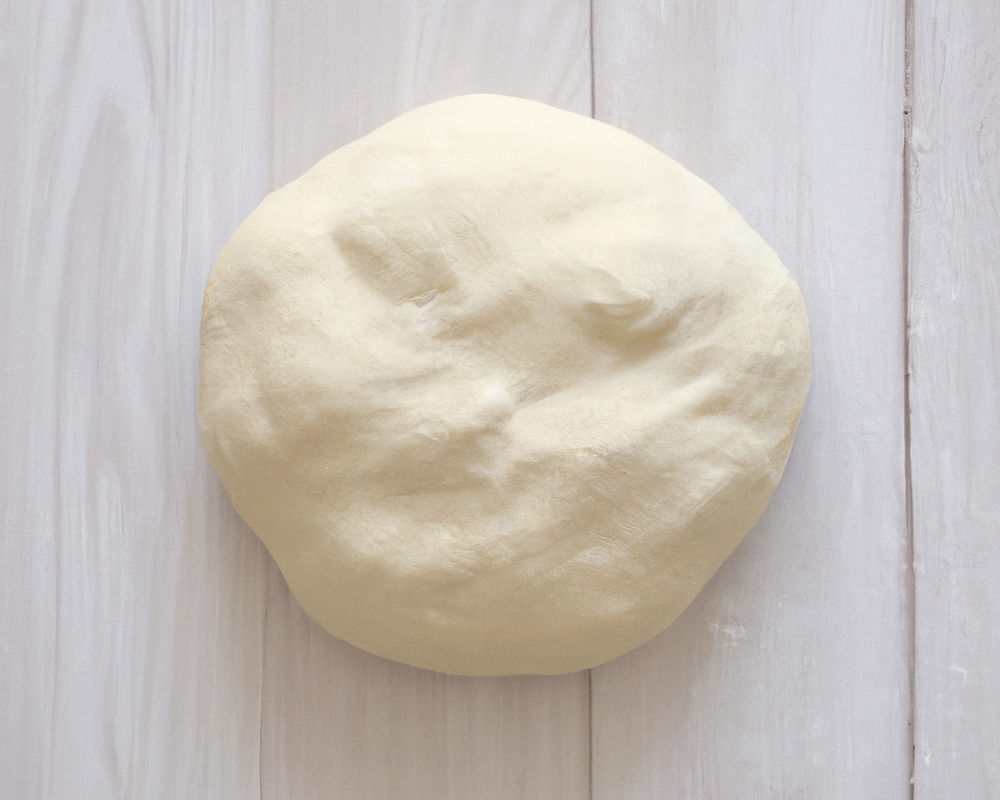 Pizza Dough Method
If you don't have much time, grab a premade pizza base at your local grocery store, or create your own homemade pizza dough following the simple steps below.
Whisk yeast and lukewarm water in glass or plastic container. Let stand for approximately 5 minutes.
Add salt and flour in a large bowl. Create a hollow well in the middle and gently pour the liquid yeast mixture and oil.
Using your hands or spatula, gently combine the flour mixture until smooth. Then turn out dough onto lightly floured surface and hand knead for roughly five minutes.
Place the dough mixture in to an oiled bowl, and cover with plastic wrap. Leave in a warm place until the dough has at least risen to double in size.
Turn dough out onto a lightly floured surface. Hand knead gently for five minutes until reasonably smooth.
Divide dough mix into equal amounts, now roll out the bases to the desired size.
Sprinkle some flour on work surface before rolling out dough to prevent any sticking.
TIP: We have other dough recipes if you would like to try your hand at sourdough, poolish or more.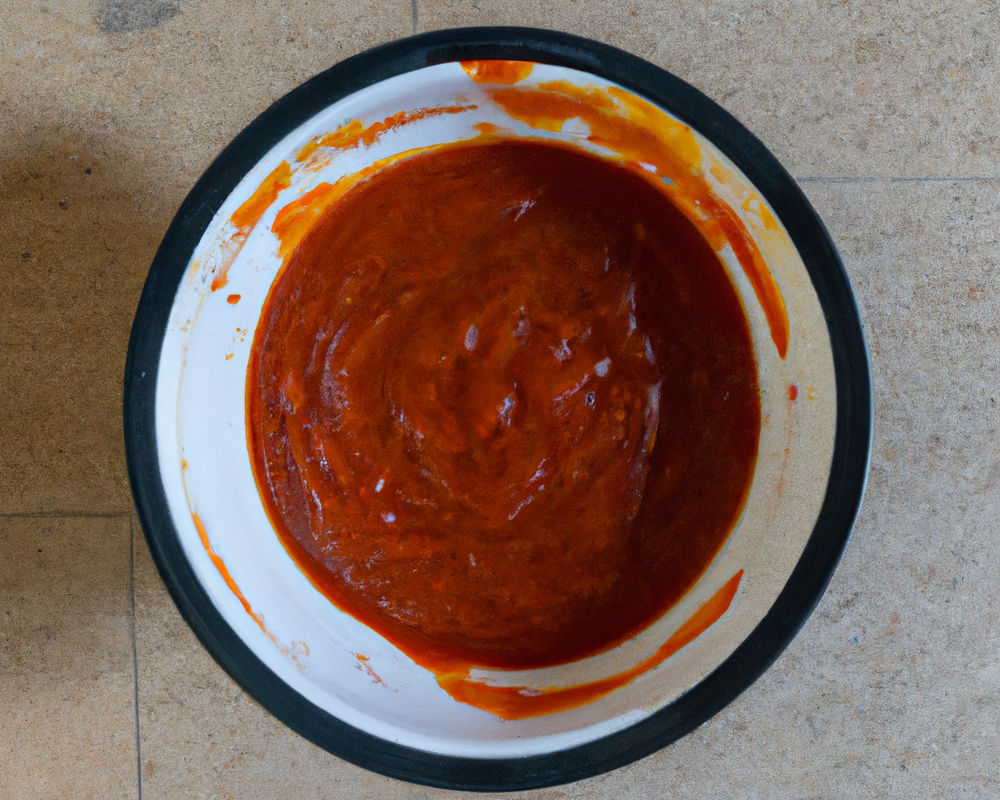 Tomato Pizza Sauce Method
Want to take your pizza game to the next level? Try making your own sauce using the easy steps we've provided. But, if you're not in the mood to cook, you can always purchase sauce at your local market.
Add ingredients in a large bowl, and mix well.
Mix well using a whisk, or blender.
Leave sitting for five minutes.
Your sauce is now ready to use or keep in the fridge for up to 3 days.
Freeze remaining sauce for up to 3 months.
One way to save time when making pizza is to prepare the sauce the day before and refrigerate it.

Preparing Prawn and Veg Pizza
Start by heating your oven to at least 450 degrees.
Spread out your dough on a well floured surface.
If you have a pizza peel, flour the peel and create your pizza on it.
Start by spreading the sauce all over the base. This pizza uses Tomato Sauce. Spread the Tomato Sauce Thinly yet evenly, leaving a margin for the crust.
Add the largest toppings first – typically meat or seafood, then the smaller toppings.
Add cheese last, and sprinkle it all over to help keep the toppings in place when it melts.
This pizza has the following toppings:
King Prawns
Parmesan
Semi-Dried Tomatoes
Spanish Onion
Basil
Baby Spinach
Extra Virgin Olive Oil
Chili Flakes
This pizza is very nice by itself, yet why not with other pizzas as well?
Oven time
Put the Prawn and Veg pizza in the middle of your oven (on a pizza steel if you have one) and set timer for 10 minutes.
After 10 minutes, open oven and look at pizza.
The pizza should be done within roughly 15 minutes. Always cook to personal tastes.

About Baby Spinach
Baby spinach is a type of spinach that is harvested when the leaves are young and tender. It has a delicate, slightly sweet flavor, and is often used in salads and other dishes.
Baby spinach is a healthy and nutritious leafy green, and is a great source of vitamins and minerals. It is also a versatile ingredient that can be used in a variety of dishes, and is a delicious and flavorful addition to any meal.

Pizza Tools
When making Prawn and Veg Pizza, I suggest you just use what you have available, without spending any money. My recommended basic pizza tool list is…
Pizza Steel
A pizza steel is very similar to a pizza stone, and works the same way in a normal kitchen oven.
Dough Mixer
OK, so this isn't vital, but if you make enough pizza, breads, etc it is worth investing in a good mixer for your dough.
Mesh Sieve
You will find having a seive such a useful element for all your baking, not just for pizza. It's great to filter all flours through a fine mesh sieve before adding to recipes.

King Prawns
These crustaceans provide a unique flavor and crunchy texture to pizzas that can't be replicated by any other topping. Whether you prefer your king prawns fresh from the seafood counter or frozen and ready to go, they're an excellent choice for your pizza night.
King prawns pair well with a variety of other ingredients on a pizza, making them incredibly versatile and customizable. No matter which combination of flavors you choose, king prawns will take your pizza from ordinary to extraordinary!
Pizza Facts
Here are a few interesting pizza facts…
Daily diet
In 2014, a gentleman from Maryland, Dan Janssen, gained a minor level of fame for having eaten pizza at least once every day for 25 years.
Love is in the air
Domino's opened a wedding registry in 2017, to allow pizza loving couples to register for their favorite flavors.
Pizza by plane
There's a restaurant located in Alaska, called Airport Pizza. As the name suggests, they deliver pizzas by plane.

Seafood Pizzas
Keen on seeing more than Prawn and Veg pizza? We have plenty of other Seafood pizza recipes to look at, as well. Enjoy!

Pizza making FAQ
Want to make great pizza at home? Here are some expert answers to some of the most Frequently asked questions.
Which pizza was created to represent the italian flag?
The Pizza Margherita was created in 1889, when Margherita di Savoia, the new queen of Italy, visited Naples. A famous local chef created a pizza using ingredients to match the new flag and named it Margherita.
Can I use pastry flour instead of 00 flour for making pizza dough?
Yes, you can, however you will find that bread flour would be a better choice. In order of preference, I would suggest 00 flour, bread flour then pastry flour. If it's all you have, then give it a shot, and maybe search for a pizza dough recipe that calls for pastry flour.
How long can pizza sit out?
You shouldn't leave pizza out in the open uncovered, for more than a few hours. In fact, I would put it in an air tight container within an hour, if it weren't being eaten.
Have you made Prawn and Veg Pizza?
We're curious to hear your opinion on Prawn and Veg Pizza ! Tag us on our Pinterest, Facebook or Twitter and let us know what you thought of it! I'd love to know.
Featured image: Source