Satay Chicken
Originating from Indonesia, this Satay Chicken pizza is a very tasty chicken pizza that's easy to make.
Made with care, this pizza gives a savory taste, matched with a sublime scent to enjoy.
Take time to invest in the best toppings and add them to the perfect crust for your family and friends to enjoy a gratifying pizza meal.
If you like Chicken pizza with Peanut pizza sauce get ready for hunger pains.
There's something about pizza that just makes it irresistible to so many people. One reason is the combination of flavors and textures. The combination of warm, gooey cheese and flavorful sauce is hard to beat. Plus, you can add all sorts of toppings to a pizza, from meats like pepperoni and sausage to vegetables like mushrooms and bell peppers.
This allows for endless flavor combinations to suit everyone's taste. Another reason is that pizza is a comfort food, it's warm, it's filling and it brings back memories of happy times with friends and family.
Additionally, pizza is also a social food, it's perfect to share with friends and family while watching a game or just hanging out. All of these reasons contribute to why pizza is one of the most beloved foods around the world.
Pizza in Indonesia
A typical meal in Indonesia consists of steamed rice plus one or two main dishes made of Chicken, fish, Meat or vegetables. No, Pizza isn't served with rice in Indonesia.
Take a look at some of the other pizzas from Indonesia here.
Satay Chicken Pizza at a glance

| | |
| --- | --- |
| Origin | Indonesia |
| Type | Chicken |
| Sauce | Peanut Sauce |
Satay Chicken Pizza Recipe
There is a recipe below for you to make a Satay Chicken Pizza using a wood fired pizza oven or your usual oven.
Preparation time

| | |
| --- | --- |
| Dough | 2 hours |
| Assembly | 10 minutes |
| Baking | 12-20 minutes |
Satay Chicken Pizza Ingredients
Get enough of the toppings that you will need for the amount of pizzas you plan to make. The dough and sauce are designed for 3-4 medium sized pizzas, so scale up or down, based on your requirements.

Simple Pizza dough
7 grams (2 tsps) dried yeast
250 ml (1 cup) lukewarm water
400 g (2 2/3 cups) plain flour, plus extra to dust
2 teaspoons table salt
1/4 cup (3 tbsp) extra virgin olive oil
Satay Chicken Pizza Toppings
Toppings used in this pizza recipe, are;
Satay Chicken
Red Hot Chili Peppers
Onion
Garlic

Easy Peanut Sauce
1/2 cup water
1/2 cup peanut butter
2 tbsp sugar
2 tbsp soy sauce
Want to try a different sauce? See our article on the different types of pizza sauces.
TIP
You can click on any of the tags at the bottom of this page, to find other pizzas besides Satay Chicken Pizza, that use that topping.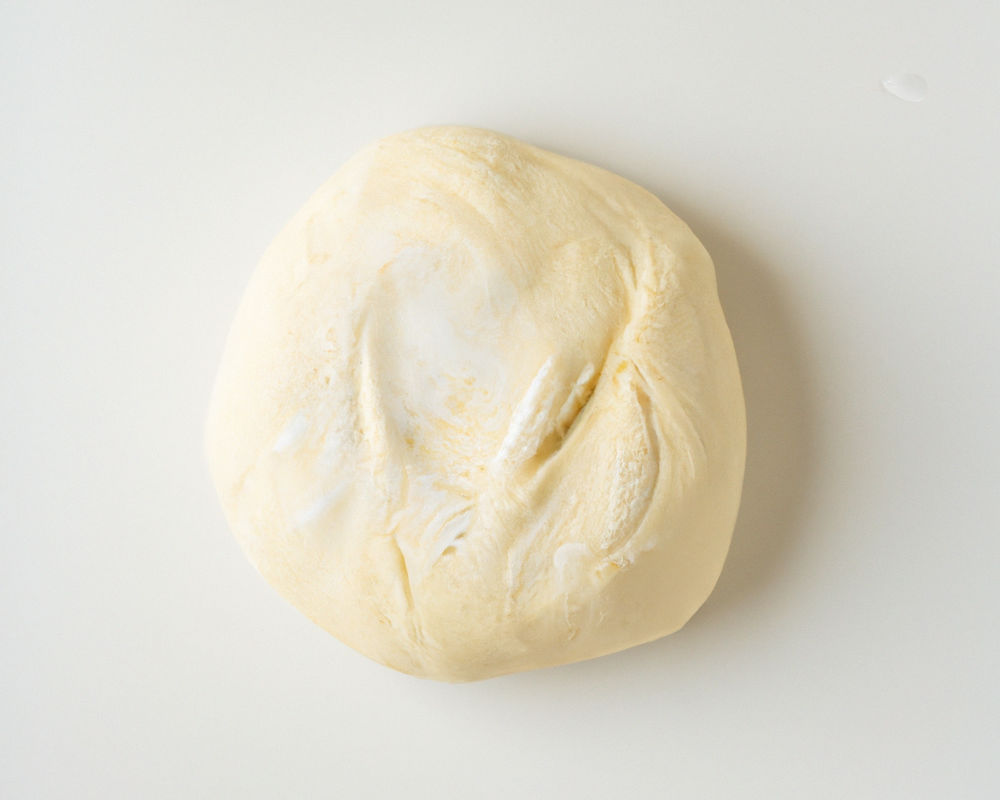 Pizza Dough Method
You can either make your own dough following the simple steps below, or you can purchase a premade pizza base at your local store.
Whisk yeast and lukewarm water in glass or plastic container. Let stand for approximately 5 minutes.
Add salt and flour in a large bowl. Create a hollow well in the middle and gently pour the liquid yeast mixture and oil.
Using your hands or spatula, gently combine the flour mixture until smooth. Then turn out dough onto lightly floured surface and hand knead for roughly five minutes.
Place the dough mixture in to an oiled bowl, and cover with plastic wrap. Leave in a warm place until the dough has at least risen to double in size.
Turn dough out onto a lightly floured surface. Hand knead gently for five minutes until reasonably smooth.
Divide dough mix into equal amounts, now roll out the bases to the desired size.
Sprinkle some flour on work surface before rolling out dough to prevent any sticking.
TIP: We have other dough recipes if you would like to try your hand at sourdough, poolish or more.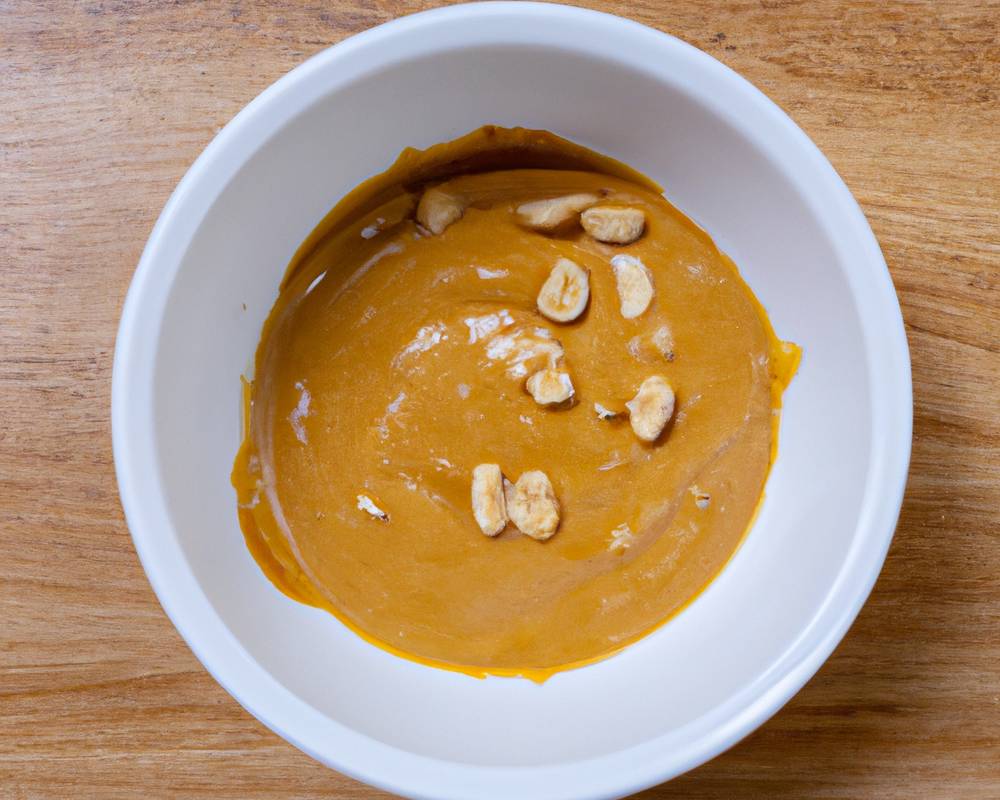 Easy Peanut Sauce Method
This homemade peanut sauce will taste delicious.
Put peanut butter, soy sauce, sugar and water in a bowl.
Whisk until well combined.
Set aside for five minutes.
It's now ready for use.
Can be kept in fridge for up to 3 days.
If you find your pizza sauce is too thick, add a splash of olive oil or water to get the perfect consistency.

Preparing Satay Chicken Pizza
Preheat your oven to at least 450 degrees for 30 minutes or longer.
Spread out pizza dough on floured surface.
If you have a pizza peel, you can create your pizza on it (after flouring).
Start by spreading the sauce all over the base. This pizza uses Peanut Sauce. Spread the Peanut Sauce Thinly yet evenly, leaving a margin for the crust.
Add the largest toppings first – typically meat or seafood, then the smaller toppings.
Add cheese last, and sprinkle it all over to help keep the toppings in place when it melts.
This pizza has the following toppings:
Satay Chicken
Red Hot Chili Peppers
Onion
Garlic
This pizza is perfect as is, or you could make some homemade garlic bread as well?
Baking time
Put the Satay Chicken pizza in the middle of your oven (on a stone if you have one) and set timer for 10 minutes.
In 10 minutes, open oven door and check.
The pizza should take roughly 15 minutes to cook, adjust time to cook to personal taste.

About Peanut Sauce
Peanut Sauce is made by combining crushed roasted Peanuts, water and various Spices. Whilst it is now a part of global cuisine, it originated in Indonesia and is a mainstay in Southeast Asian dishes.
Peanut sauce is a classic dipping sauce for Chicken, however is now used with vegetable dishes, seafood, other meats and more.

Pizza Tools
When making Satay Chicken Pizza, it's always handy to have the right pizza making tools. Here's what items I always recommend…
Mesh Sieve
You will find having a seive such a useful element for pizza making as well as all your baking. It's great to filter all flours through a fine mesh sieve, to make sure they're ready for use.
Bench Scrapers
Good quality metal or plastic bench scrapers make it so much esier to both cut your dough, and scrape your bench. I prefer plastic to avoid scratching my bench.
Measuring Cups
Pizza making is all about precision, so having a full set of both wet and dry measuring cups on hand is critical. It is so important when making pizza dough to accurately measure all your ingredients.

Chicken
The most common type of poultry to eat in the world, is Chicken. Humans have been eating Chicken since around 600BC. It is often prepared by frying, baking, BBQ, grilling and boiling.
The the color of the hen's earlobes effects the color of the shells on the eggs they produce. Studies have shown that there are more than 33 billion Chickens around the globe. There is scientific proof that Chickens have common ancestry with the Tyrannosaurus rex.
Keeping Pizza
Leftovers after the meal? Here are some tips.
Chill in the fridge
You can keep pizza in plastic wrap or a container for up to 3 days in the fridge.
Can you freeze pizza?
You can freeze pizza for up to three months, however I'd suggest consuming it within the first few weeks, ideally.
How to reheat
There are many ways to reheat pizza. We cover seven of them in this article.

Chicken Pizzas
Keen on seeing more than Satay Chicken pizza? We have plenty of other Chicken pizza recipes to look at, as well. Enjoy!

Pizza making FAQ
Below we've compiled the most common pizza making questions and provided expert answers. Are you looking for how to make delicious pizza at home? Please read on!
How long to preheat pizza stone?
Ideally, you should poreheat your oven for at least 30 minutes prior to putting the pizza in.
How do I make pizza in a cast iron skillet?
It is easy to make pizza in a cast iron skillet! Just preheat your cast iron skillet or pan, carefully lay your stretched-out pizza dough inside, add your pizza toppings and cheese, return the pan to the oven, and bake away. If you find it sticks, try adding more flour or oil underneath the base when placing it in the skillet.
Is it OK to use store-bought pizza dough?
Of course it is! It's fine to use pizza dough you bought at the store. In fact, in many cases you can buy balls of pizza dough from your favorite pizzeria, if you ask nicely. Make sure that the ingredients belong there (flour, sugar, salt, yeast) and not lots of preservatives. If the dough you buy is chilled, always let it come fully to room temperature before you use it.
Have you made Satay Chicken Pizza?
How did you like Satay Chicken Pizza ? Let us know! Tag us on our Pinterest, Facebook or Twitter and let us know what you thought of it! I'd love to know.
Featured image: Source