Satay Pork
First made in Indonesia, this Satay Pork pizza is a yummy meat pizza worth trying at home.
Baked with love, the below pizza provides an exceptional flavor, coupled with an immaculate scent.
Use your time to get the best ingredients and pair these with a fantastic crust for you and friends to savor a perfect pizza feast.
If you like Meat pizza with Peanut pizza sauce get ready for hunger pains.
Pizza in Indonesia
A typical meal in Indonesia consists of steamed rice plus one or two main dishes made of Chicken, fish, Meat or vegetables. No, Pizza isn't served with rice in Indonesia.
Take a look at some of the other pizzas from Indonesia here.
Satay Pork Pizza at a glance

| | |
| --- | --- |
| Origin | Indonesia |
| Type | Meat |
| Sauce | Peanut Sauce |
Satay Pork Pizza Recipe
There is a recipe below for you to make a Satay Pork Pizza from either a pizza oven or your typical kitchen oven.
Preparation time

| | |
| --- | --- |
| Dough | 2 hours |
| Assembly | 10 minutes |
| Baking | 12-20 minutes |
Satay Pork Pizza Ingredients
Choose enough of the toppings that you will need for the amount of pizzas you plan to make. The dough and sauce amounts below are for 3-4 medium sized pizzas, so scale up or down, based on your requirements.

Simple Pizza dough
2 tsps (7 g sachet) dried yeast
1 cup (250 ml) luke-warm water
2 2/3 cups (400 grams) pizza flour
Two tsps salt
3 tbsps (1/4 cup) virgin olive oil
Satay Pork Pizza Toppings
Toppings used in this pizza recipe, are;
Satay Pork
Red Hot Chili Peppers
Garlic

Homemade Peanut Sauce
2 tablespoons soy sauce
2 tablespoons sugar
1/2 cup water
1/2 cup peanut butter
Want to try a different sauce? See our article on the different types of pizza sauces.
TIP
You can click on any of the tags at the bottom of this page, to find other pizzas besides Satay Pork Pizza, that use that topping.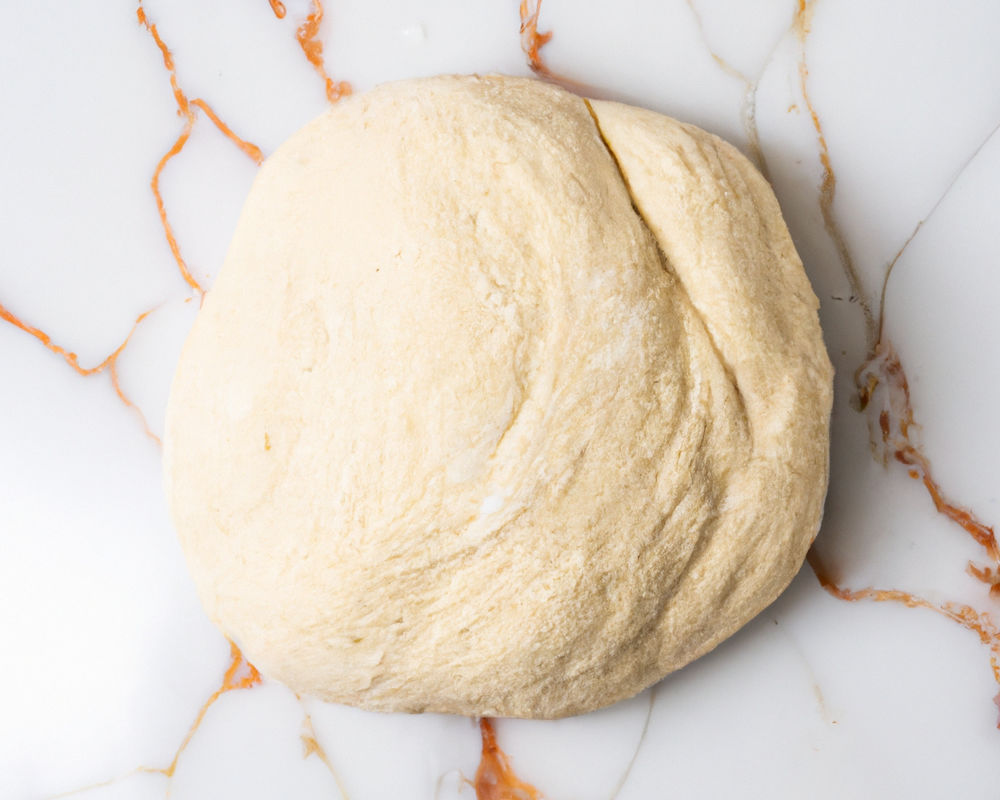 Pizza Dough Method
Purchase a premade pizza base at your local store, or if you have time, make your own homemade dough following the simple steps below. Some shops even carry pizza dough balls.
Whisk the lukewarm water and yeast in a plastic or glass jug. Let the mixture stand for approx. five minutes.
Add the salt and flour in a large bowl. Create a hollow centre in the flour. Slowly pour the liquid yeast mixture and oil.
Using your hands or a mixer, mix the dough until smooth. Pour dough on a lightly floured work surface and then knead by hand for five minutes.
Place dough into lightly oiled bowl and cover with plastic wrap. Sit in a warm place for roughly 30 minutes to an hour, to rise until it doubles in size.
Fold the dough out onto a lightly floured surface. Knead gently by hand for around five minutes or until smooth.
Divide the dough roughly into equal amounts. Roll out pizza bases for the desired size.
Spread some flour on kitchen bench before rolling, in order to prevent sticking.
TIP: We have other dough recipes if you would like to try your hand at sourdough, poolish or more.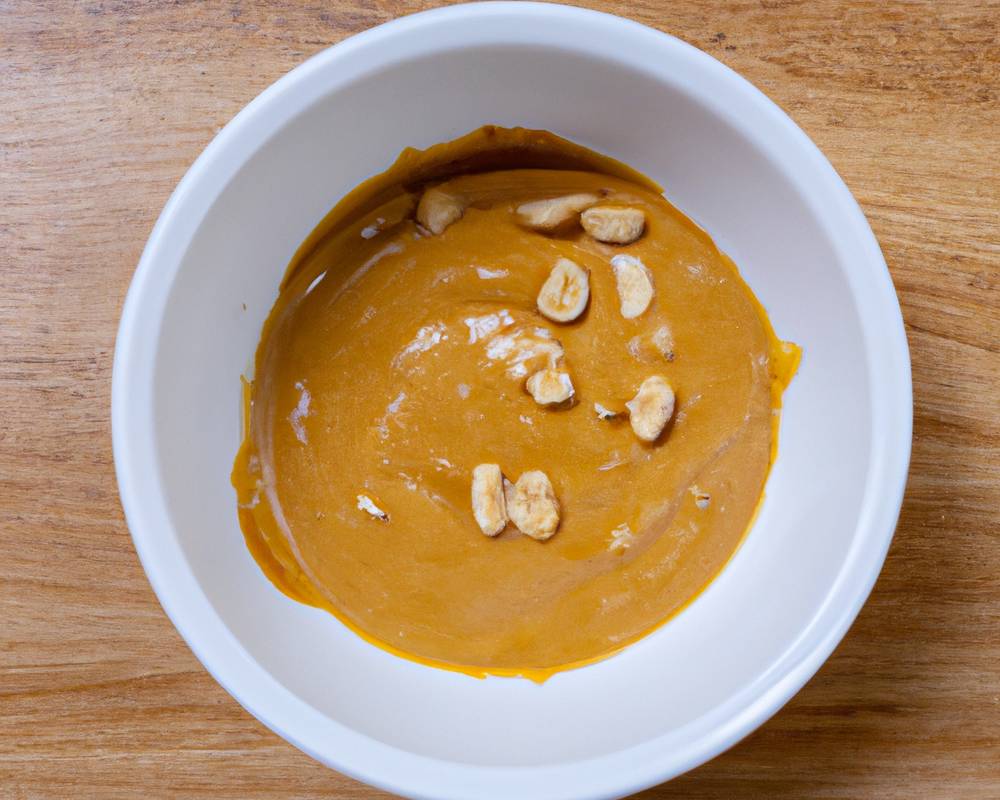 Peanut Sauce Method
Make your own peanut sauce in just minutes.
Put soy sauce, peanut butter, sugar and water in a small bowl.
Blend or whisk until well combined.
Set aside for 5 minutes.
It's now ready for use.
May refrigerate for up to 3 days.
Don't forget that you can always add salt and pepper to taste.

Preparing Satay Pork Pizza
Turn your oven on to 450-500 degrees or more and preheat for at least 30 minutes.
Spread out the dough in a rough circle, on a floured board or surface.
If you are using a baking pan, then create the pizza in that.
Open the sauce container, and start to spread the Peanut Sauce. Spread the Peanut Sauce around the whole base, taking care to leave a gap at edges.
Add the ingredients in size order, from large to small.
Cheese gets added last.
The toppings to add to this pizza are;
Satay Pork
Red Hot Chili Peppers
Garlic
I find this pizza very good by itself, yet why not with another style of pizza?
Cooking time
Put the Satay Pork pizza in oven, and set alarm for ten minutes.
After 10 minutes, open the door and see how cooked pizza is.
Pizza should be ready within 15 minutes. However, allow it to cook to personal taste.

About Peanut Sauce
Peanut Sauce is made by combining crushed roasted Peanuts, water and various Spices. Whilst it is now a part of global cuisine, it originated in Indonesia and is a mainstay in Southeast Asian dishes.
Peanut sauce is a classic dipping sauce for Chicken, however is now used with vegetable dishes, seafood, other meats and more.

Pizza Tools
When making Satay Pork Pizza, I always recommend that you use what you have already, and avoid spending a ton of money. My recommended basic pizza tool list is…
Mesh Sieve
You will find having a seive such a useful element for pizza making as well as all your baking. It's great to filter all flours through a fine mesh sieve, to make sure they're ready for use.
Bench Scrapers
Good quality metal or plastic bench scrapers make it so much esier to both cut your dough, and scrape your bench. I prefer plastic to avoid scratching my bench.
Measuring Cups
Pizza making is all about precision, so having a full set of both wet and dry measuring cups on hand is critical. It is so important when making pizza dough to accurately measure all your ingredients.

Chili Peppers
Did you know that in any given day, a quarter of the world's population eats food with Chili Peppers in it? They were being eaten 6,000 years ago, according to scientists.
The active ingredient in chili peppers is capsaicin. When it is eaten, capsaicin triggers pain receptors that normally alert the body to dangerous physical heat. That's why sometimes it may feel like your mouth really is on fire.
Pizza Care
Need advice on storing pizza. Here goes!
Freezer guide
You can store leftover pizza in the freezer for up to 3 months. Reheat from frozen as directed above until heated through.
Store in the fridge
Leftover slices of pizza may be kept in an airtight container in the fridge for up to 3 days.
Warm in the center of a 450 degree F oven for approximately 6 minutes, on a pizza stone if possible, until heated through. See our article on reheating pizza for more.

Pizza making FAQ
Want to know how to make fantastic pizza at home? Here are some helpful answers to the most frequently asked questions.
Should I get a pizza stone when making homemade pizza?
If you can afford it, yes. A pizza baking stone gives you the best chance to make restaurant quality pizzas at home. A pizza stone creates the hottest-possible environment in a home oven, which results in crusts that rise perfectly around the edges and brown just right on the top and bottom. The only thing better is your own wood fired pizza oven.
When making pizza dough should I spray the pan?
It is important that you ensure your dough doesn't stick to any bowls or pans that you use. I prefer to gently wipe olive oil across the surface using a paper towel, however spray olive oil used in moderation works just as well for this purpose.
Can I substitute parmesan for mozzarella in making pizza?
Of course! Actually I like to add a little parmesan to all my mozzarella, to give it a tangier taste. It is absolutely a personal choice how much of each cheese or what cheeses to use at all. That's the fun of homemade pizza making – not having to eat whatever the pizza shop uses.
Have you made Satay Pork Pizza?
Let us know what you think of Satay Pork Pizza! Tag us on our Pinterest, Facebook or Twitter and let us know what you thought of it! I'd love to know.
Featured image: Source