Spagnola
Just a few simple ingredients that come together to make one of the most delicious pizzas you can make at home.
Created with care, this pizza style provides an exceptional flavor paired with a incredible aroma to enjoy.
Make sure to always use high quality ingredients and pair these with the perfect crust for you to enjoy a delicious pizza meal.
If you enjoy a tasty Meat pizza using a Olive Oil sauce then you may fall in love with this pizza.
Pizza in Spain
People in Spain enjoy a Mediterranean style diet, based on vegetables, fish, olive Oil, pulses, cereals and other seasonal foods. They also eat approximately 4.3kg each in Pizza per year.
Take a look at some of the other pizzas from Spain here.
Spagnola Pizza at a glance

| | |
| --- | --- |
| Origin | Spain |
| Type | Meat |
| Sauce | Olive Oil |
Spagnola Pizza Recipe
There is a recipe below for you to make a Spagnola Pizza whether it be in your wood oven or your kitchen oven.
Preparation time

| | |
| --- | --- |
| Dough | 2 hours |
| Assembly | 10 minutes |
| Baking | 12-20 minutes |
Spagnola Pizza Ingredients
Choose enough pizza toppings for the amount of pizzas you will be creating. The dough and sauce amounts below are for 3-4 medium sized pizzas, so scale up or down, based on your requirements.

Simple Pizza dough
250 ml (1 cup) lukewarm water
400 g (2 2/3 cups) plain flour, plus extra to dust
7 grams (2 tsps) dried yeast
1/4 cup (3 tbsp) extra virgin olive oil
2 teaspoons table salt
Spagnola Pizza Toppings
Toppings used in this pizza recipe, are;
York Ham
Mozzarella
Goats Cheese

White Pizza Sauce
2 tbsp unsalted butter
2 tbsp all-purpose flour
1 1/4 cup milk, (2% or whole milk)
1/4 cup parmesan cheese, shredded
2 garlic cloves, pressed or finely grated
1/4 tsp sea salt
1/8 tsp black pepper
Want to try a different sauce? See our article on the different types of pizza sauces.
TIP
You can click on any of the tags at the bottom of this page, to find other pizzas besides Spagnola Pizza, that use that topping.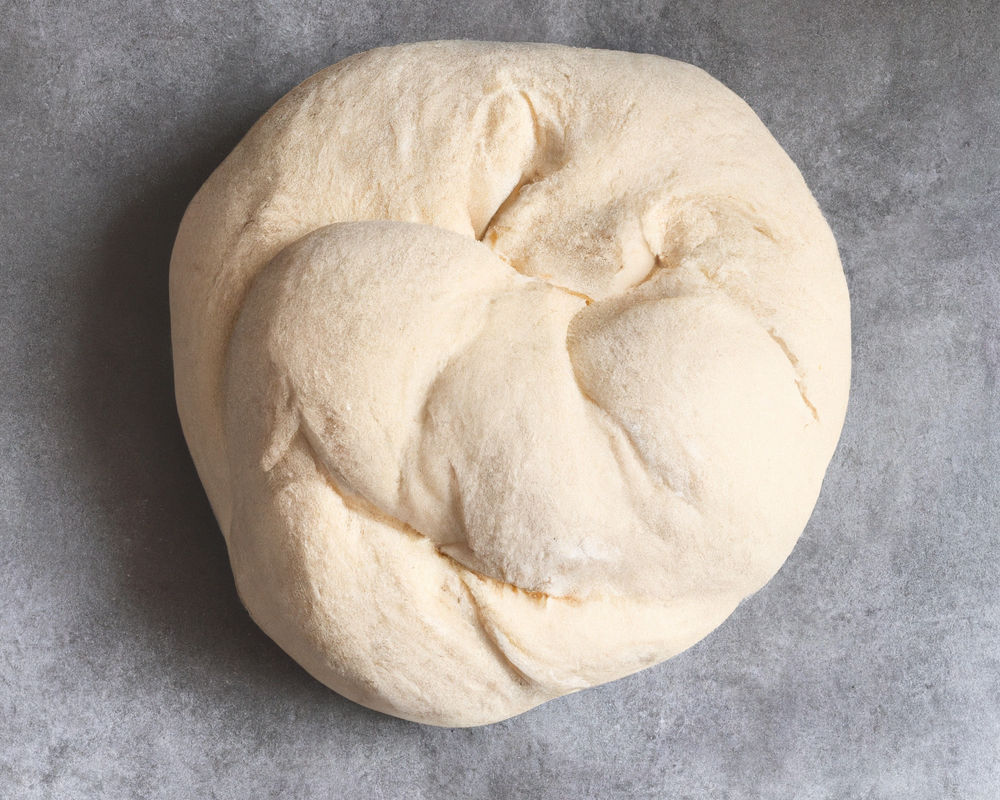 Pizza Dough Method
Purchase a premade pizza base at your local store, or if you have time, make your own homemade dough following the simple steps below. Some shops even carry pizza dough balls.
Whisk yeast and lukewarm water in glass or plastic container. Let stand for approximately 5 minutes.
Add salt and flour in a large bowl. Create a hollow well in the middle and gently pour the liquid yeast mixture and oil.
Using your hands or spatula, gently combine the flour mixture until smooth. Then turn out dough onto lightly floured surface and hand knead for roughly five minutes.
Place the dough mixture in to an oiled bowl, and cover with plastic wrap. Leave in a warm place until the dough has at least risen to double in size.
Turn dough out onto a lightly floured surface. Hand knead gently for five minutes until reasonably smooth.
Divide dough mix into equal amounts, now roll out the bases to the desired size.
Sprinkle some flour on work surface before rolling out dough to prevent any sticking.
TIP: We have other dough recipes if you would like to try your hand at sourdough, poolish or more.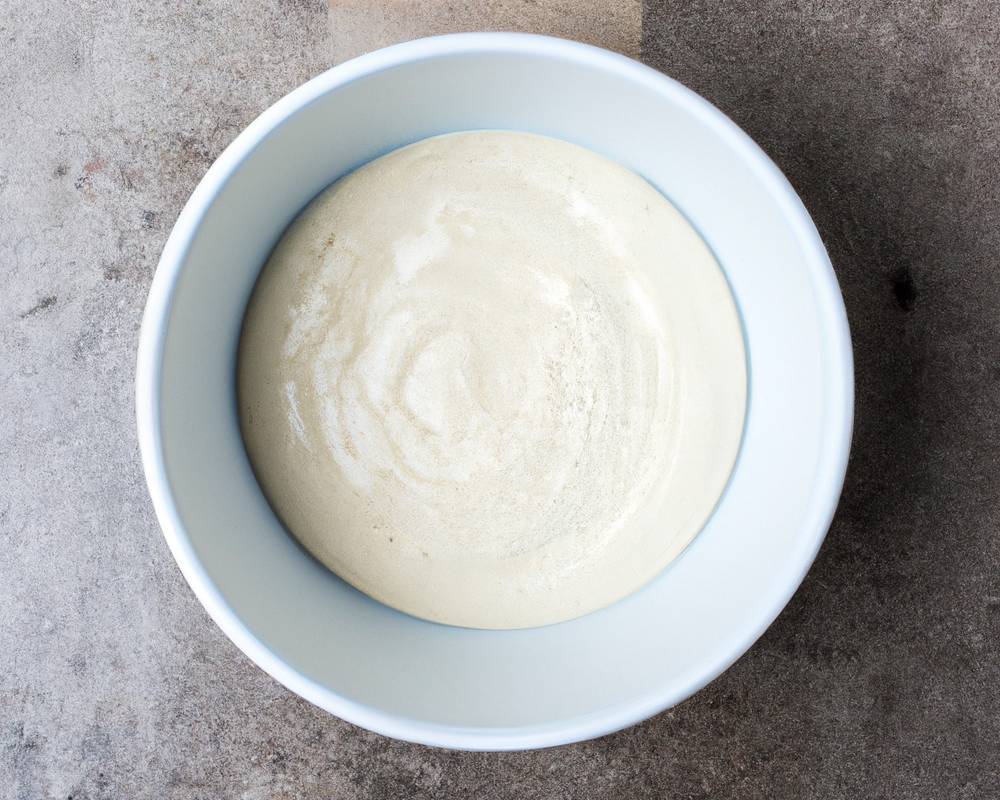 Simple White Pizza Sauce Method
You can make this delicious pizza sauce following the simple steps below, or you can purchase a pizza sauce at your local store.
Use a small saucepan over medium heat, and melt butter. Whisk in flour, then continue whisking for 1-2 minutes.
Slowly add the milk, keep whisking constantly until thickened and smooth.
Add garlic, pepper and salt whilst slowly whisking.
Slowly add parmesan cheese and whisk for 30 seconds more. Take off heat and continue whisking until parmesan is melted and sauce becomes smooth. Now, set aside to cool.
Don't boil after adding the cheese or the sauce could curdle. Once it is cool, use immediately or cover and refrigerate up to 5 days.
By not heating these sauce ingredients, you give this simple pizza sauce a very fresh taste.

Preparing Spagnola Pizza
Start by heating your oven to at least 450 degrees.
Spread out your dough on a well floured surface.
If you have a pizza peel, flour the peel and create your pizza on it.
Start by spreading the sauce all over the base. This pizza uses Olive Oil. Spread the Olive Oil Thinly yet evenly, leaving a margin for the crust.
Add the largest toppings first – typically meat or seafood, then the smaller toppings.
Add cheese last, and sprinkle it all over to help keep the toppings in place when it melts.
This pizza has the following toppings:
York Ham
Mozzarella
Goats Cheese
Whilst this pizza is delicious as is, or you could with another pizza variety?
Oven time
Put the Spagnola pizza in the middle of your oven (on a pizza steel if you have one) and set timer for 10 minutes.
After 10 minutes, open oven and look at pizza.
The pizza should be done within roughly 15 minutes. Always cook to personal tastes.

About York Ham
York Ham traditionally came from Yorkshire, and is a dry curing method. Before refrigeration, people preserved meat over winter by curing hams. According to historians, Henry II of England got his hams from Yorkshire.
Yorkshire is famous for hams; and the reason is this: their salt is much finer than London; it is a large clear salt, and gives the meat a finer flavour.

Pizza Tools
When making Spagnola Pizza, it's always handy to have the right pizza making tools. Here's what items I always recommend…
Rubber Spatula
A quality rubber spatula really helps when it comes to scraping bowls and plates, etc.
Dough Mixer
Having a good dough mixer can make all the difference. You don't want to be manually kneading forever, do you?
Oil Jug
Having a nice oil jug to pour olive oil gives you a decadent edge. They don't cost that much either!

Goat's Cheese
Goat's Cheese is often called by its French name, Chèvre, which means goat. The distinctive character of Goat's Cheese comes from capric acid, a flavourful fatty acid that promotes good intestinal bacteria in humans.
Because of its low lactose content, Goat's Cheese is a fantastic choice of cheese for people with lactose intolerance.
Storing Pizza
Want to store some leftovers after your meal? Here are a few tips.
Chill in the fridge
You can keep pizza in plastic wrap or a container for up to 3 days in the fridge.
How to reheat
There are many ways to reheat pizza. We cover seven of them in this article.
Can you freeze pizza?
You can freeze pizza for up to three months, however I'd suggest consuming it within the first few weeks, ideally.

Pizza making FAQ
Want to know how to make great pizza at home? Here are some helpful answers to the most frequently asked questions.
What to serve with pizza at a party?
Pizza goes really well with garlic bread, salads and pasta. In fact, you can serve just about any party food with pizza, and it would work.
How long to let pizza dough rise?
Some pizza dough recipes suggest only a few hours, whereas you can also use long fermentation techniques to make it go for 3-5 days.
Which pizza was created to represent the italian flag?
The Pizza Margherita was created in 1889, when Margherita di Savoia, the new queen of Italy, visited Naples. A famous local chef created a pizza using ingredients to match the new flag and named it Margherita.
Have you made Spagnola Pizza?
Let us know what you think of Spagnola Pizza! Tag us on our Pinterest, Facebook or Twitter and let us know what you thought of it! I'd love to know.
Featured image: Source