Sweet and Creamy
First made in China, this Sweet and Creamy pizza is a very tasty pizza worth trying.
Baked well, this pizza style provides a distinctive flavor paired with a sublime smell.
Spend the time to find the best ingredients and complement them with a perfect base for your family and friends to enjoy a gratifying homemade pizza meal.
If you crave Vegetarian pizza with a White pizza sauce then you shouldn't look any further than this one.
Pizza is a delicious and versatile food that can be enjoyed by people of all ages. One of the best things about pizza is that it can be customized to suit your individual tastes and dietary needs. You can choose from a variety of toppings, including vegetables, meats, and cheeses, to create a pizza that is truly your own.
Additionally, pizza is a great source of carbohydrates, which provide your body with energy to power through your day. Eating pizza can also be a fun and social activity, whether you're enjoying a slice with friends or having a family pizza night at home.
So next time you're thinking of what to eat, consider trying a pizza, you won't regret it!
Pizza in China
There's an old tale that Pizza originated in China. When Marco Polo came to China, he encountered scallion pie, a flat bread that uses dough instead of a batter. When Marco Polo returned to Italy he met a chef from Naples at a dinner party and persuaded him to recreate the dish, putting the fillings on top of the dough instead of the inside.
Take a look at some of the other pizzas from China here.
Sweet and Creamy Pizza at a glance

| | |
| --- | --- |
| Origin | China |
| Type | Vegetarian |
| Sauce | White Sauce |
Sweet and Creamy Pizza Recipe
We've crafted a recipe for you to make a delicious homemade Sweet and Creamy Pizza , whether you're using a backyard pizza oven or a typical kitchen oven.
Preparation time

| | |
| --- | --- |
| Dough | 2 hours |
| Assembly | 10 minutes |
| Baking | 12-20 minutes |
Sweet and Creamy Pizza Ingredients
Choose enough pizza toppings for the amount of pizzas you plan to make. The dough and sauce are designed for 3-4 medium sized pizzas, so scale up or down, based on your requirements.

Simple Pizza dough
250 ml (1 cup) lukewarm water
400 g (2 2/3 cups) plain flour, plus extra to dust
7 grams (2 tsps) dried yeast
1/4 cup (3 tbsp) extra virgin olive oil
2 teaspoons table salt
Sweet and Creamy Pizza Toppings
Toppings used in this pizza recipe, are;
Caramelized Onion
Mayonnaise
Garlic

White Pizza Sauce
2 tbsp unsalted butter
2 tbsp all-purpose flour
1 1/4 cup milk, (2% or whole milk)
1/4 cup parmesan cheese, shredded
2 garlic cloves, pressed or finely grated
1/4 tsp sea salt
1/8 tsp black pepper
Want to try a different sauce? See our article on the different types of pizza sauces.
TIP
You can click on any of the tags at the bottom of this page, to find other pizzas besides Sweet and Creamy Pizza, that use that topping.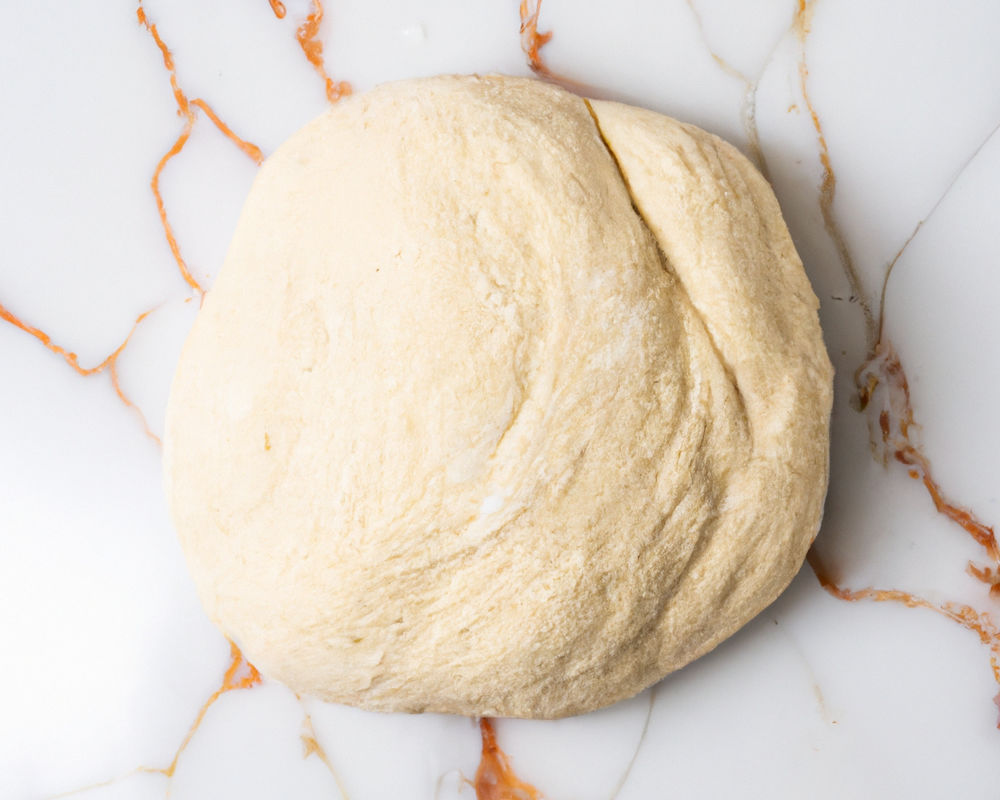 Pizza Dough Method
If you don't have much time, grab a premade pizza base at your local grocery store, or create your own homemade pizza dough following the simple steps below.
Whisk yeast and lukewarm water in glass or plastic container. Let stand for approximately 5 minutes.
Add salt and flour in a large bowl. Create a hollow well in the middle and gently pour the liquid yeast mixture and oil.
Using your hands or spatula, gently combine the flour mixture until smooth. Then turn out dough onto lightly floured surface and hand knead for roughly five minutes.
Place the dough mixture in to an oiled bowl, and cover with plastic wrap. Leave in a warm place until the dough has at least risen to double in size.
Turn dough out onto a lightly floured surface. Hand knead gently for five minutes until reasonably smooth.
Divide dough mix into equal amounts, now roll out the bases to the desired size.
Sprinkle some flour on work surface before rolling out dough to prevent any sticking.
TIP: We have other dough recipes if you would like to try your hand at sourdough, poolish or more.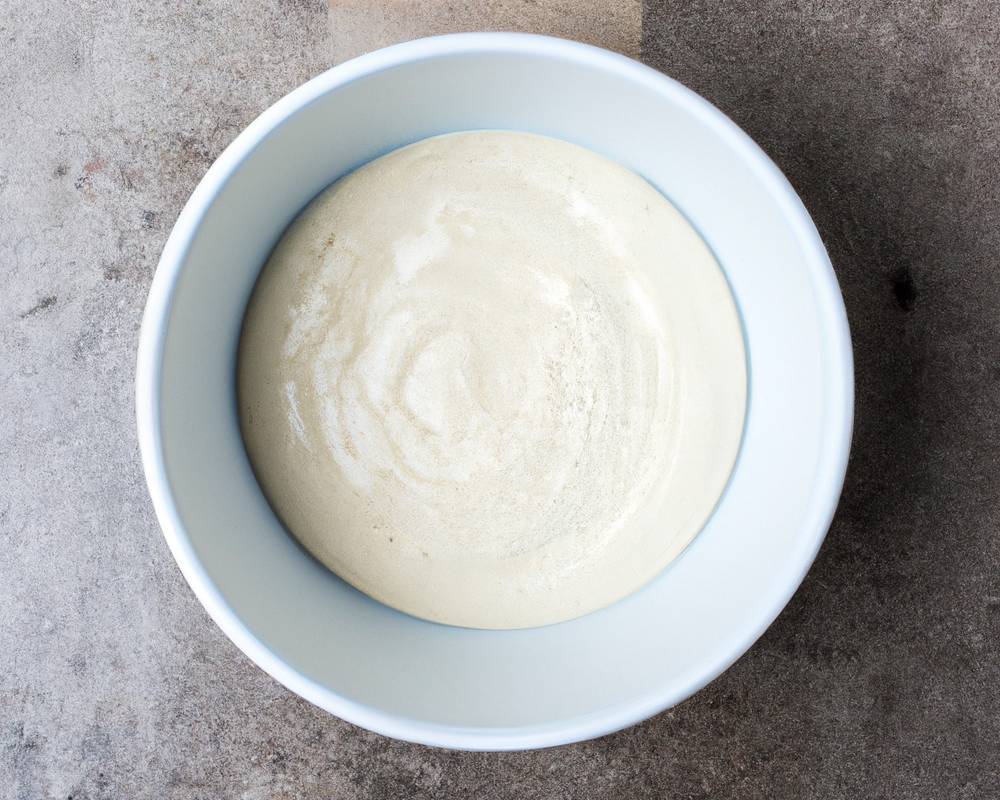 Easy White Pizza Sauce Method
You can make this tasty pizza sauce following the simple steps below, or you can purchase a pizza sauce at your local supermarket.
Melt the butter in small saucepan over medium heat. Whisk flour in, and continue whisking for another 1-2 minutes.
Whisk constantly whilst slowly adding milk, until smooth, bubbly and thickened.
Whisk in the pepper, garlic and salt.
Slowly add parmesan cheese and whisk for 30 seconds more. Take off heat and continue whisking until parmesan is melted and sauce becomes smooth. Now, set aside to cool.
Don't boil after adding cheese or sauce may curdle. Once cool, use on pizzas straight away. May be refrigerated for up to five days.
Remember that you can adjust the amount of garlic in your pizza sauce recipe to suit your taste.

Preparing Sweet and Creamy Pizza
Start by heating your oven to at least 450 degrees.
Spread out your dough on a well floured surface.
If you have a pizza peel, flour the peel and create your pizza on it.
Start by spreading the sauce all over the base. This pizza uses White Sauce. Spread the White Sauce Thinly yet evenly, leaving a margin for the crust.
Add the largest toppings first – typically meat or seafood, then the smaller toppings.
Add cheese last, and sprinkle it all over to help keep the toppings in place when it melts.
This pizza has the following toppings:
Caramelized Onion
Mayonnaise
Garlic
I find this pizza very good by itself, yet why not with another pizza variety?
Oven time
Put the Sweet and Creamy pizza in the middle of your oven (on a pizza steel if you have one) and set timer for 10 minutes.
After 10 minutes, open oven and look at pizza.
The pizza should be done within roughly 15 minutes. Always cook to personal tastes.

About Cream Cheese
Cream cheese is a soft, mild-tasting fresh cheese made from milk and Cream. It is meant to be consumed fresh, Cream cheese is not naturally matured, so it differs from other soft cheeses such as Brie and Neufchâtel.
It is comparable in taste and production methods to Mascarpone and Boursin. Whether it's in sweet, savoury, keto or healthy dishes, Cream cheese is one versatile ingredient.

Pizza Tools
When making Sweet and Creamy Pizza, I always recommend that you use what you have already, and avoid spending a ton of money. My recommended basic pizza tool list is…
Dough Mixer
Having a good dough mixer can make all the difference. You don't want to be manually kneading forever, do you?
Oil Jug
Having a nice oil jug to pour olive oil gives you a decadent edge. They don't cost that much either!
Wooden boards
I use quality wooden boards constantly when making pizzas, botth to carry dough balls and to use when slicing baked pizzas.

Mayonnaise
Mayonnaise (aka Mayo) typically contains Oil, eggs, and an acid, such as Vinegar or lemon Juice. There are a few healthy elements to Mayo, such as vitamin E, for heart health, and vitamin K, for blood clotting. It can also be made with healthy omega-3 fatty acids.
Whilst not a typical ingredient, Mayonnaise goes really well with any Pizza that has savory toppings and Tomato sauce base. It's great on a meatlovers, Pepperoni pizza or four cheese pizza.
Facts about Pizza
What do you think about these facts?
Saucy superhero
A movie from 2011, Pizza Man, tells the story of a superhero pizza delivery guy who got his superpowers from genetically modified tomatoes, and uses them to save the world. Sounds legit.
Pizza in latin
The first recorded use of the word 'pizza' has been found in a 997 AD Latin text from Gaeta, Italy.
Print that pizza
Using NASA funding, a group of scientists developed a 3D pizza printer in 2013. It can cook a pizza in under 70 seconds, complete with the sprayed flavor, aroma and micronutrients.

Vegetarian Pizzas
Keen on seeing more than Sweet and Creamy pizza? We have plenty of other Vegetarian pizza recipes to look at, as well. Enjoy!

Pizza making FAQ
Hope to make fantastic pizza at home? Here are some expert answers to some of the most Frequently asked questions.
How much does a pizza weigh?
The heaviest part of pizza is the dough. Because most pizza toppings are light and used sparingly, they typically measure them in ounces. A typical large (12-inch) pizza will have a weight of approximately two pounds.
Why is pizza called pie?
When Italian immigrants first started arriving in the USA during the late 1800s, they started selling pizza, which had plenty of similarities to a typical pie. A circular shape, a crust and sliced triangles. It didn't take long for someone to start calling it "tomato pie".
How to freeze pizza slices?
You can freeze pizza slices in small zip lock bags or plastic wrap, as long as it is air tight.
Have you made Sweet and Creamy Pizza?
Tell us what you think of Sweet and Creamy Pizza ! Tag us on our Pinterest, Facebook or Twitter and let us know what you thought of it! I'd love to know.
Featured image: Source