Tarte Flambee
Originating from France, this Tarte Flambee pizza is a luscious meat pizza you should try at home.
Made well, this pizza style provides a divine flavor, coupled with a superb smell to delight you.
Spend the energy to find the best ingredients and complement them with a fantastic crust for you to take part in a nice homemade pizza feast.
In the mood for a Meat pizzas with a White sauce? Guess what? You have found it.
Pizza is the ultimate food for both lunch and dinner. For lunch, it's the perfect grab and go meal that will keep you full and energized throughout the day. Plus, with so many toppings to choose from, you can switch it up every day and never get bored.
For dinner, pizza is the perfect comfort food that brings people together. It's great for casual get-togethers with friends, or even more formal family dinners. The best part is that it's versatile, you can make it as healthy or indulgent as you want.
Add some vegetables for a more balanced meal or go for a classic pepperoni for a satisfying cheesy bite. Overall, pizza's convenience, tastyness, and versatility make it the perfect food for both lunch and dinner.
Pizza in France
The French love their food. Their most popular foods include bread, pastries, Cheese, soups and seafood. In a 2018 study, 96% of French people said they enjoy pizza with 84 percent ordering pizzas at home.
Take a look at some of the other pizzas from France here.
Tarte Flambee Pizza at a glance

| | |
| --- | --- |
| Origin | France |
| Type | Meat |
| Sauce | White Sauce |
Tarte Flambee Pizza Recipe
Below we've created a recipe for you to make a delicious homemade Tarte Flambee Pizza either in your pizza oven or your kitchen oven.
Preparation time

| | |
| --- | --- |
| Dough | 2 hours |
| Assembly | 10 minutes |
| Baking | 12-20 minutes |
Tarte Flambee Pizza Ingredients
Choose enough pizza toppings for the amount of pizzas you will be creating. The dough and sauce are designed for 3-4 medium sized pizzas, so scale up or down, based on your requirements.

Simple Pizza dough
400 g (2 2/3 cups) plain flour, plus extra to dust
250 ml (1 cup) lukewarm water
7 grams (2 tsps) dried yeast
2 teaspoons table salt
1/4 cup (3 tbsp) extra virgin olive oil
Tarte Flambee Pizza Toppings
Toppings used in this pizza recipe, are;
Bacon
Lardons
Fromage Blanc
Onion
Creme Fraiche

Easy White Sauce
2 tbsp unsalt butter
2 tbsp flour
1 1/4 full cream milk
1/4 parmesan (shredded)
2 x cloves garlic (shredded or minced)
1/4 tsp sea salt
1/8 tsp black pepper
Want to try a different sauce? See our article on the different types of pizza sauces.
TIP
You can click on any of the tags at the bottom of this page, to find other pizzas besides Tarte Flambee Pizza, that use that topping.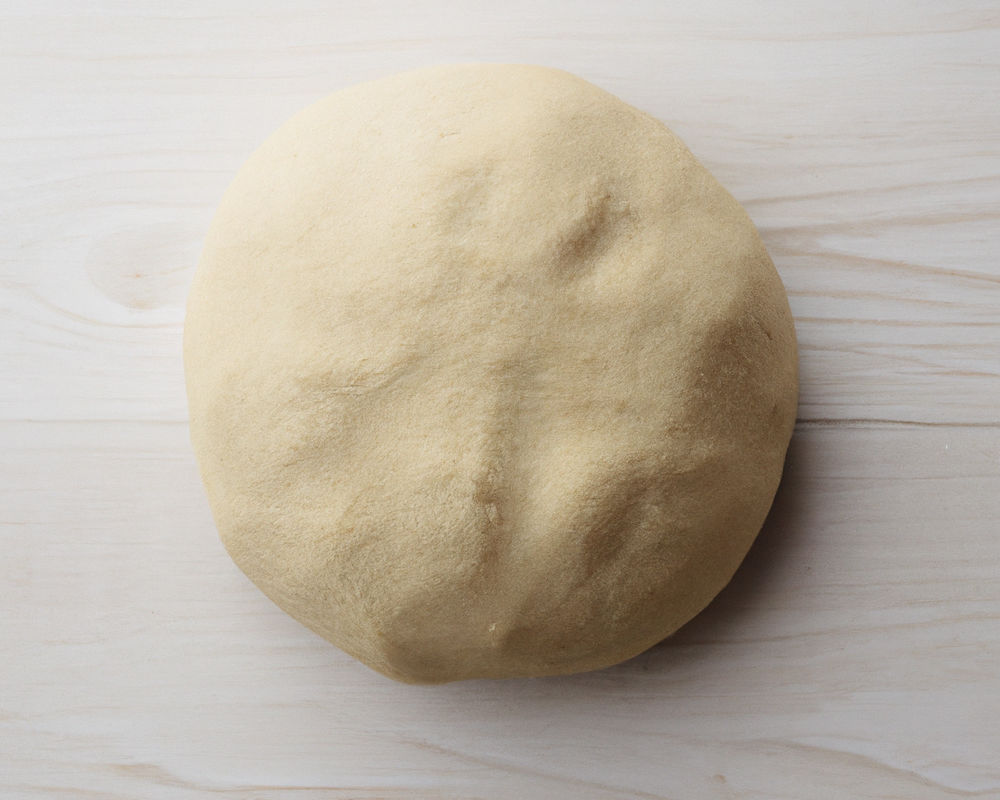 Pizza Dough Method
You can purchase a premade pizza base at your local shop or make your own dough following the simple steps below.
Whisk yeast and lukewarm water in a jug. Stand for around five minutes.
Add the salt and flour in a large bowl. Create a hollow centre in the flour. Slowly pour the liquid yeast mixture and oil.
Using your hands or spatula, gently combine the flour mixture until smooth. Then turn out dough onto lightly floured surface and hand knead for roughly five minutes.
Place the dough mixture in to an oiled bowl, and cover with plastic wrap. Leave in a warm place until the dough has at least risen to double in size.
Turn dough out onto a lightly floured surface. Hand knead gently for five minutes until reasonably smooth.
Sprinkle some flour on work surface before rolling out dough to prevent any sticking.
Divide dough mix into equal amounts, now roll out the bases to the desired size.
TIP: We have other dough recipes if you would like to try your hand at sourdough, poolish or more.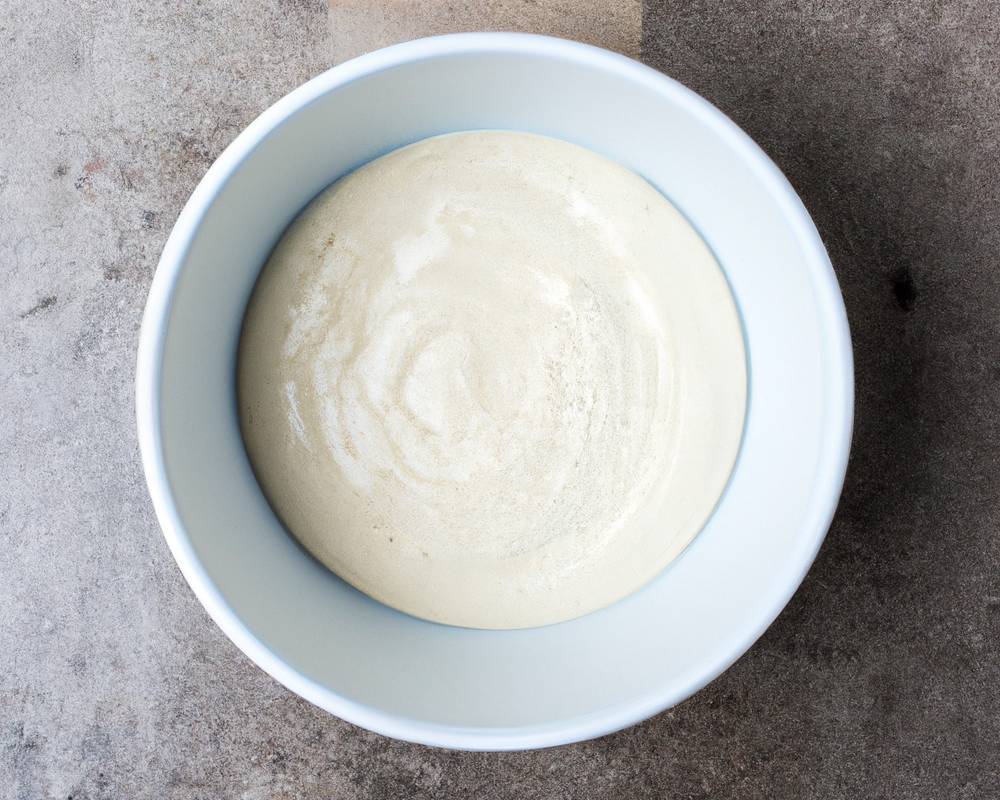 Easy White Pizza Sauce Method
You can either make your own tasty pizza sauce following the simple steps below, or you can purchase a pizza sauce at your local supermarket.
Melt butter in a small saucepan over medium heat. Whisk in flour and continue whisking for 1-2 minutes.
Slowly add milk, whisking constantly until smooth, thickened, and bubbly.
Whisk in 1/4 tsp salt, 1/8 tsp black pepper, and pressed garlic.
Add parmesan cheese and whisk another 30 seconds. Remove from heat and continue whisking just until cheese is melted and sauce is smooth then set aside to cool.
Do not boil after adding cheese or sauce may curdle. Once cooled, cover and refrigerate up to 5 days.
To reach the desired consistency, add a splash of olive oil or water to your pizza sauce if it's too thick.

Preparing Tarte Flambee Pizza
Preheat your oven to roughly 500 degrees.
Roll out the dough to either slightly smaller than your pizza stone or tray.
Alternatively, if you have a pizza peel, roll out to be smaller than that.
You start by spreading the sauce around. This pizza calls for White Sauce. Spread the White Sauce evenly using the back of a large spoon or ladle.
Then start adding the largest ingredients, then work your way down. The last is any cheese topping, such as Mozzarella, which you should evenly cover the other toppings with, and then finally any herbs.
Toppings to put on this pizza are;
Bacon
Lardons
Fromage Blanc
Onion
Creme Fraiche
Whilst this pizza is awesome on its own, or why not enjoy it with a simple side dish?
Cooking
Put the Tarte Flambee pizza on the middle shelf in oven, and wait ten minutes.
After 10 minutes, open the door and check the pizza.
This pizza should take approximately 15 minutes, however allow it to cook to personal taste.

About Lardons
Lardons are small cubes of bacon that add an extra smoky flavor to any pizza. They also provide a welcome crunch in each bite, making it one of the most popular pizza toppings among those who enjoy their food with some texture.
Lardons are incredibly versatile; they go well with both savory and sweet flavors. Try adding them to a classic margarita or combine them with caramelized onions and blue cheese for an unforgettable combination.

Pizza Tools
When making Tarte Flambee Pizza, I always recommend that you use what you have available, without spending lots of money. My basic pizza tool list is…
Measuring Cups
Pizza making is all about precision. Having a set of both dry and wet measuring cups on hand is vital to accurately measure all your ingredients.
Pizza Steel
Very similar to a pizza stone, a pizza steel is made of, you guessed it, steel. It's a great modern method to heat pizza well in a normal oven.
Rubber Spatula
A quality rubber spatula really helps when it comes to scraping bowls and plates, etc.

Fromage Blanc
Fromage Blanc, also known as "white cheese" in English, is a unique ingredient that can be used to top pizzas. This type of cheese originates from France and is made with cow's milk or sheep's milk – sometimes both.
Fromage blanc has a mild, slightly tart flavor that adds an interesting twist to pizza toppings. It pairs particularly well with acidic ingredients like tomato sauce and pepperoncinis, and it melts nicely when placed on the hot pizza base.
Pizza Facts
These facts will interest you.
We love maths
There is a mathematical theorem named after pizza cutting. The pizza theorem is so called because it mimics a traditional pizza slicing technique. It states that the equality of two areas that arise when one partitions a disk in a certain way.
Largest pizza delivery
The largest pizza delivery was organised by Pizzas 4 Patriots (USA), who sent 30,000 pizzas with DHL Express to the United States Armed Forces, in Kandahar Airfield, Bagram Airbase and Camp Bastion, Afghanistan, on 4 July 2012. The 12 inch pizzas were made by Great Kitchens, Inc. in Illinois in June 2012.
Salami in space
Pizza Hut made history when they sent a 6-inch salami pizza via a Russian rocket to the International Space Station. Russian cosmonaut Yuri Usachov munched on the treat and even took marketing photos.

Meat Pizzas
Keen on seeing more than Tarte Flambee pizza? We have plenty of other Meat pizza recipes to look at, as well. Enjoy!

Pizza making FAQ
Hope to make fantastic pizza at home? Here are some expert answers to some of the most Frequently asked questions.
Where was the world's most expensive pizza made?
The worlds most expensive pizza costs $12,000 and is made in Salerno, Italy.
Can I use ciabatta bread for making pizza?
Yes! Breads are great to make pizza on, as it is quicker than making your own dough from scratch. Try my favourite, which is flat bread. It gets very crispy though, so don't cook it for long. Otherwise, ciabatta or italian breads are also good alternatives if you are short on time.
Can I freeze pizza dough?
You sure can! Make a batch of homemade pizza dough, make it into balls, then put each ball into a zip-top freezer bag or vacuum seal bag. Write the date on the bag, and then you can freeze your pizza dough for up to 3 months.
Have you made Tarte Flambee Pizza?
Tell us what you think of Tarte Flambee Pizza ! Tag us on our Pinterest, Facebook or Twitter and let us know what you thought of it! I'd love to know.
Featured image: Source